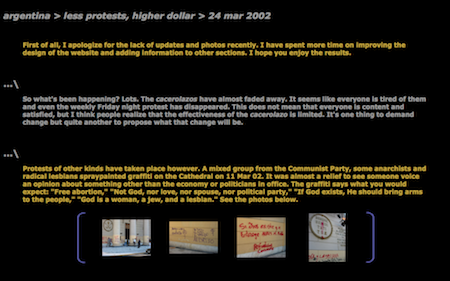 First of all, apologies for the lack of updates & photos. I've been improving the website design & adding information to other sections. I hope you enjoy the results. So what's been happening? Lots.
Cacerolazos have almost faded away. Seems like everyone is tired of them & even the weekly Friday night protest has disappeared. This doesn't mean everyone is content, but I think people realize that the effectiveness of the cacerolazo is limited. It's one thing to demand change, but quite another to propose what that exact change will be.
Protests of other kinds have taken place however. A mixed group from the Communist Party, some anarchists and radical lesbians spray-painted graffiti on the Cathedral on 11 Mar 2002. It was almost a relief to see someone voice an opinion about something other than the economy or politicians in office. Slogans state what you would expect: "Free abortion," "Not God, nor love, nor spouse, nor political party," "If God exists, He should bring arms to the people," & "God is a woman, a jew, and a lesbian":

In case anyone wondered what "milk in sachet" is from the price comparison article, here's a photo. Milk in Argentina is packaged very different from the US. Cheapest is the long-life version which comes in a cardboard carton & is irradiated. It doesn't need refrigeration until opened & tastes kinda funny to me. Then there's the refrigerated version that comes in one liter cartons or one liter plastic bags/sachets. The sachet version is about 10 centavos cheaper due to less packaging. It's a little hard to keep that sachet upright in the fridge though! Almost everyone has a plastic container designed for that purpose.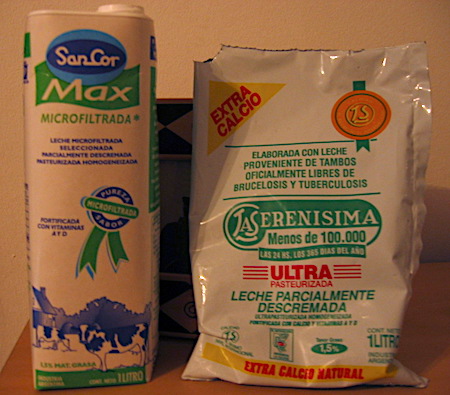 Marches from the piqueteros or picketers have been frequent. These groups are different in that they usually march from the outskirts of Buenos Aires (or even other cities!) & are typically composed of blue-collar workers. Often more rowdy than a cacerolazo, no major disturbances have occurred other than the disruption of traffic. Photos below are from a march past my apartment on 15 Mar 2002: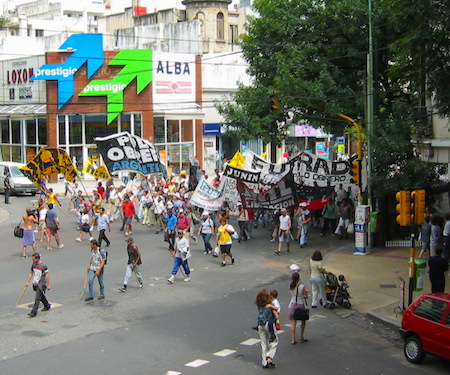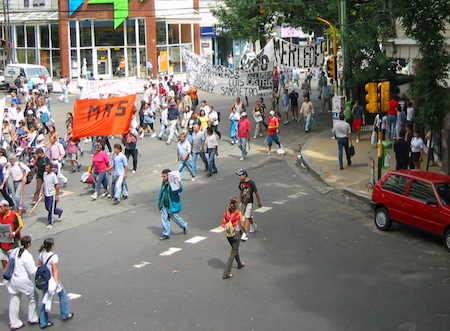 More big news: the dollar has skyrocketed. Friday, 22 Mar 2002, was a strong day when the dollar went from $2.60 at 10:00 to $3.10 at 5:00 & finally closed slightly above $3. This marked yet another high while the Central Bank decided not to intervene in the currency market. This decision comes after almost two months of flooding the market with over U$S 1 billion from federal reserves. The tactic has been moderately effective in keeping the dollar down, but the Central Bank has been criticized for not putting even more cash into the system. If they had been more forceful in selling larger quantities of dollars, this might have lowered the exchange rate significantly and inspired confidence at the same time. The following graph shows activity of the Central Bank over the past two months: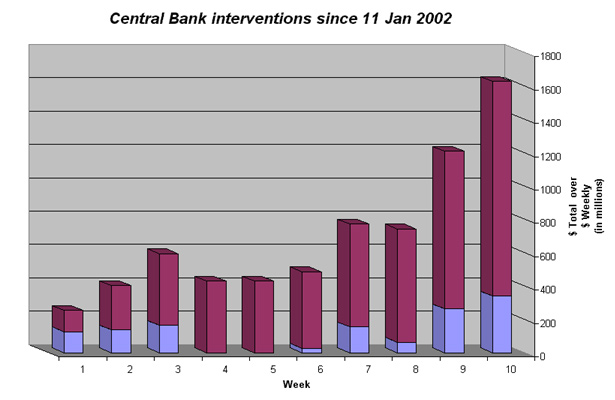 Also, Fabio & I returned to buy dollars last week & below are some of the scenes we encountered. You can see arbolitos standing around offering their own exchange. Fabio has a friend who quit his job selling cars to work as an arbolito, so we made our transaction with him. Not the best exchange rate, but no waiting in line & we went inside an office nearby to perform the transaction. Not bad.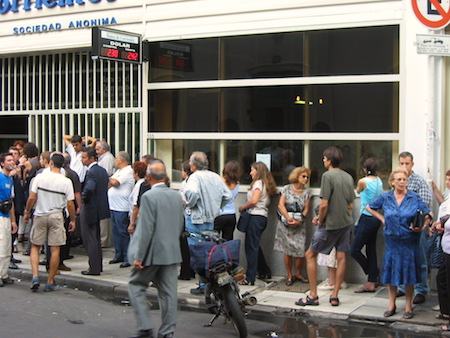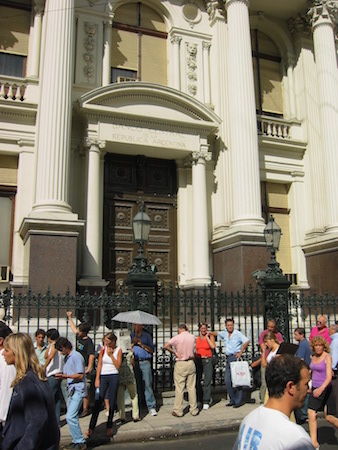 [Originally posted in Argentina Experienced, a website I created to document living in Buenos Aires after the 2001 economic crisis. Text has been edited for style. Definitions of econ terms can be found in the glossary. Politician biographies may help, as well as a summary of recent history & current events.]