Social do-gooder architect Fermín Bereterbide didn't waste much time. After graduating in 1918, his first major contest win was only 2 years later for a housing project to be located in Flores, sponsored by the Unión Popular Católica Argentina. But winning the contest didn't mean it was built right away. The UPCA had to find land at an affordable price, & they finally found what they were looking for… right by the railroad tracks. As part of a purchase/donation, half of a city block was available for Bereterbide's winning design in 1923. Construction took less than one year.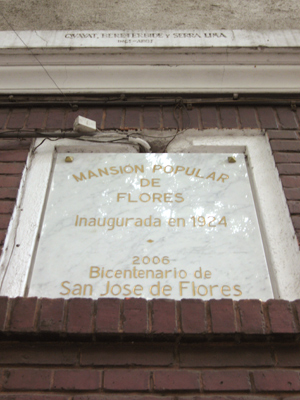 To my knowledge, this was the first time anyone had designed multiple-unit buildings each with access to garden space in Buenos Aires. The standard casa chorizo had the patio to the side & the casa colectiva had a patio without greenery in the middle, but Bereterbide's design combined the best of both worlds. I've read a few articles that tend to belittle his design, claiming that it was influenced heavily by Italian & American projects of the time. So what? Bereterbide was the first to do it successfully in Buenos Aires. He at least deserves credit for that. Plus, he did it well.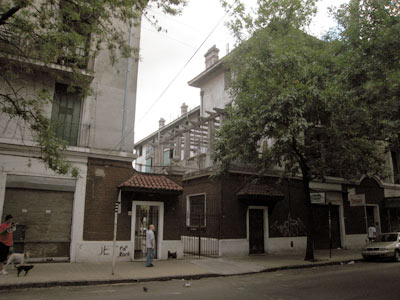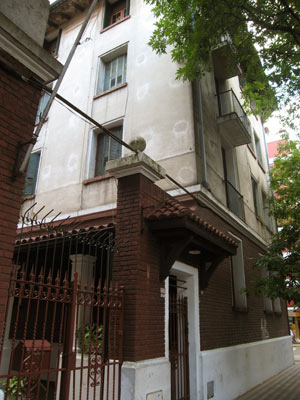 Five separate buildings of four floors each form a U-shape with patios & green space filling in the gaps. A wall separates the complex from the Once train line (not sure if the wall was part of the original design or not). Some units have the luxury of pergolas, but they are the fortunate few. There are 86 apartments total with 1, 2 or 3 bedrooms. This small space was designed to be a self-contained community. Streetside units were filled with all the necessary shops: butcher, baker, general goods, etc. There was even a room meant to serve as a local cinema… fairly innovative for a 1920's design.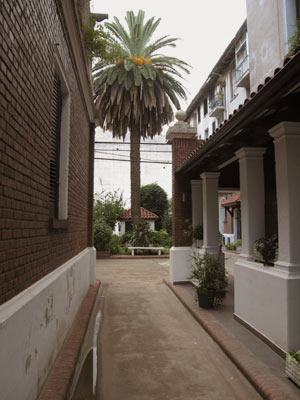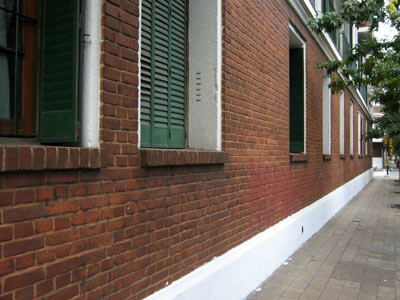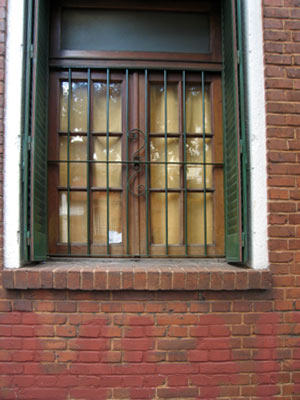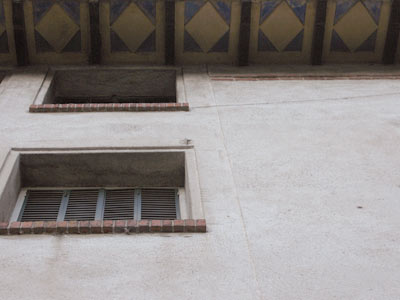 The look of the complex stands out in the urban mish-mash of Buenos Aires. Exposed brick & colored, geometric awnings are definitely not the norm here. Even though it doesn't look like it is in very good condition, I think it's remarkable that it's still standing. Sorry the photos aren't better, but it was a grim morning when I was out & about.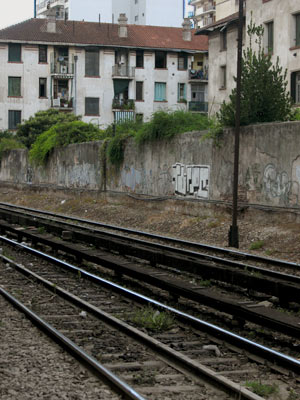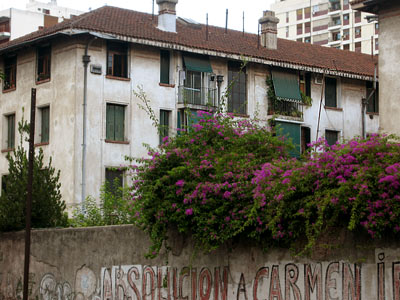 While I was taking the above pics, I heard a woman from across the street yelling something in my general direction. When I crossed, the gal with 2 dogs said I should take photos from the back side, after crossing the railroad tracks. Turned out that she lived there so I got to find out all sorts of inside info. Living there since 2002, she claimed the administration of the complex was a mess. Pipes needed replacing, general maintenance was left undone, & it was all controlled by two little, old ladies that didn't want to spend a dime on repairs. The best scoop was that one of the smaller units recently sold for U$S47,500. I love how most porteños value their neighborhood & stop to chat… she would have taken me inside but was walking the dogs. I'll just have to go back 🙂
Sources: Diccionario de Arquitectura en la Argentina, published by Clarín • Historias de la Ciudad, Sep 2001 (found on Defensoría del Pueblo website)
Update (26 Jan 2011): The building administration responsible for upkeep in La Mansión de Flores has taken a proactive step & posted all property repairs & resolutions in their own blog. It's an interesting way to observe the inner workings of one of these mini-neighborhoods.
Direct link → Master list of all Housing for the Masses posts.