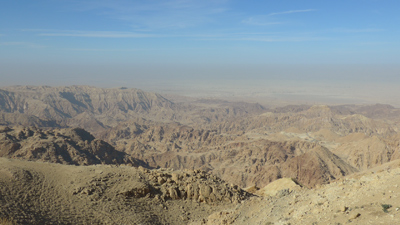 I hadn't originally planned to write about this day, but there were quite a few experiences & photos to share, so let's go…
We left Petra early enough to take the scenic route north, avoiding the main highway, & have our driver drop us at the border crossing to Israel before noon. I'd read it is unpredictable on even a good day, & that turned out to be true. But that's jumping ahead. The landscape proved to be much more interesting than the drive down, passing the large canyon of Wadi Mujib. We also got to see the entire eastern side of the Dead Sea: salt flats, bromine & potash factories plus more gorgeous colors of the water itself.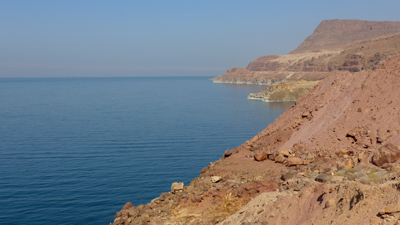 The clearest info I found online about the King Hussein/Allenby Bridge Jordan-Israel border crossing was posted by Kevin on The Mad Traveler. And the post appears to be constantly updated. But maybe our experience can help someone:
Pass bags through a scanner with a half-asleep attendant. The WC is here, so use it! Who knows when your next opportunity will be.
Go to passport control. Before getting a stamp, you are requested to pay a 10 dinar exit fee (currently about USD 14) at the window just opposite. With the paid ticket/receipt in hand, return to passport control for your exit stamp.
Walk back to the entrance & wait for the JET buses.
Board the bus with documents handy. Someone will come on board to inspect that you've paid the exit fee. And you will be charged 1.50 dinars for each piece of luggage under the bus.
Wait.
Drive through No Man's Land. It really looks like No Man's Land.
At this point we had no idea what happened. We made it to the border in Israel, but after a heated discussion our driver turned the bus around & took us back to the Jordan side. The same happened with other buses. Basically we sat on the air-conditioned bus for 45 min or maybe an hour. No explanation, but thank goodness for Angry Birds & a fully-charged tablet.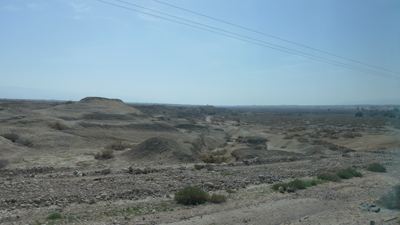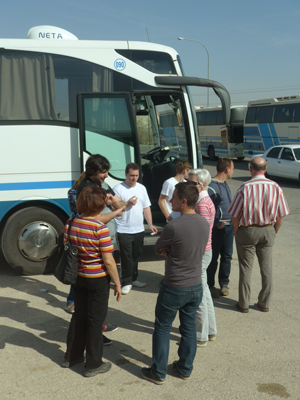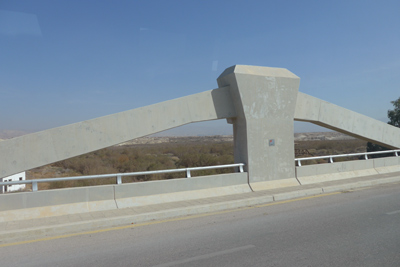 Once we were finally able to cross the bridge again, we were ushered to a line in front of a group of Jordanians. Still not sure what to make of this. We were a bus of maybe 10 people with only one Jordanian passenger on board. The rest of us were from various other countries. Surrounded by security with big guns, we handed our documents to a woman behind a thick plexiglass shield who gave us one ticket for each bag that wasn't hand luggage… just like an airport check-in. Bags were put on a conveyor belt, then we went to another woman who asked a few questions & determined whether we'd have a security screen or not.
Next came a long line where our hand luggage was scanned, we walked through a scanner & at the same time told if we'd have to be screened further. Since I had a mark on my sticker they'd put on the back of my passport, my documents were retained & I waited. And waited. And waited. Darío got off easy. At one point, they herded every one of us in the facility into a single room. An Israeli guy told me there was a VIP coming through or something; no bomb scare. At one point he said, "Welcome to our hell" & "Better to be paranoid than dead." Very true. After my passport had been checked for either drugs or explosives (or both), they handed it back with no questions asked.
Questions came later from the passport control officer. I wanted to laugh when she asked what my mother's maiden name & my grandfather's name were. Like that info is anywhere on the passport… just to see how I'd respond. Finally my patience was rewarded with a little blue card (instead of a stamp), the card was torn on our way out, my bag which magically appeared & we were waved through yet another scanner. Whew. Just beyond there was a currency exchange office that offered ATM service (no real machine) where they charged 10 shekels for a minimum 400 shekel "extraction." Not bad really. Although the entire process seemed to be overly bureaucratic with too many steps, it worked. Slowly. Best advice? Be patient.
The sherut, or shared mini-van, to Jerusalem was about 40 shekels each (about USD 11.50) & we only had to wait for it to fill up in order to depart. Easy. It was amazing to watch Palestine residents pick up jugs of water to take home (evidently Israel controls access). And at one point, right by the Wall we pulled over to allow an Uzi-armed security team on board to look at our passports. We were definitely in another country. Or is that world?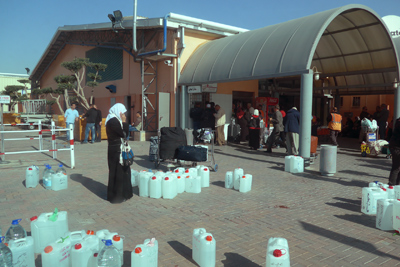 Dropped off at Herod's Gate in a swarm of traffic, we walked to the Damascus Gate then had no idea where to go. Silly me. I'd forgotten to download a Jerusalem map to my tablet. But there were lots of people around to ask directions, & we eventually had a long but interesting walk around the walls of Jerusalem to our hotel. The reward was a fantastic sunset panorama.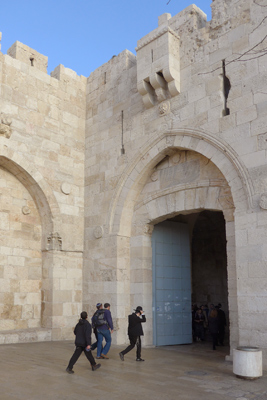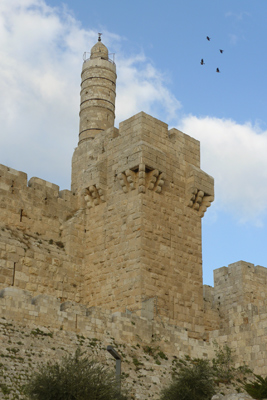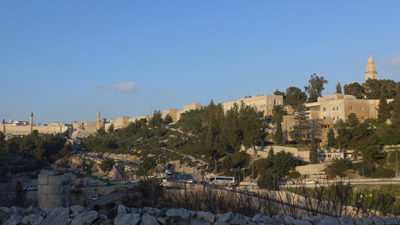 At that point, it must have been 16:00 & we hadn't eaten since breakfast. I didn't feel like diving into the Old City right away, especially on an empty stomach. So we explored our part of town. We walked by the Menachem Begin Center & thought we'd find something open. As luck would have it, we walked by the first railway station in Jerusalem, built in 1892. An architectural gem, the amount of people going in & out caught my attention so I suggested going inside.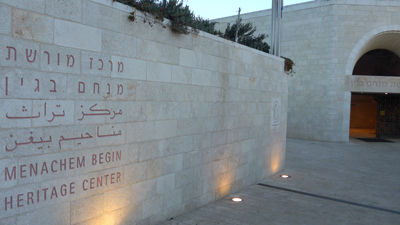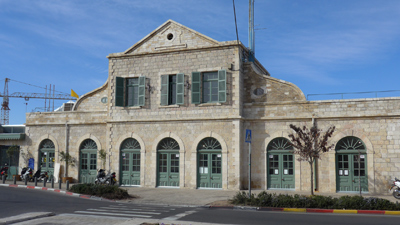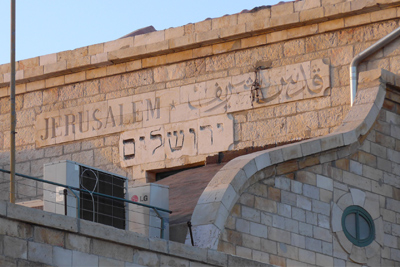 It was a dream come true. No longer a working station, in 2013 the building was converted into a cultural center with restaurants & various shops. How could my first meal in Israel not be chicken schnitzel? And a local market made up a cheese plate for us to eat with a few glasses of wine. Good wine. Superb wine. The Montefiore Red is 33% each Malbec, Shiraz & Petite Syrah. So, so good. Then we happened on a photo exhibit about cities & architecture with poetry readings & a bit of music. And a great idea for framing photos!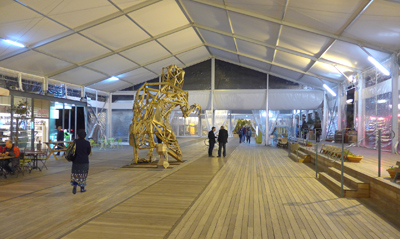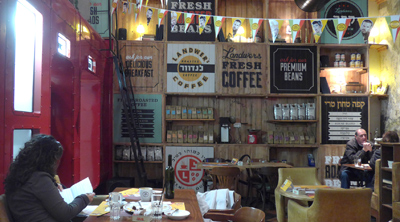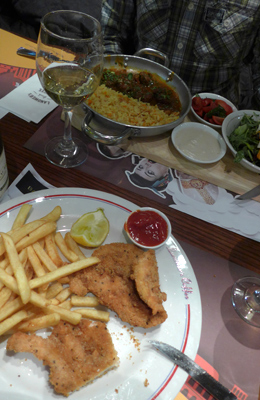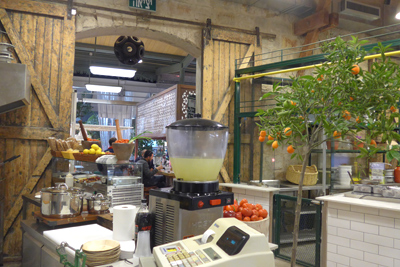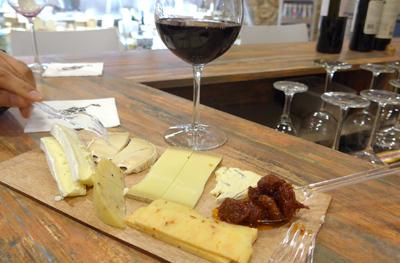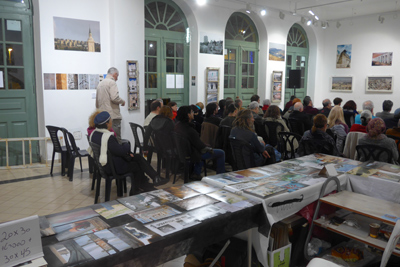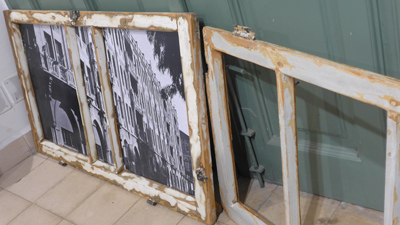 We really didn't do anything touristy, but it turned out to be a very memorable day. We crossed a border, had a ton of interaction with locals, and found the perfect place to have breakfast the next morning!