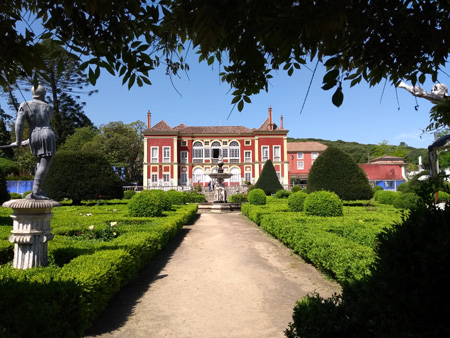 Situated far from the Metro & far from tourist crowds, the Palácio dos Marqueses de Fronteira has to be one of the best-kept secrets of Lisbon. Heck, it's taken me 20 years to get around to visit it! Built in the 1670s, this hunting estate survived the 1755 earthquake & then became the main residence of the Mascarenhas family.
But first things first. With the founding of the Portuguese Republic in 1910, all royalty & noble titles ceased to exist when their last holder passed away. Two different institutions tracked noble lineage through modern times, but no titles like Duke or Marquis officially remain. And as to be expected after 100 years, most noble property has either been sold or donated… which makes this palace extra special. It's still a private home, with limited visiting hours & photos in personal living spaces prohibited. But what a great opportunity to see a bit of Portugal as it once was.
The Mascarenhas family had already ascended to be Counts by the 1600s, & son João served in the king's court. During a conflict over royal succession, João chose the winning side & was awarded the higher-ranking title of first Marquês de Fronteira. He also fought for Portugal during the Restoration Wars when Spain eventually lost control of their neighbor. The small town of Fronteira ("Frontier" in English) was on that battlefront. João de Mascarenhas had this palace built immediately after becoming a Marquis & placed his coat-of-arms over everyone's head at the main entrance: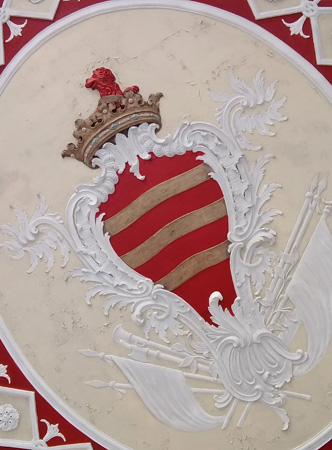 The guided visit through some of the private rooms with lots of knick-knacks & period tiles with battle scenes is informative & fascinating. But a stroll through the gardens is the most fun, where you can let your imagination run wild & get a taste of how nobility lived for centuries. If waiting for a tour to begin, the front gardens with manicured hedges & a large reflecting pool are available to explore. A number of statues & tiles with scenes of country life dot the grounds: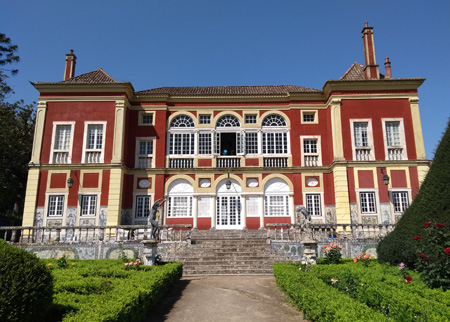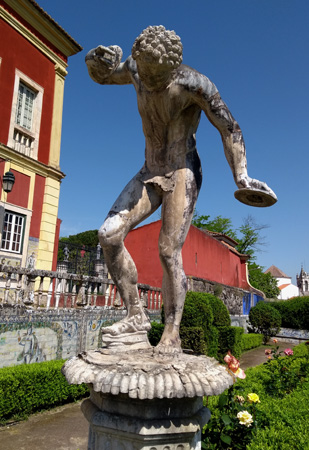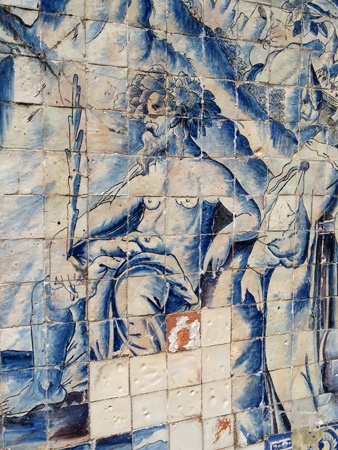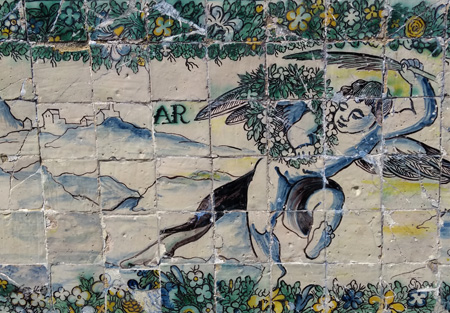 Views from above the reflecting pool are spectacular with copper tile work & busts of every Portuguese king… except for those 60 years of Spanish kings! Benches make for romantic moments: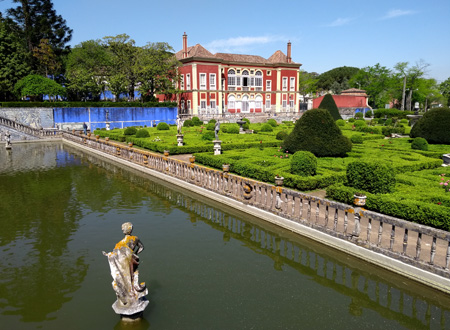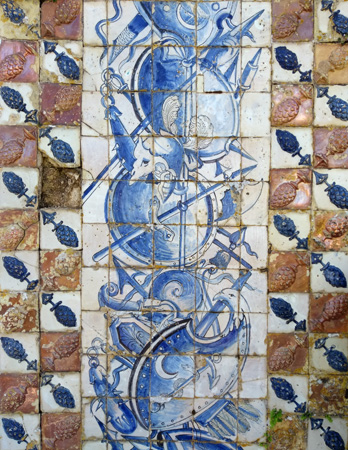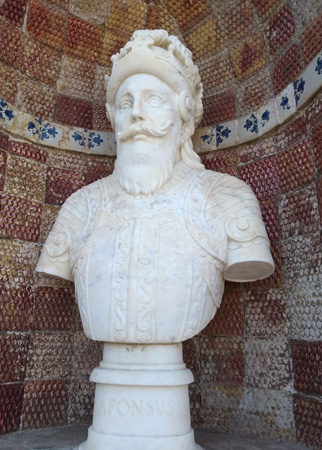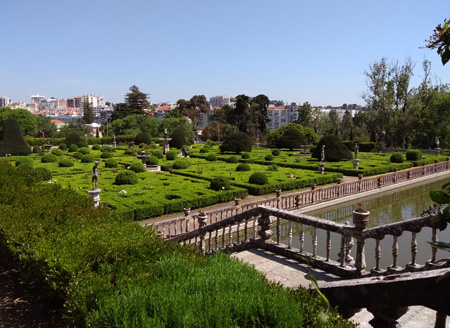 Rear gardens can be accessed after the guided tour finishes. Another balcony contains large tile panels of the arts (like Poesia) as well as statues of related gods & goddesses (like Apollo):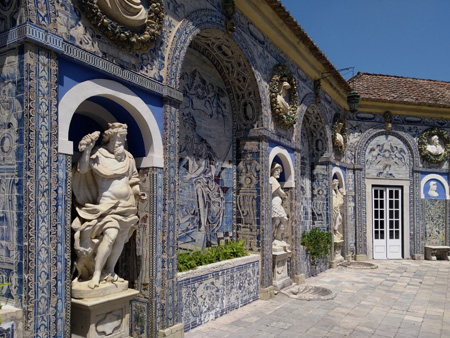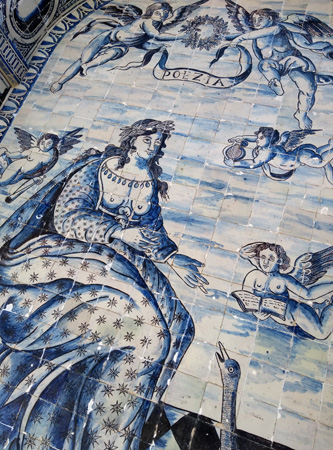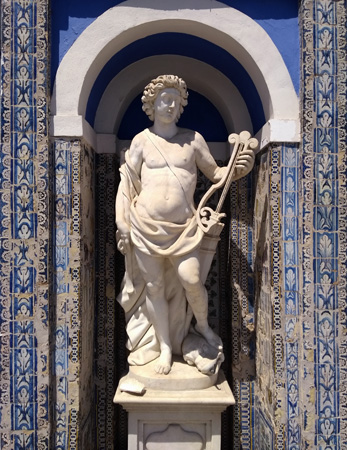 Step inside the cool room, covered in stones & shells, & feel its natural air-conditioning. Recessed with a constant flow of water, the temperature remains low even on the hottest of days: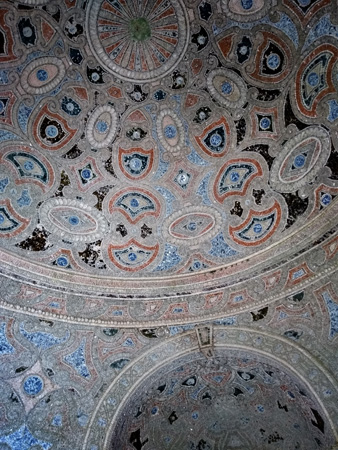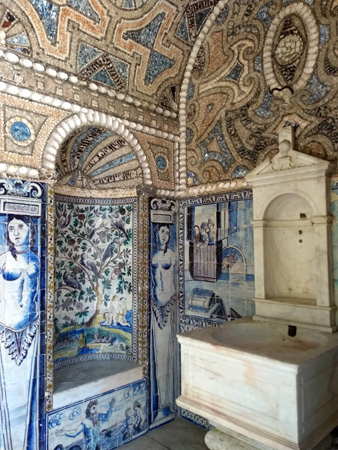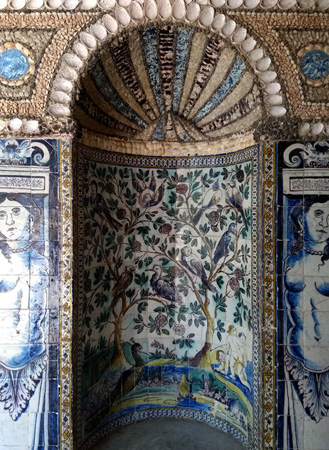 The tour ends at a chapel with its small but elaborate Baroque altar: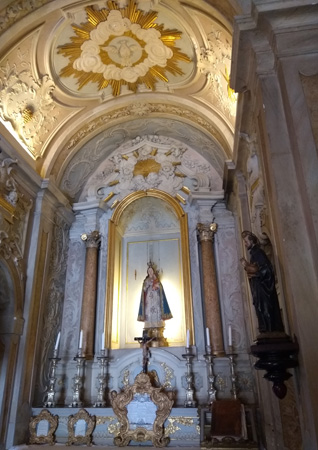 Currently the palace is headquarters for a private foundation & is also available for receptions… we saw an English couple going over wedding plans while waiting for our guided visit to begin. With so much of Lisbon overrun with tourists these days, a walk out to this country estate is a great escape!