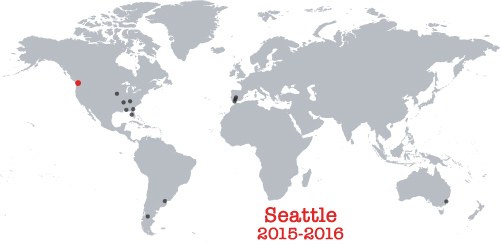 A return to the US made the most sense after a quick departure from Argentina. Sure, I could have gone back to Memphis… or even tried my luck in a new city. But the majority my friends lived in Seattle, & that's what I needed most. Familiar faces, familiar territory, a sense of comfort. Several burning questions begged to be answered though: How do I afford Seattle? After not owning one for 20 years, do I break down & get a car? How do I navigate the health insurance system? How long do I stay? I knew I'd figure things out, but first I had to decide where to live.
Seattle, Washington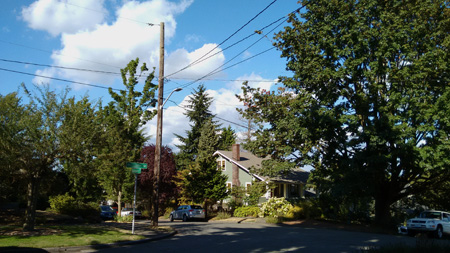 Technically, I stayed a few weeks at David's place in the Central District while attending work meetings in Edmonds + housesitting for him in February. I couldn't be more lucky; my friends were already taking care of me. But as I looked at the housing market, I began to think I'd made a bad decision to return to Seattle… a one-bedroom rental anywhere in the central city averaged $1600. Insane. Also, I knew I'd be gone several months of the year for work, so paying that much rent seemed like throwing money away. But if I lived in a cheaper place away from the center, I'd have to get a car, pay for insurance, gas, parking, etc. Maybe I could just sleep in the car!
Fortunately with another stroke of good luck, David's partner was looking for a roommate. I'd met Davis the previous year, we got along very well, & I'd be able to see David more often. Perfect. Davis lived between Green Lake & Phinney Ridge —one of my favorite parts of Seattle— & I could make the best of public transportation with a Rapid Line bus nearby, Car2Go & Uber. But mainly I'd walk, even in the non-stop drizzle. Awesome. I rented the lower half of the house for $950, had my own bathroom + a beautiful back deck with blooming plants. And it even came with a bed! I got basics at IKEA & Fred Meyer because honestly, I didn't know what the future would bring.

Since shipping personal effects to & from Argentina is basically impossible, I decided to use most of my frequent flyer miles to return to Esquel & bring back as many books as possible. The luggage cart above loaded with seven suitcases was expensive but made a huge benefit to my mental health. Totally worth the $900 in excess baggage fees to begin filling those Kallax bookcases. A couple boxes of books still wait for me in Esquel, so I'll have to make another trip down in the future. But at least I had more physical reminders of all those years in Argentina.
---
Spending time in Seattle inspired me like I hoped it would. Hanging out with Kristen, Sylvain, Charlotte, David, Davis & many others truly made for a fantastic year… even if I was an emotional wreck for much of that time 🙂 Daily strolls around Green Lake, unlimited brands of craft beer, walks for groceries in the rain, an unexpected & beautiful summer, a flower-packed spring, picnics at Golden Gardens, trying new restaurants, wine tastings in Woodinville, even writing my guidebooks again from cafés… the full Seattle scene. Turned out to be a magical time for me, along with meeting Rafa in Spain while on a work trip. We all know where this is going.
Places lived series: Florida/Iowa/Alabama 1970-75 ● Memphis 1975-88 ● On campus 1988-94 ● Seattle 1994-98 ● Cádiz 1998-99 ● Memphis/Seattle 1999-2000 ● Buenos Aires 2000-08 ● Sydney 2008-09 ● Buenos Aires 2009-13 ● Esquel 2013-14 ● Seattle yet again 2015-16 ● Sevilla 2016-present ● El Pedroso 2021-present