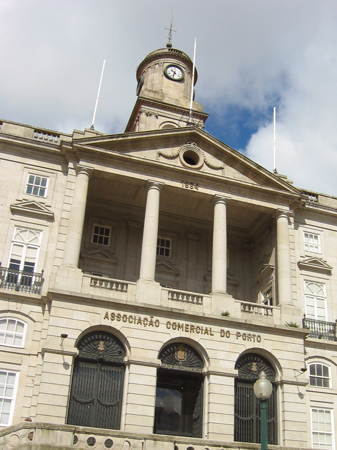 Porto may have never been the official home of the royal family, never the capital of Portugal or never the seat of an archdiocese. However, Porto has long been homebase for the Portuguese bourgeoisie: a vibrant class of businessmen, merchants & all the wealth they generated. No wonder one of the most visited sights in Porto is a monument to trade & a way of life that continues to define the city's entrepreneurial character.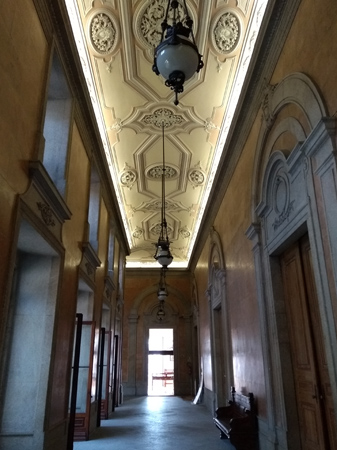 The Marquês de Pombal is typically associated with the reconstruction of Lisbon after the devastating earthquake-fire-tsunami of 1755. But his reforms extended much further than just the capital. After naming his cousin, João de Almada e Melo, to take charge of public works in Porto, the city would become increasingly modern over the next three decades. Almada's son continued improving Porto, & family connections to the long-established world of English commerce would introduce Palladian-style architecture to the city.
During a period of civil war in the 1830s —over who would be king, the power of the Catholic church, defense of local trade over foreign control & liberal ideas new to Portugal— conservative troops laid siege to Porto. As the conflict came to an end, an exchange of fire caused the St. Francis convent go up in flames. The golden interior of its church next door was fortunately spared, but a prime spot of real estate became available.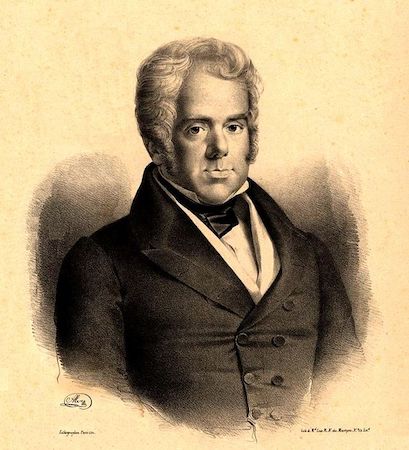 The monarchy turned over the ruins to economist/lawyer José Ferreira Borges (above) to serve as a place of commerce. Instead, the merchant class built a fantastic structure to demonstrate their victory over conservative clergy… literally, on the ashes of a convent. The Palácio da Bolsa took decades to construct, but the bourgeoisie created a perfect spot to manage their activity as well as show off their power.
---
Below are a few highlights of a guided visit but not every room is pictured. Keep in mind that no expense was spared, only the finest materials used & the building serves as a stunning example of decorative arts in 1800s Portugal. Let's take a quick look:
Patio of Nations · This is the only vestige of the former cloister visible today… while no physical remains are left, the idea of keeping an open space mimics what would have been the cloister. Finished in 1889, glass & ironwork structures were fashionable at the time… Gustave Eiffel even worked here. A circular mosaic on the floor has inspiration from Pompeii but adds then-modern symbols of electricity & postal service in the corners. In fact, the first telegraph in Portugal was installed here in 1852. The ceiling is decorated with 20 coats-of-arms representing countries with which Porto had major trade relations when this palace was built. Some say it demonstrates their cosmopolitan outlook in what Lisbon saw as a very provincial area.

Grand staircase · Made of Porto's most abundant stone —granite— a monumental staircase leads you office space & meeting rooms. The top floor is decorated with busts of illustrious members by sculptor António Soares dos Reis & his student, António Teixeira Lopes. Painted stucco on the ceiling depicts the ideals of Industry, Agriculture & Culture.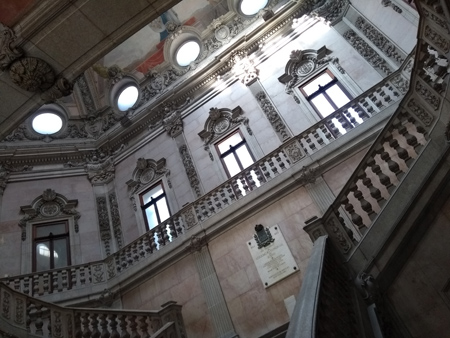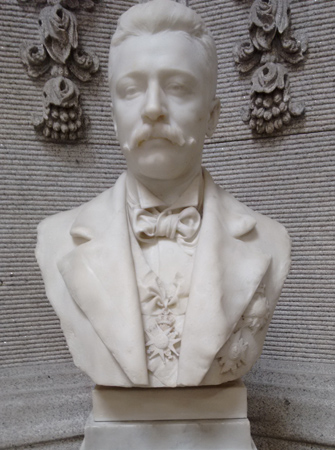 Commercial Tribunal · Once dedicated to solving trade disputes, José Maria Veloso Salgado painted a Law & Justice ceiling fresco surrounded by images of trade, the arts, & of course the ever-important wine business.

President's Office · Dark wood dominates with more beautiful paintings.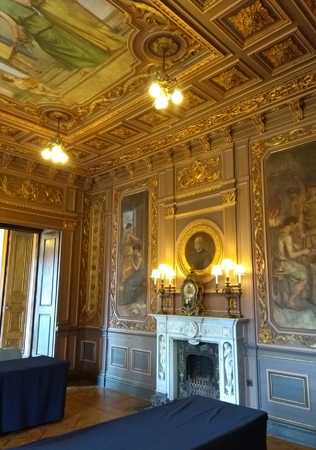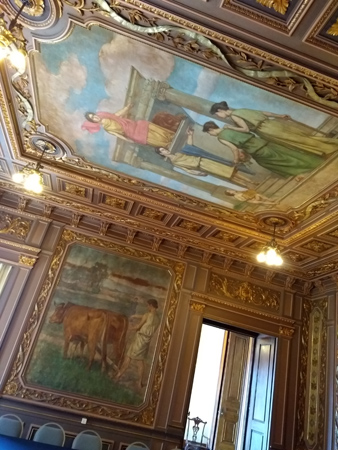 Golden Room · Filled with portraits & nameplates of all former presidents, this room takes its name from gold decoration that covers elaborate stucco on the ceiling.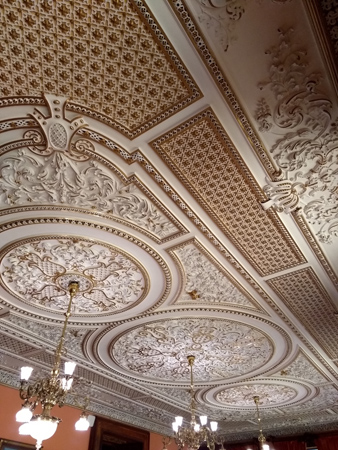 Assembly Room · Used for general meetings, the quality of woodwork here is breathtaking.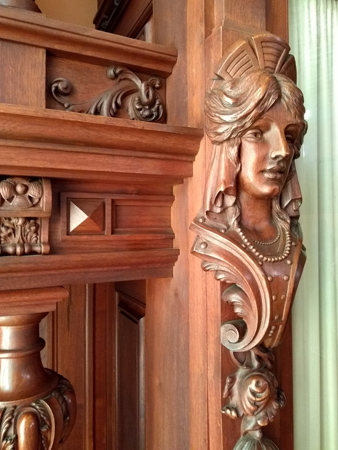 Arabian Salon · When the Palácio da Bolsa began to be built, Washington Irving had published "Tales of the Alhambra" only two years prior. A fervor for Moorish design took the world by storm, especially in the UK. Owen Jones decorated the 1851 Crystal Palace with replicas of Alhambra motifs, & the upper class began creating private spaces at home —often smoking rooms— in this style. Restoration work on the Alhambra began immediately after, & Spain often participated in world expos with pavilions using this type of decoration. Porto had to have their own version, even adopting phrases in Arabic to praise Queen Maria II who granted this land to the merchants. Absolutely stunning.

The only way to visit is with a guided tour. Tickets may be purchased online, but there's no way to reserve a spot for an English-language visit… best to wander by, look at the screen for tour times in English & buy your ticket in person. Usually there's not much of a wait, but if so, there's plenty to do nearby to pass the time. Don't miss this stunning building when you visit Porto!