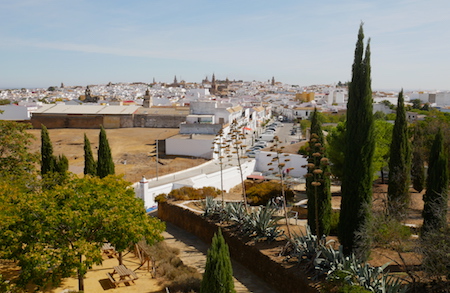 Most early settlements in the Iberian peninsula began as easily-defended sites using natural features to protect their inhabitants, as well as to scope out surrounding areas for any possible threat. Carmona was no different; however, what makes this town so unique is a history that dates back to the third millennium BCE… making it one of the oldest settlements in Europe. Old Stone Agers, Phoenicians, Tartessians & Carthaginians all called Carmona home long before the Romans arrived.
Those early civilizations left a few traces behind to be seen today, with the most visible remnant being hearty foundation stones of the Puerta de Sevilla. This picture-perfect, southwest entrance to the old city center has been built upon & improved by each successive culture since the Carthaginians, turning it into a small fortress or alcázar. On the opposite side of town, the northeast Puerta de Córdoba uses Roman stonework as its base but sports a Neoclassic makeover from the year 1800:

Another spot to explore each of Carmona's previous civilizations is the city museum. Although displays are in serious need of an update, the artefacts themselves are inspiring. I can't remember seeing such detailed, Tartessos-era vases anywhere else in Spain: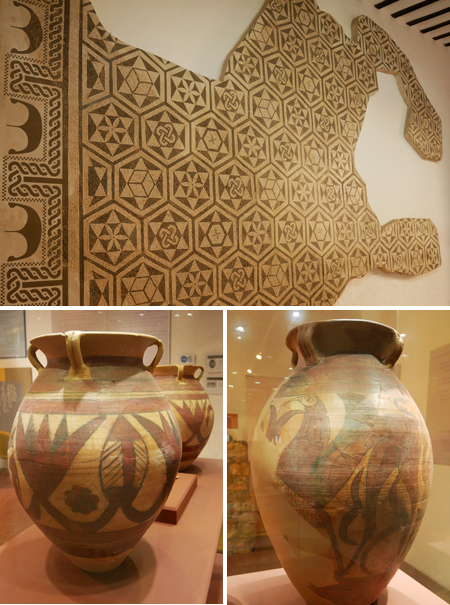 One personal highlight of Carmona turned out to be an archaeological complex holding an enormous Roman necropolis. Located at the very edge of the modern town, tombs of all shapes & sizes have been unearthed since 1868. Infopanels do a good job teaching visitors about Roman burial rituals, & the monumental tomb of Servilia —named after a feminine figure found inside with that name inscribed on the base— is shaped like a Roman domus or dwelling… a literal house for the afterlife. Even original paintings can be seen down a dark corridor:

Across from the necropolis, lower levels of a large Roman amphitheater are closed to the general public. But lookouts from the necropolis provide a good perspective to appreciate how large this structure once stood for residents who supported Julius Caesar back in the day: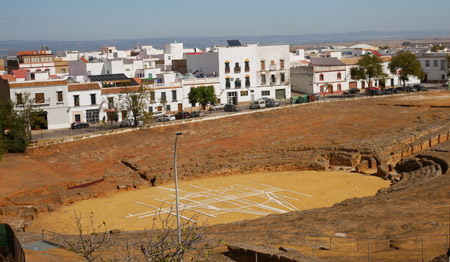 A medieval street plan makes exploring the city center fun… all manner of bell towers, convents, palatial residences + a few patios open to the public await. Feel free to walk inside the local branch of Sevilla's Pablo de Olavide university, & imagine yourself living with such an opulent patio (pictured below):

Like neighboring Écija, Baroque-era growth gave Carmona some of its most beautiful architecture. Particularly impressive is the Iglesia de San Pedro's copy of the Sevilla cathedral bell tower… known here as the Giraldilla.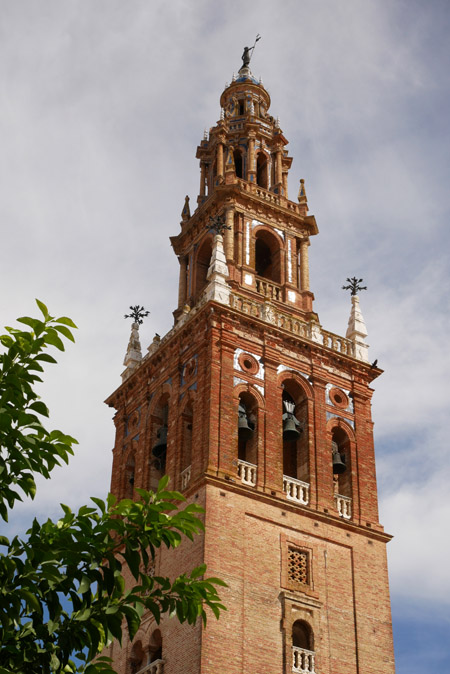 Our visit to Carmona coincided with a special birthday, so another highlight of the trip was spending one evening in the swanky Parador. Occupying remains of the second alcázar (much uphill from the first), the site became a favorite residence of King Pedro I… the same ruler who constructed the magnificent, Mudéjar section of the royal palace in Sevilla.
Inaugurated in 1976, rooms had been emptied of excessive items (rugs, throw pillows, stationery, etc.) due to the COVID-19 pandemic. So while a bit sparse for the price, I was pleased to feel safe & comfortable enough to enjoy the panoramic view from our private terrace. Oh, that view! Fields are often full of sunflowers, but we went off-season in October… & still couldn't believe the expansive scenery of the vega. In fact, Rafa went to grab some tapas to go & we had a romantic picnic dinner watching the stars. And a gorgeous sunrise the next morning. Awwww.


Even if you're not into Roman burial sites or fancy church towers, Carmona offers a chance to relax in a small town just outside of Sevilla. Catch the bus & you can enjoy those views within 30 minutes!