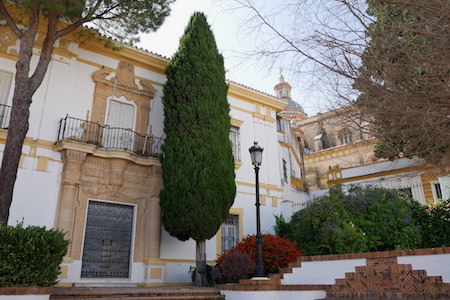 A quick commuter train ride southeast of Sevilla —the line heads towards the direction of Zahara de la Sierra & Grazalema— ends in Utrera. This city of 52,000 people sits off most tourists' radar but has a few surprises to merit a visit: a church strikingly similar to the Mosteiro dos Jerónimos in Lisbon, the only church bell ringers left in Andalucía, an immense castle keep & a party room inspired by the Alhambra. There are even pastries if you have a super sweet tooth! Let's explore this easy day trip from Sevilla…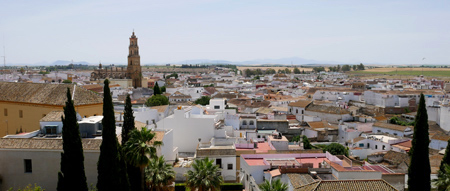 Utrera sits at a crossroads in the agricultural heartland of the lower Guadalquivir River valley. This perfect location for trade boasts a civic center that several small, outlying towns depend on. These days many of Utrera's greenhouses provide fresh produce for Andalucía, but traditional crops such as olives (especially the huge gordal varietal), cereals, sunflowers, cotton & citrus still dominate the landscape. Every viewpoint in Utrera demonstrates the importance of agriculture; no sooner than the city ends, fertile cropland begins.
Get oriented at the tourist information office, also go to see the fantastic piece of advertising in tiles, some wine barrels & the old, wooden refrigerator in the back… yes, this used to be a bar: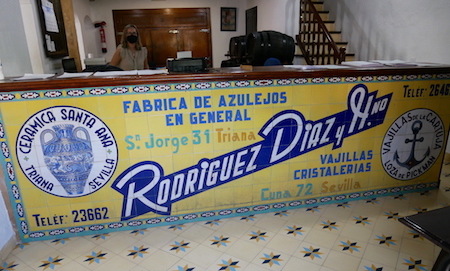 The castle makes an easy first stop, & panoramic views help get your bearings. Its grounds are pleasant enough, but the interior has little to look at. Staff are friendly though, & they tell an interesting story of how the city was founded + some of the bigger battles the castle survived (free of charge):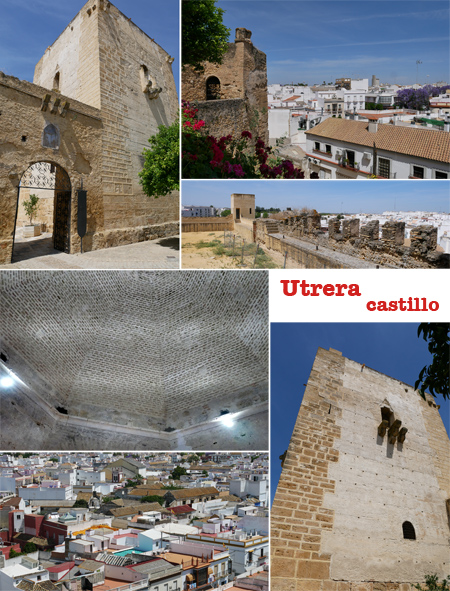 The Casa de Cultura houses rotating exhibits & a school of fine arts… fun to see when students are at their easels painting. Otherwise, staff will show you around three different patios of what used to be a residence of the Marquis of Tous (free of charge). This 16th-century estate & its massive gate from 1724 changed hands several times but was acquired by the city in 1984. A video shown in the former stables shows many of the house's previous occupants as well as another Utrera claim to fame: raising toros bravos for bullfighting.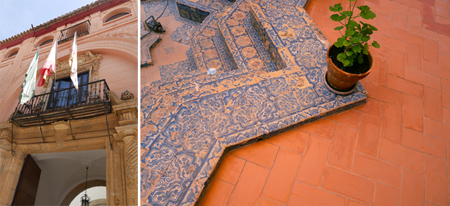 After so many years of being tour guides, we're hard to catch off guard. But the Iglesia de Santiago el Mayor had a couple of eye-opening moments. Approaching from the Puerta del Perdón, I felt like I was in some long-lost part of Portugal… the excessive, late Gothic decoration screamed manuelino. Maybe just a coincidence, but I couldn't get it out of my head: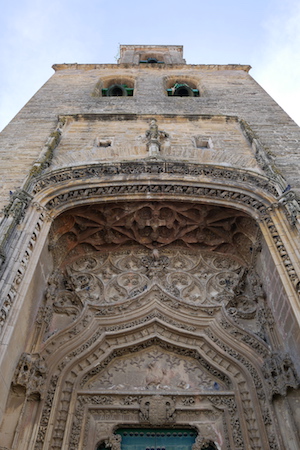 The 2€ entrance fee included a guided tour of the church & crypt + an extra 2€ we got a "complete" visit. No idea what that meant, but why not? Our guide was a tourism student, & during a break from his script I couldn't help but feel like I was in a smaller, less decorated version of the Mosteiro dos Jerónimos church in Lisbon. Same columns, same palm tree capitals, same Gothic tracing in the ceiling, same level ceiling. I'd have to do some research back home…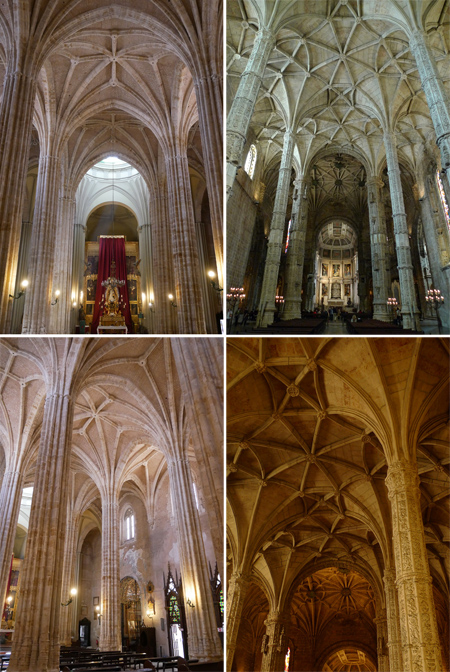 As I discovered later, there's a good reason those two churches are so similar: the same stonemason worked on both buildings. And what a story. Diego de Riaño worked on the Sevilla cathedral in 1517 when he got into an argument with a fellow stonecutter & killed him. Yikes. To avoid punishment, Diego de Riaño fled to Portugal where he had Spanish contacts… namely Juan de Castillo who was working on the Mosteiro dos Jerónimos in Lisbon. In 1522 Carlos V pardoned Diego de Riaño & allowed him to return to Spain. Soon after, the Iglesia de Santiago hired builders for that fancy exterior door, & who appears on the payroll in 1527? Diego de Riaño. Scholars suggest that the door has similarities to the Capelas Imperfeitas in Batalha, but I also see a likeness to the Santa Maria de Belém entrance… regardless, Diego de Riaño found inspiration in Portugal.
But wait, another surprise! The "complete" visit included a walk up the bell tower with one of the ringers & his young apprentice. We'd seen these guys on the local tv network Canal Sur but never thought we'd be able to see them work up close. Amazing. We learned the history of each bell, how the system works & that these are the only non-mechanical bells in Andalucía. Wandering around the church rooftop was pretty darn cool too. Yes, bells had been silenced; nothing to announce during our visit!
The tapas scene had a lot to offer, likely due to easy access to local ingredients. We stopped at El Ambigú & Besana for some great food, then headed to the town hall. Afternoon visits (free of charge) give everyone an opportunity to see some surprising decoration. This late 17th-century palatial residence underwent a remodel in the late 1800s to reflect styles of the time, adding a Salón Pompeyano, a Salón Chino & even a Salón Árabe with decoration inspired by the Alhambra. Used as government offices today, I'm always surprised how these luxurious & costly buildings survived a brutal civil war & decades of dictatorship: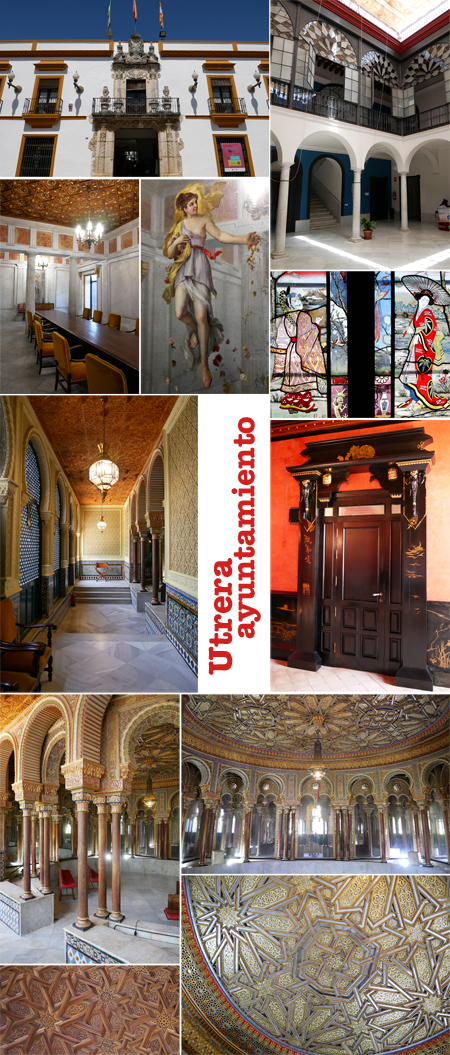 We saved sweets for last. Honestly, I prefer savory but had to sample what so many rave about. Before catching the train, we stopped for to-go items in three famous pastry shops: Confitería Cordero for their lengua de nata (a "cream tongue", very sweet whipped cream placed in a long, hot dog-shaped sweet bread), Diego Vázquez for a mostachón (an unrisen, flat & round sweet cake), & Confitería Segovia (cakes of all kinds, especially with walnuts & pine nuts). For me, the last was best, with a texture similar to dense bread pudding. Others were too sugary for me to do more than just take a small bite, but hey, tradition is tradition: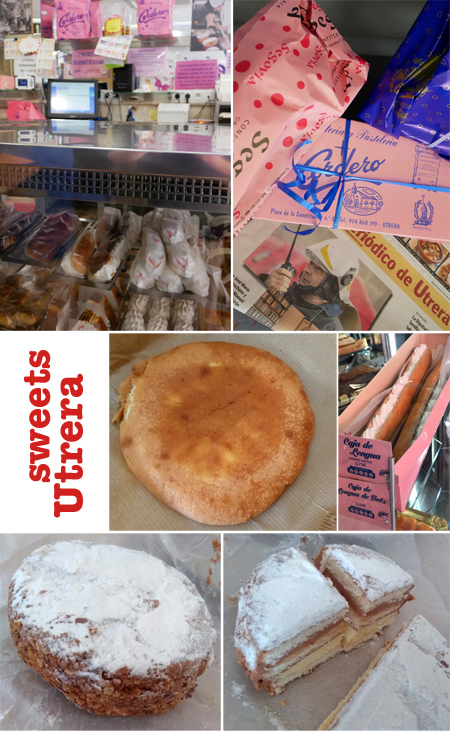 Next time in Utrera we'll make our way to Cervezas Vandalia & their tap room to have one of my favorite IPAs in Spain. Alazán Pale Ale won the 2019 country award for best English pale ale. Well deserved! Santa brought me some last year & remains our go-to beer to celebrate any accomplishment… like getting through this pandemic!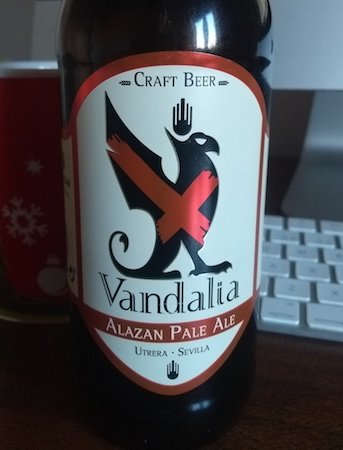 Further reading: For more information about Portuguese influence in Andalucían Gothic design, look for articles by Manuel Romero Bejerano.