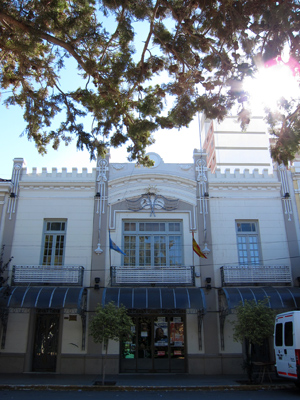 Back at the Trelew bus station after a morning in Rawson, fatigue set in. Big time. I'd slept very little the night before & it finally caught up with me. After a few empanadas in Plaza Centenario, I decided that I hadn't come all this way just to take a nap in a public park… nothing like forcing yourself to be a tourist. Free bus station wi-fi turned out to be helpful in deciding what to visit in Trelew… much more so than the woman at the TI booth who was having maté with her friend. At least she gave me a map.
Compared to Rawson, Trelew is a much more happening place. Unfortunately there's little left of its Welsh past to visit. In 1865 the first Welsh immigrants arrived with the hopes of establishing a permanent settlement to maintain their language & culture. Industrialization was in full swing in the UK & conflict with the English forced several to look around the world for a better place to live. During the same period, Argentina claimed the region of Patagonia but had not made any attempt to establish settlements… Welsh arrivals did the Argentine government a big favor. Conditions were less than hospitable, but the colony survived & even grew in size for about 50 years. Its success began to attract other immigrants & eventually Welsh influence faded. But it's a unique bit of history.
The most visible reminder of Welsh presence in Trelew is the few buildings which survived. The former railway station is a museum dedicated to the city's founders: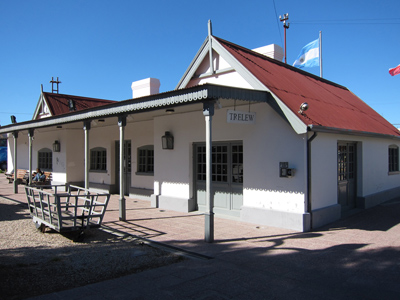 Not far away is the spectacular Banco de la Nación. A bit different in style than most of the other branches I've seen, this one comes with a clock tower. In the past it was meant to provide the official hour & keep trains on schedule:
Another remnant of the past is the St. David Association, which everyone says was built to resemble the St. David church in Pembrokeshire. I don't see it. Beautiful building but hardly anything like a Gothic church. Seems like another case of "let's all repeat what someone else wrote ages ago without verifying anything." 🙂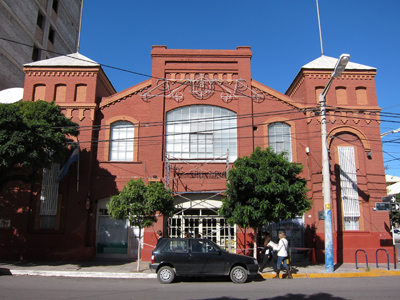 Plaza Independencia was by far the prettiest part of town… a haven of green with a 100-year old gazebo in the center. Important buildings surrounded the plaza, adding to its charm. As I walked around, a sculpture dedicated to mothers everywhere caught my eye. It looked like a work by Luis Perlotti & sure enough, it was signed by the artist & dated 1965.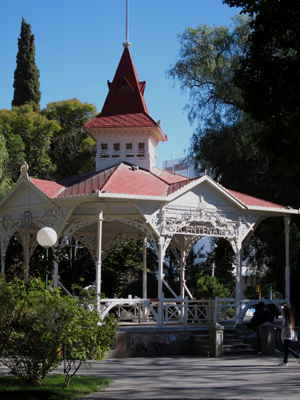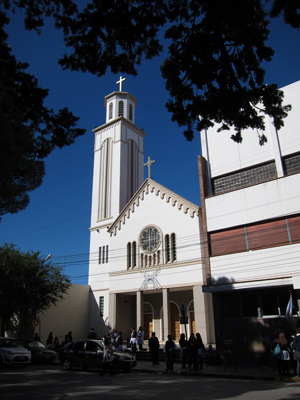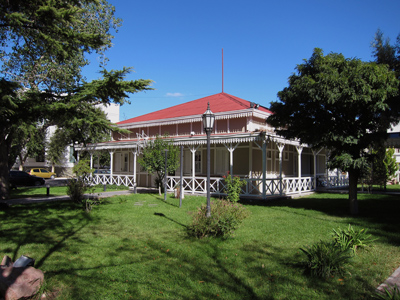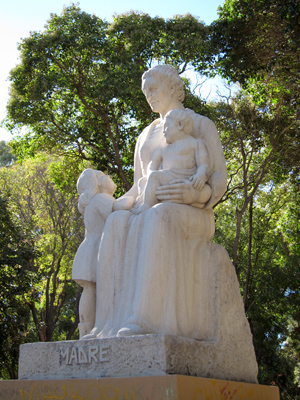 I saved the most publicized museum for last, waiting until Darío returned from Rawson. The Museo Paleontológico Egidio Feruglio claimed to be one of the best of its kind in the world & housed important fossils from the region. Say no more. I've always loved a good natural history museum, & this one had a petrified tree at the entrance. Very cool. Since the entrance fee was a steep 35 pesos, we thought it had to be good. However, I'd rank it as average with some great specimens (loved the gigantic Argentinosaurus, the large flightless bird-dinosaur & the massive ammonite).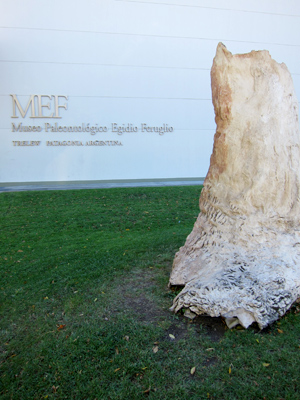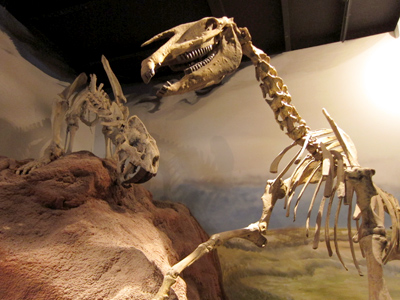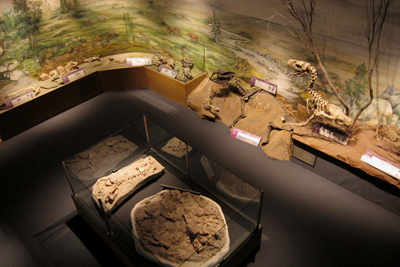 Here's my beef. At 35 pesos per person, it was odd to see exhibits left neglected. Signs describing fossils were not displayed correctly… they were merely propped up in the most convenient spot. Examine the photo above to see what I mean. Larger panels had been ripped from the wall & were also propped against whatever would hold them. The video was projected too high as well as horribly out of focus. And some displays had gaping holes which staff merely tried to hide (see below). There was space to do so much more.
One of my biggest complaints about cultural programming in Argentina is the sad state of curation in almost every exhibit I've seen. There's nothing I love more than an interesting topic presented well, & Argentina usually fails in museum displays. Great things can be done on a small budget, so it's not the lack of funding. Argentina really needs to improve their museums if they want to continue to draw tourism… or devalue the currency again.
We walked around town a bit more —the light was great for black & white photos— then finished the afternoon off with a few beers & dinner.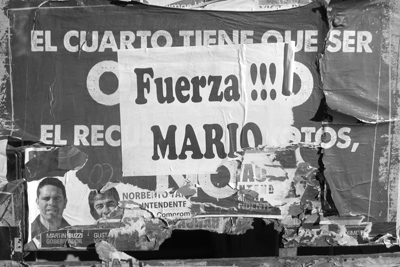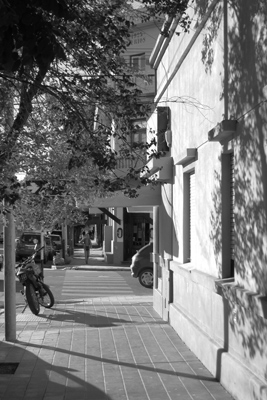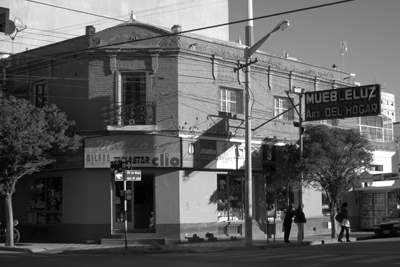 At that point I was beyond exhausted & knew I'd sleep the entire bus ride back to Esquel, regardless of road conditions. And I kept sleeping for most of the next morning too! Overall, I wouldn't say that either Rawson or Trelew should be high on anyone's destination list. Sure, there are some interesting sights but given their location, I'd say only stop by for a quick visit if you're in the area… or if you are of Welsh descent & want to see where some of your relatives might have landed!