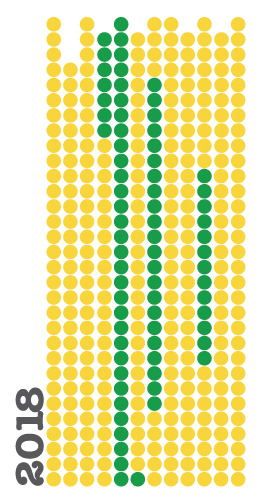 ● Where was I?

Spain

&

Portugal
Here we go again! As always, I write this for personal reasons, but you're welcome to revisit the past year with me. Ahhhh, looks can be deceiving. From the above graph, you might think I stayed at home more than last year. Well, kinda but not really…
---
Work: As promised, I requested a more relaxed tour schedule for 2018: only Spain & Portugal, no Basque Country, no Barcelona-Madrid, no other tours of any kind. In the end I did 4 Portugal & 3 Spain trips, more or less grouped together. But guidebook research threw things off a bit. I usually do research in March or April; however, this year I updated the entire Portugal book during the month of July… ou seja, with hordes of tourists + the beginning of record heat wave. Fun times. While this schedule gave me an unprecedented six months off to work on personal projects (November 2017—April 2018), basically I had to be on duty from April until October, with the exception of August.
In the realm of continuing education, I returned to university for the first time since 1997 & completed an online course about the Alhambra from the Universidad de Granada. Got those 3 credits with a 10.0 on the final! I also helped the office scout out locations in Córdoba & Montilla for an upcoming Andalucía tour. Let's just say that work kept me really busy again this year.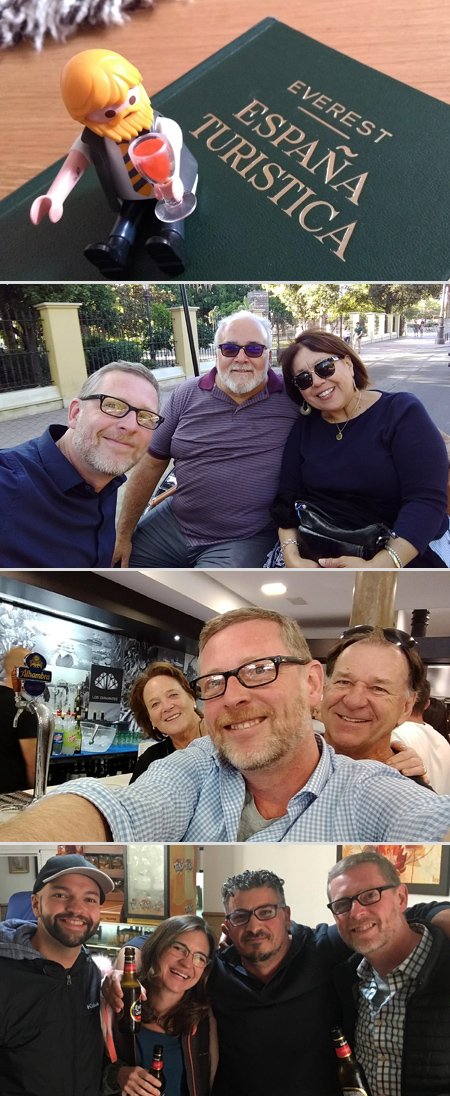 Vacation: What's that?! With an insane amount of travel in 2017, Rafa & I decided that we wouldn't be taking a major trip this year. But we were able to enjoy time together before or after tours in Portugal (our first time in Porto together) as well as take a few day trips from home (Écija & Osuna). Even though I haven't explored Sevilla as much as I'd like, Rafa & I have done some nice walks around the city. I'm sure we'll take more trips next year both near & far.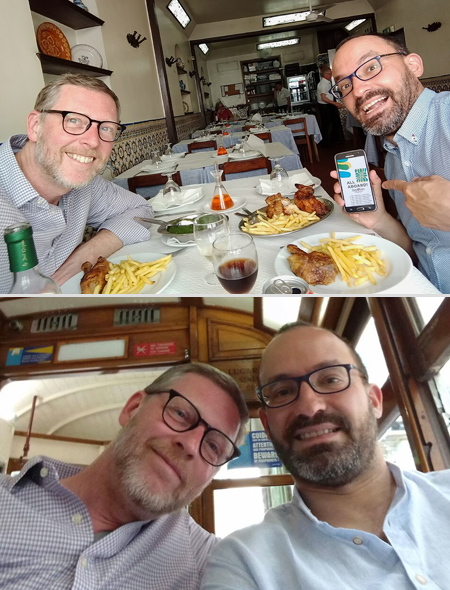 Personal: As one more step in setting up home in Spain, I received a much-treasured health care card ¡Olé! I also spent as much time as I could in the kitchen trying out recipes. Total therapy. I focused on the soup department with sopa de ajo, caldo verde & creme de cenoura. All are now home standards. I also did an entire Thanksgiving dinner for the first time ever… a challenge from Rafa! We semi-adopted a calico street cat in August, feeding her twice a day. A neighbor now cares for her, so we still get to visit & often see her wandering around the barrio.
2018 turned out to be super emotional as far as family goes. A small box of items that belonged to my dad arrived after he passed away last year. Turns out I had a step-mom I never knew about! Surprise, surprise. All my mom's stuff from Iowa arrived in March, & I've been slowly going through each card, letter & photo. Seems like it will take forever. Finally, my uncle died in October just as I finished my last tour. That means of all my US family, only my aunt is left. That's it.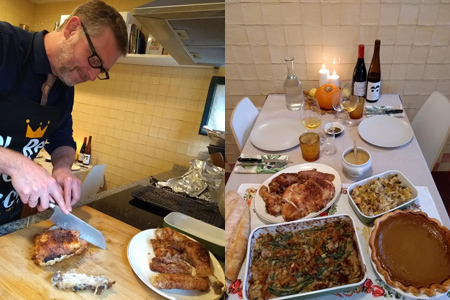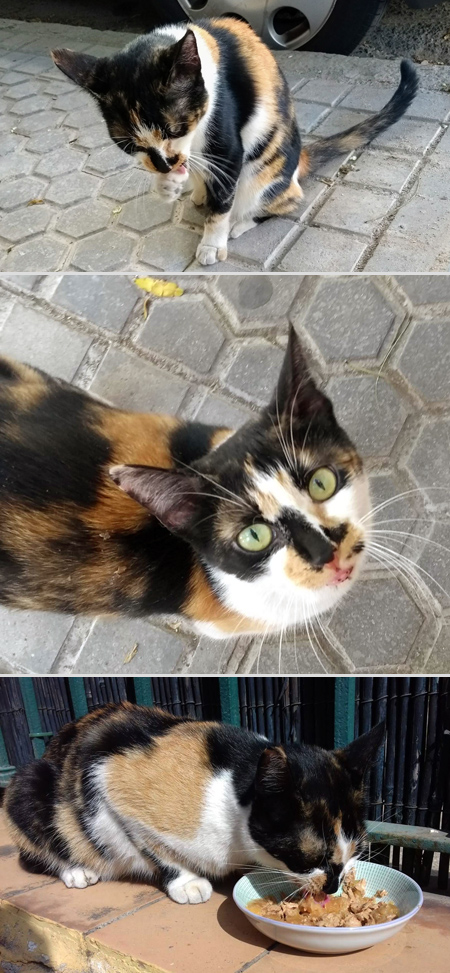 Endless Mile: Both blogs—this one & AfterLife—saw a big increase in activity, with 14 posts each. That's a lot of writing & planning ahead, especially given my hectic work schedule. AfterLife even got a redesign & a new template for the first time in 11 years. I removed the Mosteiro dos Jerónimos Android app from sale because I had no time to learn new code for updates, but I'm thrilled it was out there for awhile. A preliminary version of the Catholic heritage guide to Lisbon was released in January, with the final version just finished last week. 38 more pages of text & about 25 new illustrations… all this year! Whew. I'll place it for sale next month after a brief trip to Lisboa to check a few details.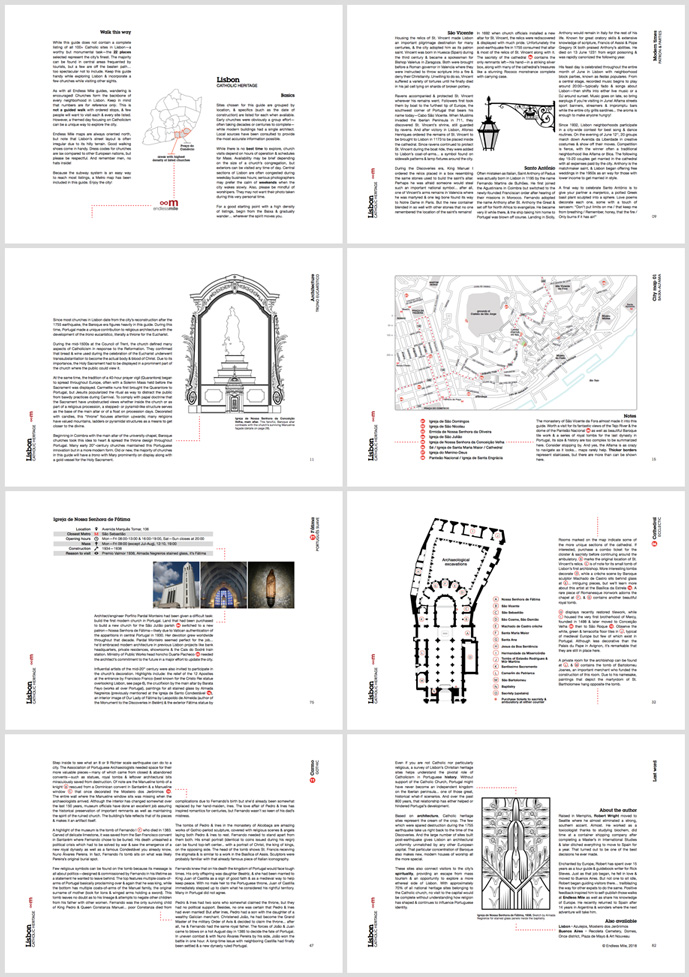 To sum up 2018 in one word: fulfilling. I've been able to reconnect with old friends, dig into my family's past, complete several long-term projects, increase my knowledge about Spain & Portugal, almost get the apartment cozy how we want it & consider interesting plans for the future. Being married two years now to a fantastic guy certainly helped. While work got out of control at times this year, in general, things seem to be coming together after so much craziness. Fingers crossed!
---
What's coming in 2019?
Priorities for 2019 are balance & closure. As always, I hope to strike that elusive balance between work & home. I've already asked for less tours next year in order to focus on life at home more. Maybe that's the key. For the first time in 24 years (!) I have all my personal possessions in one spot. In 2019 I'll be able to finish boxing up the past & put more effort into focusing on the future. I've also decided to give printing a go for Endless Mile guides. The process is easier than I'd imagined, & seeing my guides in physical form has been a goal since EM began in 2011. Next year seems like a big turning point, & I'm excited to get started! Have a fantastic new year!