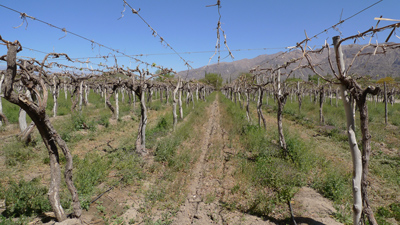 After three days of early rises & a couple of extensive excursions from Salta, I was really looking forward to some real vacation time in Cafayate. But we still had to get up at 05:30 to catch the bus, mainly due to the long ride… the winding route through the Valles Calchaquíes made it a six-hour trip although it appears much closer on the map. And unfortunately we didn't have very good seats, so no photos of the spectacular rock formations —different from those we'd seen previously— but that just means I'll have to go back. It would be a great trip to do by car. At least I got to begin the book I'd brought with me three days ago & hadn't had time to open since leaving Buenos Aires.
Cafayate is small enough to be 100% walkable, & we found our way to the Hotel Killa merely by asking around. What a wonderful place. Excellent rooms, super friendly staff, lots of nooks & crannies to explore & even an outdoor pool. We managed to rest a few minutes before heading out to explore the town.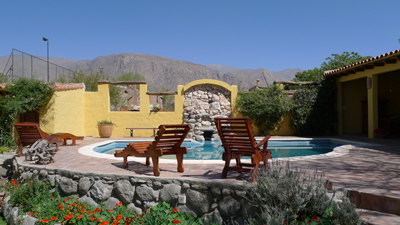 The wine boom in Argentina has hit Cafayate in a big way. It's definitely geared towards tourism these days. But supposedly crowds invade during the harvest (mid-February/early March) so the town retained a lot of its charm during our stay. The main square is ultra-tidy, very green & with a ton of options for eating. But we'd already made a lunch reservation…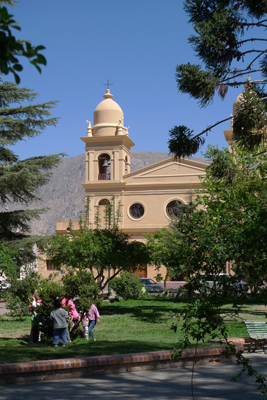 I'd read about the excellent wines produced by the Bodega El Porvenir de los Andes, so that seemed like a good place to start. They offer more than just a wine tasting… it's the Experiencia Porvenir. Lunch or dinner for 200 pesos per person accompanied by their wines. How could we resist? It took some work to find the place to pay, then we walked a few more blocks to the vineyard itself… just at the edge of the city. Wonderful. Although it's springtime & vines are just now beginning to come to life, it was a pleasure to walk through the vineyards to the family house… un lujo total: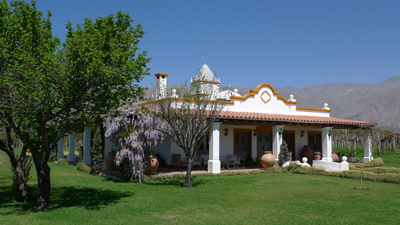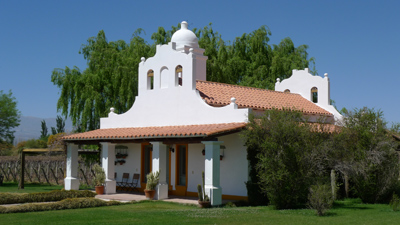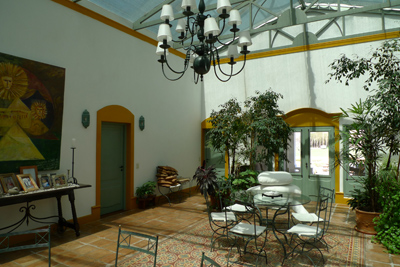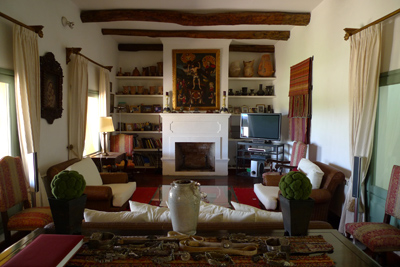 I was thrilled that we had the place to ourselves, but at the same time imagined how much fun it would have been with a group of friends. We sat down, & service was spectacular. I could not have imagined a more perfect lunch. First course: empanadas salteñas with a Torrontés. Second course: salad…then a bit of costilla with either Malbec or Cab. The Cab was spectacular while even more meat came out. And the wine kept flowing. Stuffed to the gills, the dessert course was membrillo with cheese & cayote en almíbar served with a sweet Torrontés. Coffee & tumbling back to the hotel were next. Definitely a meal I won't forget.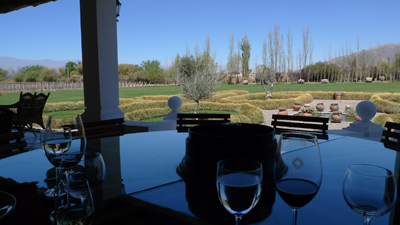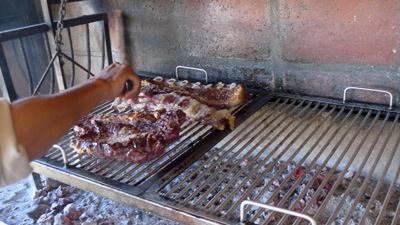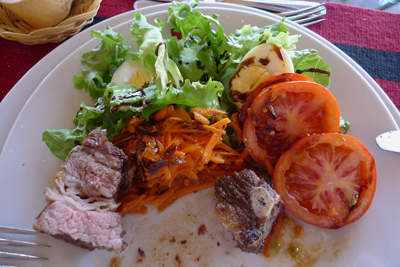 After recovering from our food-induced coma, I wanted to do at least one other wine tasting but soon realized taking it easy was more important. We'd passed Bodega Nanni & Bodega El Tránsito on our way back to the hotel & sadly did not return. But we were in town for less than 24 hours & with such a wonderful hotel, it was hard to leave. Darío read by the pool & got some sun while I caught up on my virtual life & tried to organize some of the 300 photos I'd already taken. It was time well spent.
Later we were both somewhat hungry, so we wandered through the town a bit more. Lovely to walk through at night. But we chose the wrong restaurant. Avoid Macacha at all costs: condescending service, incredibly overpriced wine list, more than half the menu unavailable, etc. It had the look but really failed to deliver. We should have left but didn't, & the conejo con verduras salteadas al wok was strange but ok. Thinking about it, maybe it wasn't even rabbit… Anyway, it was not worth the snobbish attitude or prices charged.
At least we had a fantastic lunch & got some wonderful nighttime shots… loved the faded signage: