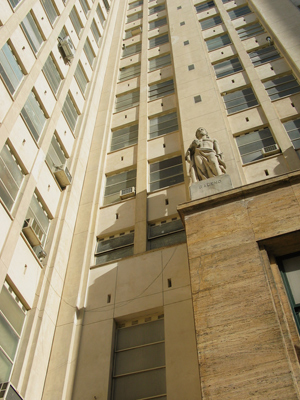 Becoming a doctor… no, not me. Just because I'm recently unemployed doesn't mean I've lost my mind. Besides, I'm too old. Seriously. But at one time I was on my way to becoming a doctor. Instead, I decided to use my biochem degree to get a job… & the rest is history. But this post isn't about me. It's about Gabriel.
He is a regular reader/commenter on this blog, & we first met in person before my latest work trips to Iberia. He recently finished medical school & is currently doing his residency. I thought it would be fun to interview him & get the lowdown on what it takes to become a doctor in Argentina. We were both dizzy after comparing the details of US & Argentine education. Keep in mind that there are many variables that go into studying medicine, & this is mainly his experience at the University of Buenos Aires (UBA). But it's the largest med school in the nation, so it's a good standard to discuss.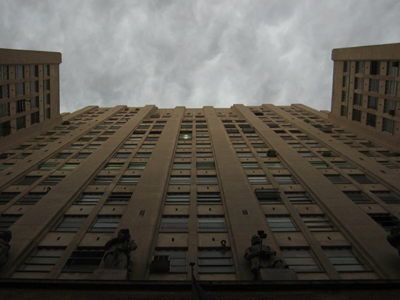 Step 1: Primary & secondary education. 12 years, similar to the US but I'll skip details to get to the juicy stuff.
Step 2: Enrollment in the UBA. It's free, public & open to everyone. No entrance exam is required (although other Argentine universities & certain majors require one). An average of 5,000 students sign up every year to study medicine!
Step 3: Supposedly to make up for a huge difference in the quality of high school education, the UBA requires all first-year students to take a coursework package called the Ciclo Básico Común, or CBC for short. The academic year is composed of 2 4-month periods (cuatrimestres) which I'll just call semesters to make it easy. It's basically the same thing. There are 3 classes per semester during the first year.
Two courses are required of every student: Intro to Scientific Thinking (philosophy) & Intro to State & Society (history & politics). They are not taken at the same time; it's one of those per semester. That leaves space for 2 other classes each semester which are determined by your major. Important: You have to decide what you're going to study from Day 1 in order to attend the appropriate classes. There are no electives.
Two partial exams are administered per course per semester on a grade scale of 1 to 10. If you average 7 or above on the partial exams, then you can skip the final exam! Cool. But it isn't easy to do. If you fail the exam, then you get 3 more tries… failing those, the class must be retaken again. It's a catch-22 because some first-semester classes are actually pre-requisites for second-semester classes. So you have to do well in order to move forward.
Step 4: 3 years of med school classes. These are pretty standard subjects: anatomy, histology, mental health, microbiology, etc. A few classes are year-long, but most only last a single semester. No avoiding final exams here (except for microbiology if you're super smart like Gaby).
Step 5: 3 years of hospital study. No more university classes… you're in the hospitals, learning, studying, & taking lots of tests. Some topics are only covered for 2-3 weeks & your actual hospital time may only be 4 hrs/day, but the material to study is massive. Most of the exams are oral. The best part is that you can choose the hospital to study at & have more options in your training. My understanding is that it's less rigid, more hands-on, & a lot more stressful.
Step 6: 1 year of internship. You rotate, decide what your specialty will be & take a written final exam that consists of resolving clinical cases. On passing, you get the title of M.D., but without a specialty it's almost impossible to find work.
Step 7: 3-4 years of specialization. To continue the training process (residencia), there's another exam. Prep courses are common for this step; Gabriel took one from October to March for 1400 pesos. Placement in hospitals depends a lot on your ranking. Five chances to take this particular test, & if you're in your early 40s then you're too old.
In addition, you have to interview at hospitals. This was the most shocking part for me. Public hospitals can pay much more private hospitals. And the number of vacancies is minimal. MINIMAL. This year there were about 25 openings for Gabriel's specialty (ophthalmology) & 174 students competing. Of those 25 spots, only about 10 were worth it. A hospital in Quilmes offered Gabriel a position for 300 pesos/month. Who would want that? That's below the poverty line.
He did well in his interviews, ranked 4th, & ended up in a good public hospital receiving 1800 pesos/month. If he hadn't received one of the top 25 spots, he might have been able to get a concurrencia… almost the same as a residencia but without pay. If Gabriel does well, then his last year can be spent as the Jefe de Residentes for all the newbies. It looks good on a resume.
Step 8: Hopefully find good work. Most public hospitals expect former residents to continue to work for the hospital at least 1 day/week. If you do that, you're in the loop for any job that might become available. Of course, there's also private practice, eye clinics or a number of other options.
So Gabriel will be 28 by the time he gets to Step 8 & will have never had a year off. Now that's dedication. It seems highly competitive to me & with fewer work options than I expected. But he says he wouldn't do anything else… Thanks for the interview! I hope I didn't get things mixed up after all the hours we talked about this!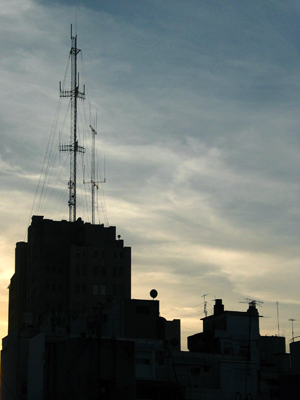 Update (11 Feb 2011): Gabriel recently completed his residencia at the Hospital Oftalmológico "Dr. Pedro Lagleyze." He became Jefe de Residentes during his last year… was there any doubt? 🙂 That entitled him to organize academics & rotations for incoming residents. Lots of responsibility & lots of work. Now he's studying a sub-speciality: oculoplastic surgery. At least Gabriel took some vacation time. In fact, I think he's relaxing on the beach right now!
[Originally published 27 Jun 2007. I recently heard from Gabriel & he filled me in on the 3.5 years since this post first appeared. Time really flies! All photos above are of the Facultad de Medicina in Recoleta.]