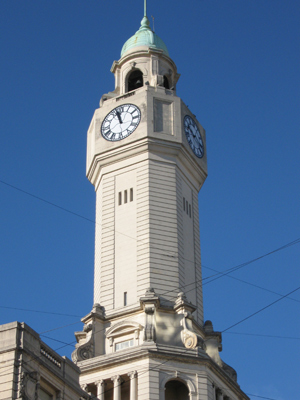 Buenos Aires celebrates its 431st birthday this June, but in many ways the city is still young & taking its first steps. Just look at local politics; Buenos Aires is experiencing growing pains we all have to bear.
Something most visitors don't realize is that for most of its history the city was under direct federal control. The President chose the mayor of the city (the intendente)… it was not an elected office & residents had little say in their local government. The 1996 city constitution changed that. A Jefe de Gobierno is now elected by popular vote during the same year as presidential elections & serves for four years.
But that's not all. Buenos Aires has an unruly number of barrios (neighborhoods). 48 in total, with the newest being Puerto Madero, it is a legislative nightmare. The 1996 constitution said to heck with that & grouped many barrios together into comunas (communes). Even though the new administration units were authorized, not much was done to make the comunas a reality. Porteños continued to think in terms of their barrio.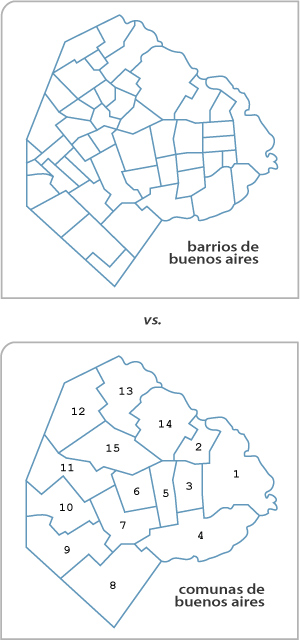 In 2005, the city legislature approved the Ley de Comunas which finally began to implement the new divisions. A 2007 deadline to transfer certain neighborhood functions was met & a 2009 law stipulated elections for this year. It's kind of exciting… residents get to vote for members which will comprise a Junta Comunal & have a bigger voice in the city legislature. At least that's the idea. The grouping also more or less evenly separates the city into residential areas of about 200,000 people each.
By dividing the city into 15 sections instead of 48, improvements should be easier to implement. Comunas will take over a lot of the admin work done previously by the city government, be responsible for park upkeep & side street cleaning. Social & cultural offers will be somewhat delegated to the comunas as well as local inspections & certain zoning issues. All in all, it seems like a good idea… but it's new & will certainly need to time to become effective. I wonder how many porteños really understand the change that's coming. The topic is rarely in the media.
What scares me most is that the comunas will eventually have to invent names for themselves. Only three (Palermo, Recoleta & Caballito) will be able to maintain their barrio name. Maybe Comuna 4 will be called "City Sur" or something trendy. Let's hope good decisions are made.
The first indication that comunas are here to stay is the release of preliminary 2010 census data. Since I've been in Buenos Aires for over 10 years & participated in the 2001 census as well, this is extra fun for me. And all data is grouped by comuna…
As of 2010, Argentina had a grand total of 40,091,359 inhabitants. That's 9.6% more than in 2001. And there's almost 1 million more women than men in the nation. Just so you know. 2,891,082 people live in Buenos Aires. That's only 114,944 more than in 2001 or an increase of 4%. Very little. I was surprised to see how many people live in Comuna 7 (Flores-Parque Chacabuco). And I really expected more people in Comuna 1… sure, it's chiefly business & government but lots of people live there too.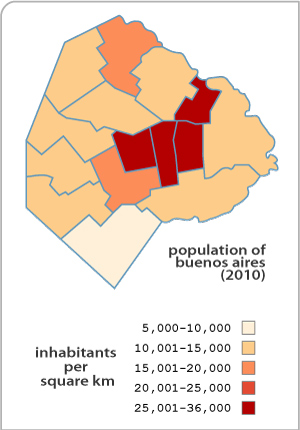 Add in people from the 24 partidos which comprise Gran Buenos Aires & the urban area contains 12,801,364 people… which is about the same number who live in Greater London. And about the same population density as well. Let's start a new comparison: Buenos Aires is the London of South America!
Update (06 Jul 2011): In a year when it seems like every office is up for grabs, the election date for the comunas was moved to July 10th in order to coincide with mayoral & local legislature elections. But even though porteños return to the polls in a few days, there is still very little information available about what the comunas are & how it will radically change local government. A recent article in La Nación helped clarify the issue a bit.
Comunas will go into effect as of 10 Dec 2011. Terms are for four years, & local reps (7 per comuna) will receive a salary that is 60% that of a member of the city legislature (currently 7100 pesos). The president of the comuna makes 10% more. They will be responsible for side street maintenance, care of public green spaces & have access to a 1.2 billion peso budget or 80 million pesos per comuna… I'm guessing the budget will be divided evenly.
What surprises me most is that I've seen no one actively campaigning for one of these new positions. Has it been "arranged" that only 8 people are running in each district? This appears to be another big fail for the democratic system in Argentina. But hopefully once implemented, things will improve for the next election in 2015.