First of all, one building that didn't fit any of the other categories:
Güemes 3950 (Palermo) • I hadn't been disappointed in my Estanislao Pirovano quest. But after seeing this former apartment building, I wonder what Pirovano was thinking when he designed this. There's nothing wrong with it… just very blah compared to all his other buildings. Maybe he was merely fulfilling a client's request. No Tudor, no Neocolonial, no dragons, nada. The most decorative part of the façade is the pediment with lots of frilly bits & curves to look at through the trees.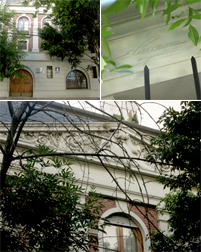 While these posts are not a complete summary of his work in Buenos Aires, the distribution of buildings point out that Pirovano was favored by wealthy clients. Many unsigned or modified buildings likely remain hidden in plain sight. The city needs people to comb the streets, paying attention to detail. There's no other way to catalog & document Buenos Aires in the 21st century.
Another avid supporter of Pirovano was the national government via the Comisión Nacional de Casas Baratas & restoration works including the first Congress building on Plaza de Mayo & the National History Museum. Hopefully someone can compile a full list in the future, find what's left of his original drawings & publish them. He left his mark on Buenos Aires & deserves further study/protection.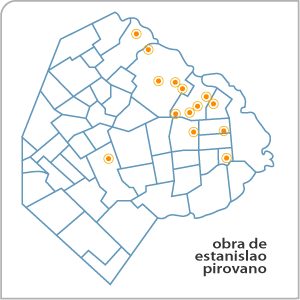 Update (27 Feb 2011): In April 2009 after returning to BA from a temporary move to Sydney, I learned that the city government was asked to place all of Estanislao Pirovano's buildings under heritage protection. As far as I can tell, nothing was done.
Alejandro Machado has done research at the Sociedad Central de Arquitectos & uncovered period photos of some interiors as well as photos of demolished buildings. His blog (in Spanish) is a valuable resource for those interested in Pirovano's work. Vacations houses in Mar del Plata & more traditional buildings comprise most of the current content.
---
Estanislao Pirovano series: Biography • Neotudor • Neocolonial • Neoprehispanic • Unbuilt • Last word