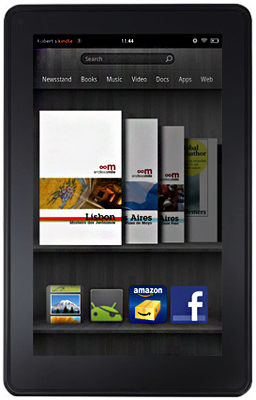 "Excited" best described my mood when the Kindle Fire became available in November 2011. An affordable alternative to Apple, the device even enjoyed good (although not great) early reviews. Was it set to compete with the iPad, especially at a below-profit price? Didn't matter much to me. The KF was the first tablet connected to a big e-book provider, & I couldn't wait to see how it performed.
---
Import restrictions are now a way of life in Argentina, so fortunately a 3-month stay in Lisbon coincided with friends visiting from the US. Nothing like having electronics personally delivered! In March 2012, my first impressions of the KF were very good: a stunning display, just the right size, decent speakers & fantastic battery life. Like any new gadget, getting used to the device took time… time I didn't have. The next week I was on the road again & decided to use it in Scotland, Romania & Bulgaria. Talk about a trial by Fire 🙂 It was a bit heavier than expected (especially with a Marware cover) & the processor was undeniably slower than I'd hoped. But to be honest, I was thrilled… especially for the price & potential for quality releases.
For clarity's sake: the KF as a hub for Amazon products never factored into my decision to purchase the device. The majority of Prime content is blocked in Argentina. The cloud is an option, but other features promoted by Amazon were unavailable based on my location. Mainly I was interested in seeing how the KF handled PDFs & e-books for the possible release of Endless Mile guides. After a few weeks of steady use, I was ready to give it a shot.
Development began in April 2012… & my enchantment quickly began to fade. Guidelines published by Amazon were incomplete at best, & there was little official support. Add to the mix huge frustrations in determining cover image dimensions as well as image handling specifics within the e-book. Thank goodness there were other authors writing their own tutorials about programming & policies, while at the same time hounding Amazon for further explications. Special thanks to Michelle Demers & Paul Salvette!
By May, I'd decided that perhaps e-books were not the best investment of time. I had only one month left to research all future Lisbon guides & weather improved day by day. After discovering that Amazon charged self-publishers for sales download bandwidth (on top of the 30% cut they take like Apple), limited image size to 127 K (seriously? with such a fantastic display?) & did not allow travel titles under the successful Singles category… well, screw them. Turns out that lack of info & bizarre company policies stemmed from the in-development HD model to be released in September… but of course, that's all hindsight.
In June & July, I redesigned the Endless Mile website to reflect an improved focus for our guides. There were also several other projects that occupied my time, including a housing move & the first Lisbon release… with a bang thanks to Time Out. By August, more info became available on KF development & I picked up where I left off in May… resolving to sell independently. If Amazon couldn't see the potential of their own device, that wasn't going to stop me from producing quality content. Within a few weeks, I'd released a Kindle Fire-optimized version of the Plaza de Mayo guide. Once/Calle Paso followed in October & the guide for the Mosteiro dos Jerónimos in Lisbon is complete as I write this in November (see note below).
---
Considering that most tutorials for e-book development are geared toward writers & not programmers, the current state of the industry needs to change… as well as authors' perspectives of what is necessary to self-publish. Beginners must be overwhelmed with so many options for design & distribution: aggregators, Calibre, Sigil, InDesign, & iBooks to name only a few! The list goes on & on, everyone wants a piece of the pie, & EPUB3 standards languish in a state of semi-adoption. An e-book with almost full CSS3 formatting for the Kindle Fire is essentially a webpage + a few more attached files… all compiled in something that takes me back to those early days of programming. Dated, for sure. But honestly, not that difficult when explained correctly.
My advice? Jump in & learn a bit of basic programming. Becoming proficient in Dreamweaver wouldn't hurt either. Authors can ultimately have more control over their content as well as pick up some necessary skills for webpage development & maintenance. And if more self-publishers decide to market independently —as well as demand changes to standardize e-readers— manufacturers will ultimately have to take notice.
[Note (29 Nov 2013): Kindle versions of all guides are not currently available. Amazon has changed their policies, so we are evaluating ours as well. Stay tuned!]