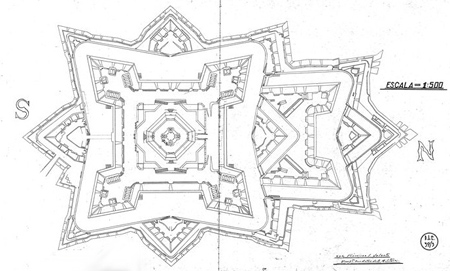 Elvas not only boasts a massive wall around the entire city that dates from the great age of fortress construction in the 1700s, but the nearby Forte de Nossa Senhora da Graça also impresses from its commanding location. As a modified 400-meter (1,300 ft) mountain, the fortress could easily defend Elvas & see any invasion force coming from Spain next door. Most of the fort sits submerged into the mountaintop, making this a fantastic feat of engineering. I have no drone, but this gives you an idea of the scale: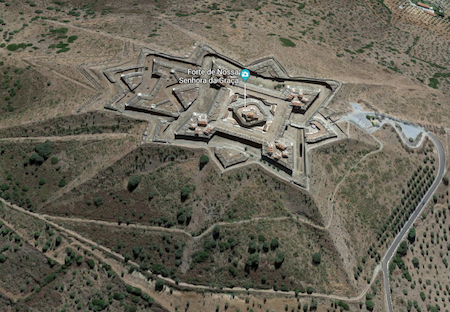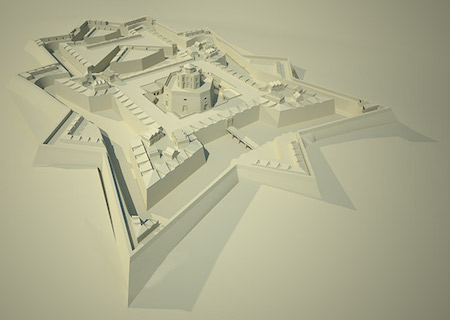 Beginnings
When King Dinis conquered Elvas from the Moors in 1230, a Dominican monk built his residence on this mountaintop. Over the next 140 years that home gradually transformed into a hermitage dedicated to Our Lady of Grace, or Nossa Senhora da Graça in Portuguese. During the Restoration Wars —the end of 60-year period of Spanish rule— Spain's forces occupied this hill during a major siege in 1659. They bombarded the city of Elvas with ease. In 1762 the same situation repeated itself during the Seven Years' War. Elvas sits in a wide plane south of a large Iberian mountain range & almost on middle ground between Madrid & Lisbon… its strategic location always made the city a target.
Fortunately for Elvas, the modernizing Marquês de Pombal stepped into action. His first diplomatic assignment had been ambassador to the UK, & friend King George III recommended military engineer Friedrich Wilhelm Ernst Von Schaumburg-Lippe as the man to whip Portuguese defenses into shape. The Conde de Lippe proposed a Vauban-style fortress for Elvas, King José I approved & plans were drawn up. He left the fort's execution in the hands of French military engineer Étienne but supervised the project by correspondence.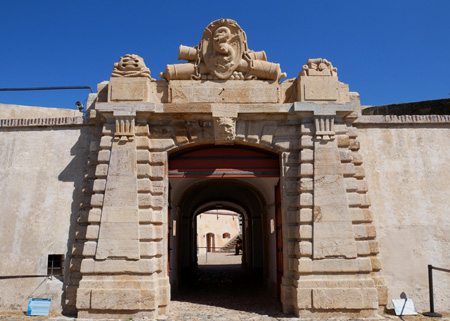 Construction began in 1763, Étienne left the following year with Lippe, & Coronel Guillaume Louis Antoine de Valleré took over. He made innovative changes to the original design: a central redoubt with the governor's house on top (adding a third line of interior defense), more firepower, a transport system for cannons that only required three people & compensation for the site's terrain allowing for -48º gunfire & -6º cannon fire. Initially 6,000 men worked on construction, & no one knows what the fortress truly cost. Works finished by 1792—29 years total. In 1940, the fortress was valued at 2.430.000 escudos or USD 88,400 (about 1.6 million USD today); however, that estimate likely negates the cost to the royal treasury. Restoration in 2014 cost approximately 6 million euros though. But that's jumping ahead…
Bulwarks
We walked through the outer defensive wall first & began our visit in the bulwarks: four pointed sections that hold shooting galleries, endless hallways, munitions storage & a few reminders of daily life like ovens & washbasins. Surprisingly, no toilet facilities were available for viewing although we did see one old retrete locked off. It was easy to get turned around inside with little signage for visitors. But we were walking through a gigantic, 250-year old fort so that's to be expected: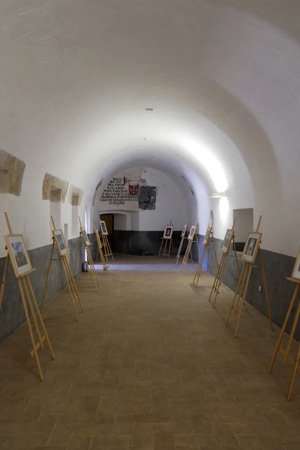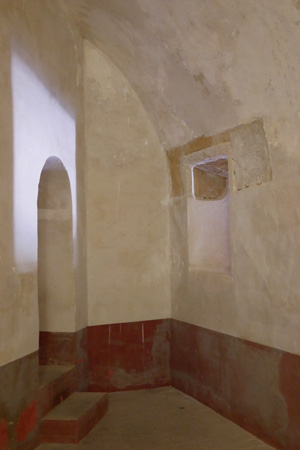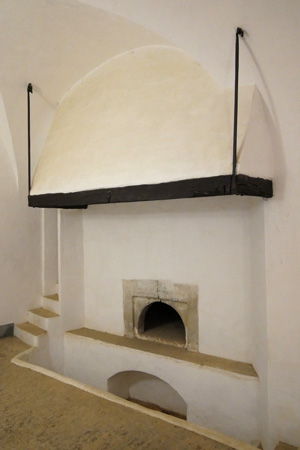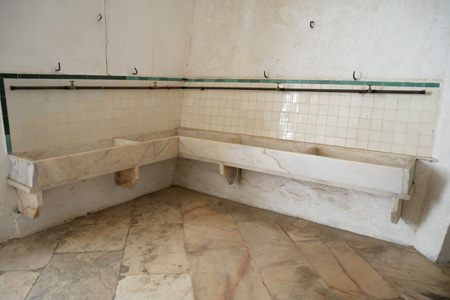 You can imagine what soldiers & prisoners must have felt here. During a civil war from 1828-34 & after the First Republic in 1910, the complex became a political prison. Although a huge cistern sits under the central redoubt, that rainwater was for cleaning & emergencies only. Water duty consisted of carrying bottles or even large casks from a fountain at the base of the mountain… up to three times per day as punishment. Military propaganda encouraging "good" behavior covered some of the walls, urging prisoners to write to their family (even from the back of a horse if desks weren't available) & that they rise to defend the country whenever called on. Hmmm.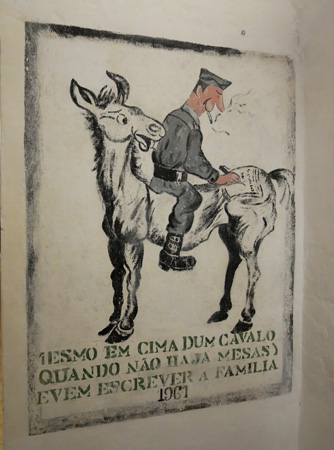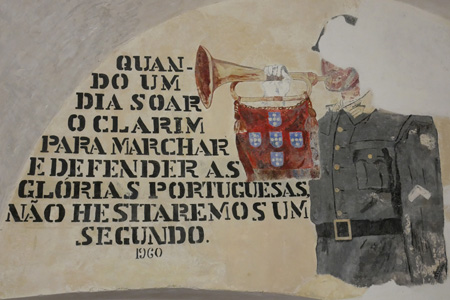 As a military prison during the Estado Novo, a surprising number of slogans meant to influence behavior remain on the walls from 1959. Out of many, ones about alcohol abuse gave me the chills. These are some serious words. First photo below: To those who come into this (space), your refectory, reflect on the following: alcohol is a poison & a terrible advisor that excites base instincts, sometimes eliciting the practice of acts that stain honor forever. Second photo: Those who are present here should fight alcoholism, think about this advice, because under the influence of alcohol (being drunk) you can commit a wide range of criminal acts: theft, suicide, etc. Yikes.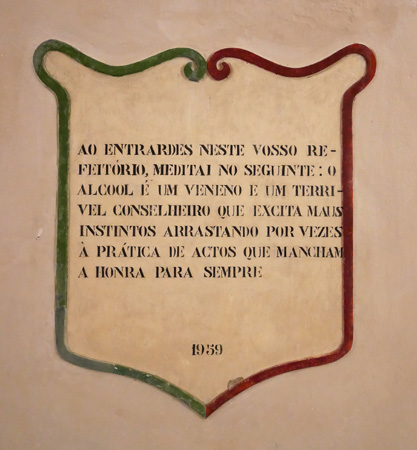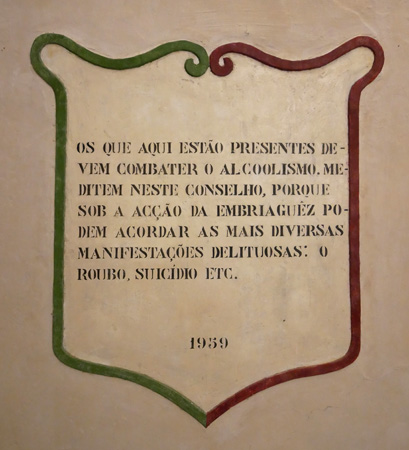 Officers' quarters
According to the national Portuguese heritage site Monumentos, these officers' quarters above each of the bulwarks were once occupied by raised cannons. They were capable of destroying part of the fort if necessary or could take out targets further away… probably the best-preserved example left in the world!
Central redoubt
Set an a 90º angle to the bulwarks, the interior dugout seemed spacious. The central redoubt held another refectory, more slogans attesting to Portugal's greatness in the oceans (almost comical given the fort's very landlocked location), & a more recent chapel: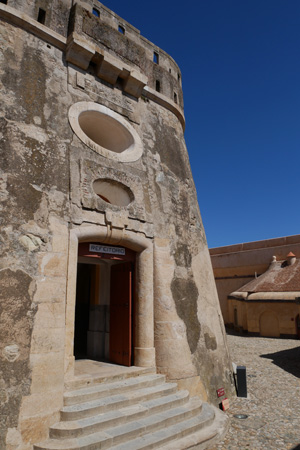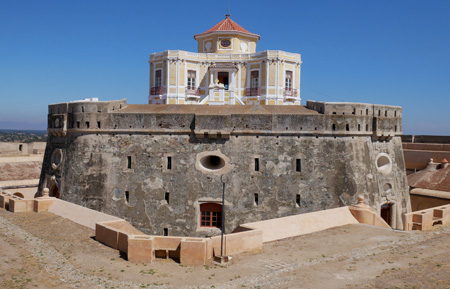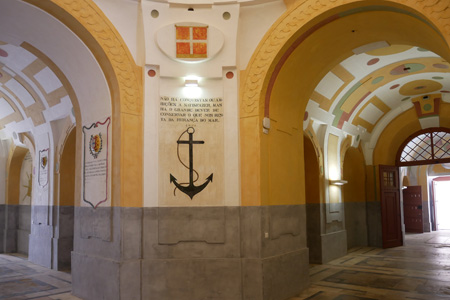 Views, views & more views
The effort to construct such a fortress is inspiring, but the views alone are worth the trip: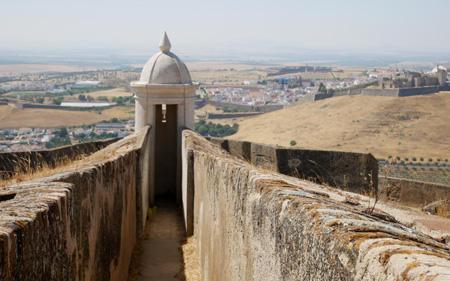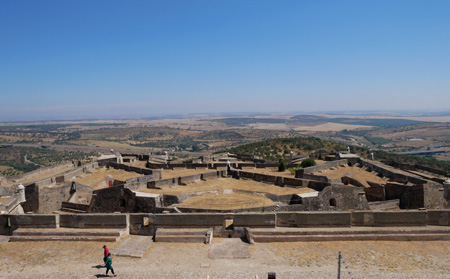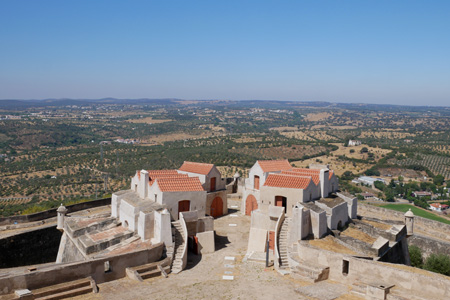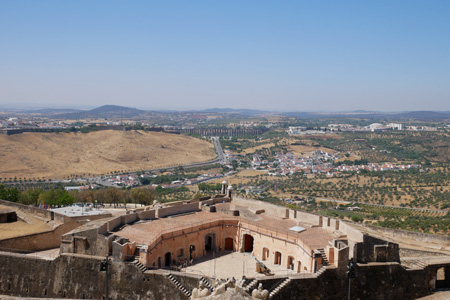 Governor's house
The residence has been well restored, including some 1939 murals in the upper section that commemorate the fort's construction. Most rooms are connected via a central, circular salon… almost attractive enough to make the governor forget he lived in a fortress/prison.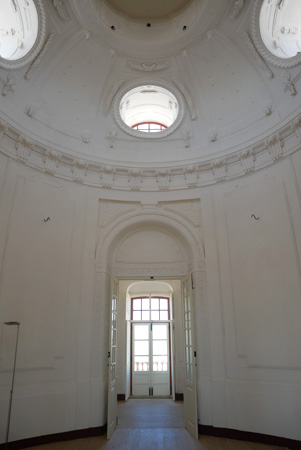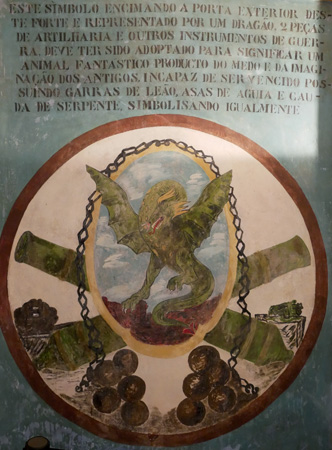 ---
We had a fantastic time, but I can't help making a few suggestions… I realize that maintenance on such a large place can be difficult, but after spending 6 million euros on restoration some sections already showed signs of degradation with little effort to eliminate pigeons (& the damage they cause). Hard to believe no one considered upkeep after spending so much. Also, besides some hard-to-read panels resting on the ground, there was little indication of how to conduct our visit. Staff gave us two brochures that looked great at first, but didn't help much & left many questions unanswered. With so much open space available, the fort seemed like a perfect teaching spot to show didactic videos, old photography, accounts from former prisoners, military uniforms, etc. Possibilities are endless. There's even enough room for benches or chairs! Most heritage sites don't have that luxury. I love that Portugal has preserved this site for future generations to see, but it could be used to educate as well.