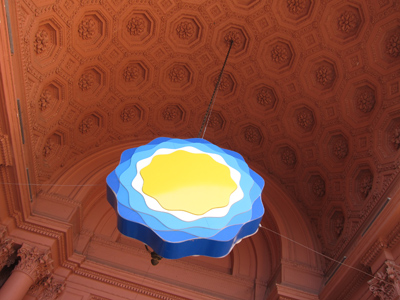 Not just any birthday, today Argentina celebrates the 200th anniversary of breaking from the Spanish crown. Technically Spain was being run by Napoleon's brother at the time so they broke away from the French as well… saying goodbye to two empires at once! Buenos Aires was not the first to reject Spanish authority, but it was the largest city to do so & the capital of a Viceroyalty. As such, the Revolución de Mayo marked the beginning of the end of Spanish control in the Americas.
Given today's significance in world history, there is surprisingly little acknowledgment of the event in Spain. In the print edition of "El País" —the most widely circulated Spanish newspaper— no mention of the bicentennial appears until page 31. Yikes. The opinion piece written by Jorge Taiana, Argentine Minister of Foreign Relations, is embarrassing to say the least… nothing more than propaganda for the Kirchners. The power hungry couple have done a great job of snubbing Spain constantly over the past few years, so the lack of recognition likely stems from their own clumsy foreign policy.
Perhaps the more important issue is: how should a bicentennial be celebrated? Personally, I think it should be the equivalent of an extra-special New Year's Day… a time to make resolutions on a grand scale. Unfortunately the current administration is too insular & paranoid for that to happen. As an opportunity for reflection, the bicentennial should inspire pride, search for ways to correct past mistakes & arouse enthusiasm for things in which the nation has excelled. Instead, political infighting is how the Kirchners have chosen to celebrate. When historians look back on this landmark day, I doubt they will do so with either pride or enthusiasm.
Argentina's potential for greatness remains untapped. It occasionally rises to the surface in the form of progressive laws, Nobel Prizes or fantastic architecture… in spite of rampant corruption, dictatorships, or viveza criolla. That's something worth celebrating. In the 10 years I've lived in Argentina, I've experienced both the good & the bad. I'm still trying to come to terms with my adopted home… there's always a new challenge to take on. But if no one else will say it, I will: It's time to wake a sleeping giant. That's a resolution worthy of the bicentennial, & from my experience there's no doubt that Argentines are up to the task. If they put their minds to it.