Wow. That took forever to draw… I guess it's worth the effort since this 1949 project represents the first successful attempt to think outside the standard, Buenos Aires grid plan. No government-sponsored housing project had ever been attempted on such a large scale. The layout is not symmetrical, but it comes close. City limits obviously cramped the design since Avenida General Paz slices through the "U," so planners extended the left (actually southwest) side slightly to compensate.
Opened shortly after the Barrio 1º de Marzo, this organic design added a substantial 428 houses to Buenos Aires & followed the general principle of all Perón era housing projects… it was a complete unit with its own church, school & park. Perhaps it was more practical than altruistic since there was not much else built in this area during the 1940s. Whatever the reason, it was a new idea. Houses modeled on the chalet californiano came with one or two stories. Patio area appears reduced, but homes seem larger than the previous Perón project. I particularly like the look of these, & most seemed nicely preserved. A few balconies caught my eye which might be original: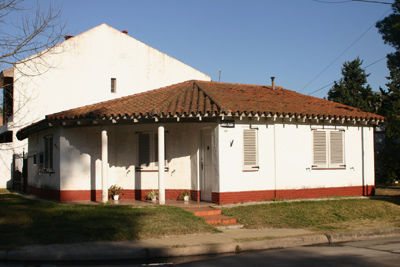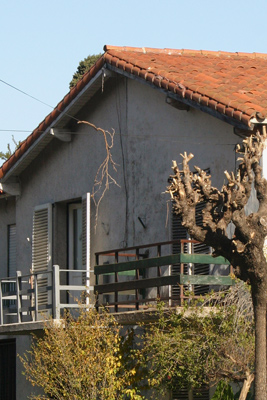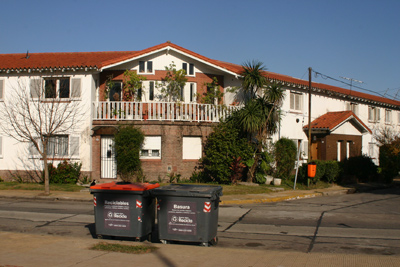 The Parroquia San Juan el Precursor is textbook Mission: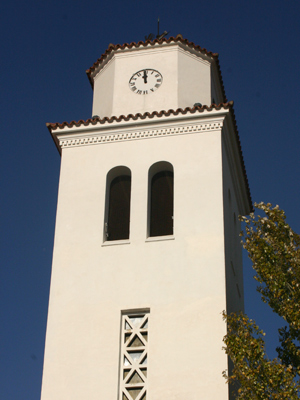 Parks are well maintained & planned with a nice mix of open areas & trees. Playground equipment is scattered around & there's even a trellis or two: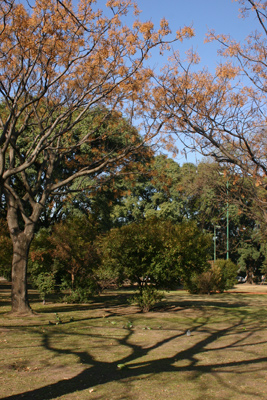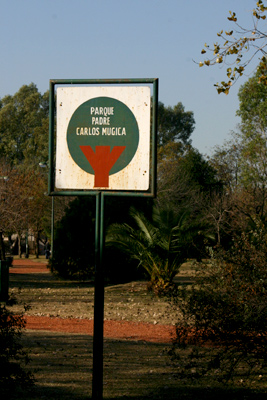 But what really surprised me is how peaceful it was, especially for having General Paz as a border. Traffic flowed by at midday peacefully (I realize it wasn't rush hour), & the decibel level was considerably less than anywhere downtown:
After the Revolución Libertadora against Perón, the project's name officially changed to Barrio Cornelio Saavedra. Should residents revert to the original name now that the political climate has changed? I think so. Everything out there seems to be named after Saavedra… a little variety never hurt anyone.
Update (28 Jan 2011): A trip to the Archivo General de la Nacion before temporarily moving to Sydney turned up some excellent propaganda photos of this neighborhood while it was under construction. Although the second photo is obviously staged, these pics are wonderful glimpses into the history of housing in Buenos Aires. And how can you beat Eva Perón presiding over the opening ceremonies? (center, looking down, with beret & wide-lapel collar):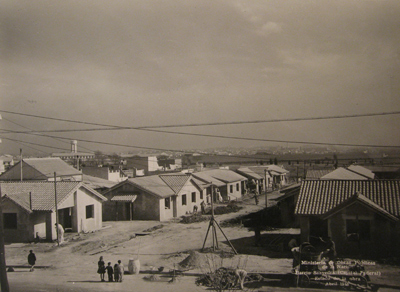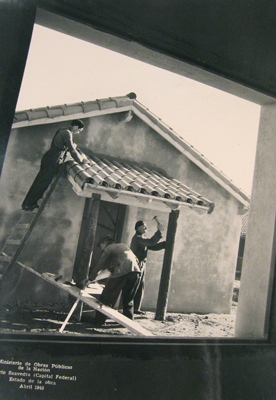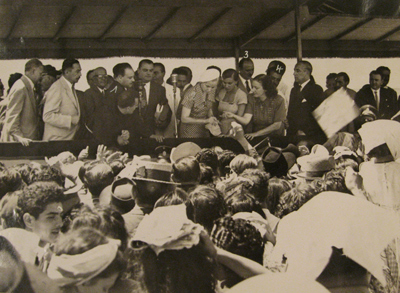 Update (28 Oct 2011): A song which is currently popular on local music video stations was filmed primarily in this mini-barrio. "Casi q' me pierdo" by Los Cafres begins by using Avenida General Paz as a primary backdrop but quickly shifts focus to Barrio Juan Perón:
Update (09 Sep 2023): Another image of the newly inaugurated neighborhood from the Archivo General de la Nación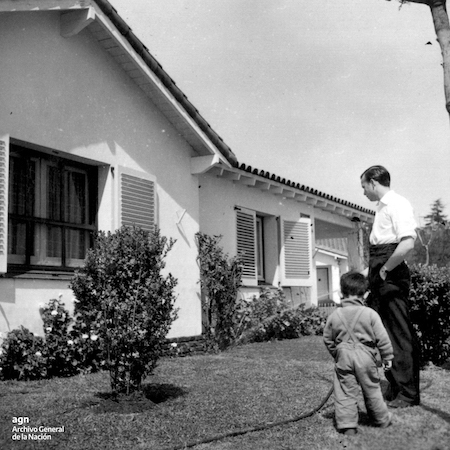 Direct link → Master list of all Housing for the Masses posts.