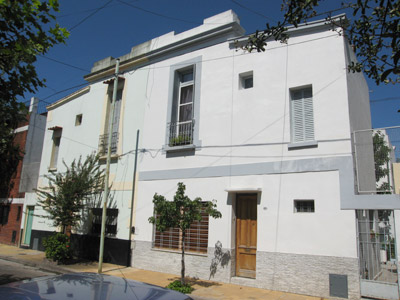 This is great stuff… in the last week I've had 3 different people help me out with posts: Ernesto with San Telmo pics, Gabriel with explaining studying medicine in Argentina, & now Luis. His grandfather was the original owner of one of the CCM houses in the Barrio Varela-Bonorino in Flores (#17 of this series). Luis has been kind enough to share lots of interesting info with me & answer all of my nosy, personal questions 🙂 I asked a lot because I wanted to profile his family & give everyone an idea of the people who originally lived in those neighborhoods as well as some further details about the house itself.
Luis's grandfather, Francisco de la Fuente, bought a house on lot H88 in 1926… no street name at the time. As you can see by the sale booklet below, his was #3120. I'm assuming 3,119 people bought a CCM house before him: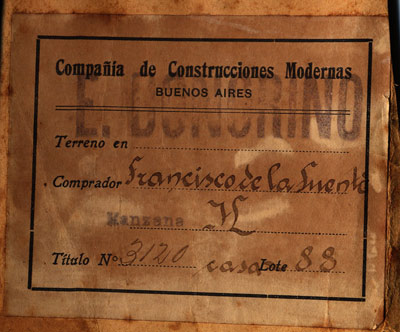 Francisco worked as an accountant for a droguería, providing wholesale meds to local neighborhood pharmacies. Neither Luis nor his father remember exactly how Francisco found out about the CCM houses (either a friend or a relative), but it wasn't difficult to obtain. What I find interesting is that the houses were available to everyone—no restrictions were applied. I mistakenly thought that these housing projects were only for what we call today blue collar workers. Evidently not.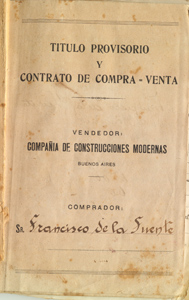 And now I know exactly what the purchase price was! The agreement was 60 payments of 20 pesos/month, or 1200 pesos. It seemed incredibly affordable, but I had to find out exactly how much 20 pesos was in 1926. After spending a couple hours at the Instituto Histórico (the girls that work there are divinas), I finally found an average salary for that year: 120 pesos. Francisco paid more or less one-sixth of his monthly income for a brand new house. Below is the signed agreement & the receipt for the first monthly installment: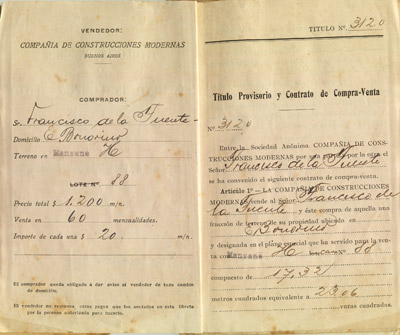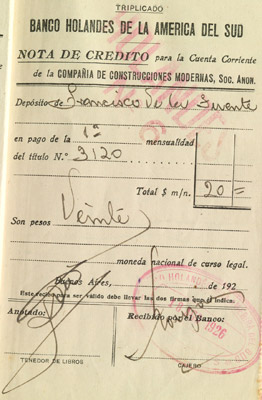 Luis noted that neither his grandfather's identity number nor the square meters of the house are mentioned in any of the original documents. It shows how times change… anyone could have taken the payment booklet & said, "I'm Francisco de la Fuente & this is my house." Good thing no one did that in those days. Luis's father, even though he's 86 now, has a sharp memory. He remembers the construction of the house when he was 4 years old… everything arrived on-site labelled "H88″ (very much like an assembly line) & believes that the pine floorboards came from California.
In the 1930s, there was an amortization on the value of the house so monthly payments changed. The house by that time had received an official address—Bialet Masse 523—& acquired a new value: $13,579 pesos. Monthly payments jumped to 77 pesos. Unfortunately I don't know how that fits into 1935 prices. I'll have to go back to the Instituto Histórico!
The new payment booklet has a wonderful floor plan… good to know my sources were correct about the layout of the house. One other document shown below as well: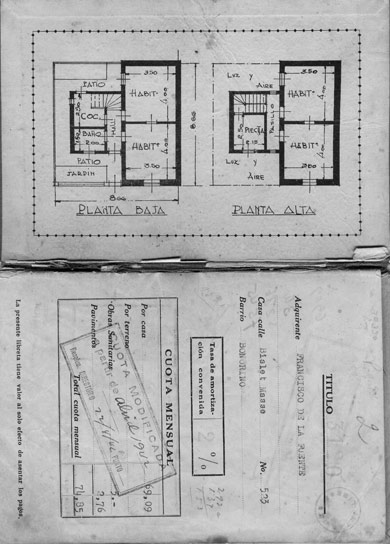 Francisco de la Fuente passed away in 1957, & Luis's father took over payment of the house. The last installment was paid in 1959: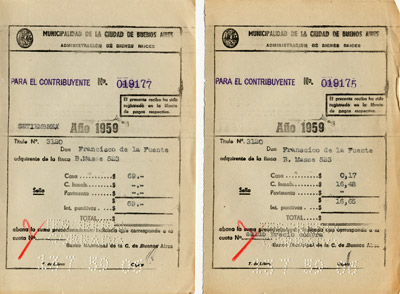 Luis was born in 1953 & lived in the house with 3 generations of his family until 1963. His dad purchased a chalet which was part of a development scheme that was never completed (an interesting topic for another post) & they moved out. The CCM house was sold in the early 1980's after the death of Luis's grandmother, but unfortunately no document can be found & no one remembers the sale price. Dang. It was almost the whole history of the house.
So why don't I show you photos of what it looks like now? Because it's gone. The people who purchased the house from Luis's father replaced it with another structure. Qué pena. But thanks to the de la Fuente family, we have a specific example of this era. I'm eternally grateful for the time & effort Luis put into digging through his family's history & sharing it with me!
Direct link → Master list of all Housing for the Masses posts.