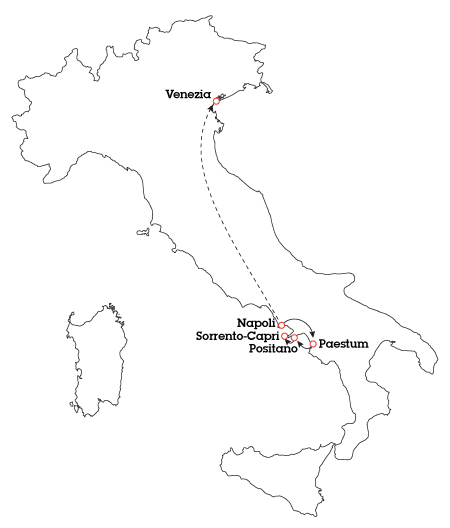 The ongoing book research saga continues, but this time with an all-new destination: Italia! That's right… a country where I don't speak much of the language & to places I'd never visited before. Uh-oh. My mood often ran between excited & apprehensive, so to laugh about the day's events I tweeted once daily as I tend to do. Really anything to maintain a bit of connection with the real world. Come along as I relive those crazy two & a half weeks.
---
Apr 22 · Seriously? What was I thinking when I left for Italy at 05:00 the day after finishing a Spain Holy Week tour? Zero time off. I managed to get laundry done & repack, but forget about resting or relaxing with the husband. At least I had a couple of flights to catch a nap & read the entire Naples chapter. My hotel sat just across from the train station —not the most desirable spot in town but convenient. Then came the moment to dive in & begin. Except…
Maybe due to physical exhaustion, first day confusion (getting into the groove of planning each day always takes time), ominous grey skies or the seemingly sketchy location of the hotel, I couldn't decide what to tackle first or get motivated. Screw it. New situations call for new tactics. I left the guidebook at the hotel, turned on my phone's location services & wandered. And wandered some more. I immediately felt more comfortable because I had my bearings. I also knew I'd be more efficient over the next few days, & Naples reminded me a lot of Buenos Aires… caught between a glorious past & its decadent present. Ok, I got this.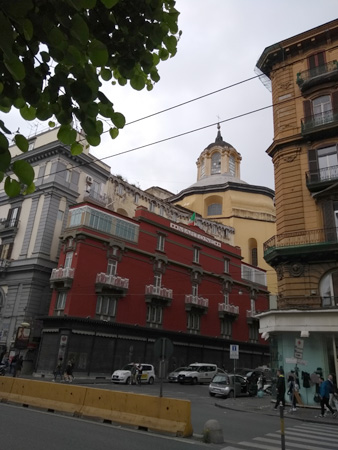 Apr 23 · Whether for work or for vacation, I like to start walks as far away from the hotel as possible then work my way back "home." Makes sense after a long day on foot. So off I went to Capodimonte via a somewhat non-direct taxi ride… hello, Napoli! What I didn't expect was all the extra crowds from Italians on vacation after Holy Week *sigh* Once I actually got inside the museum, I had a blast & quickly got into the research groove.
Another reason I had trouble organizing yesterday is that I felt the Naples chapter needed some re-working. To do things a bit differently I walked down through Sanità, had lunch at the fantastic Pizzeria Starita & did both city walks. I saw so much but literally collapsed when I got to the room. What a fantastic city!

Apr 24 · In spite of a long wait in direct sun with hordes of complaining Italians, the National Archaeological Museum took my breath away. I couldn't stop thinking about how all those pieces survived, what they tell us about the past & how they inspired future generations. The museum was almost as amazing as the ragù I had for lunch! With over half of Naples checked, I dedicated the rest of the day to some much-needed typing & making reservations. Had a good laugh at the Metro signage on the way back to the hotel: No dancing in the doorway? Place your privates here? I'm so confused 🙂

Apr 25 · Switched to a hotel off Via Toledo today, so I checked most of the waterfront info & took care of lots of loose ends: a Duomo here, a Caravaggio there, some hotels, a few shopping tips… but with seemingly all of Italy on vacation in Naples this week, getting anything done took extra effort. The reward was two geeky moments: visiting the surprisingly empty royal palace, imagining Carlos III living there before he took up residence in Madrid + seeing the inscription to Alphonsus Rex Hispanus & the Aragón coat-of-arms on the Castel Nuovo. Love getting those references for my Spain tours!

Apr 26 · Day trip to Pompeii. Ugh. Certainly not the perfect time to go, but is there ever? The entire site seemed like an example of overtourism at its worst. Here's one exchange I had:
A guy sees me taking notes in the guidebook & stops to ask: what is this? As in, what am I looking at & why am I here? I tell him briefly what I've just read, he doesn't quite get it, translates something to his fellow travellers & moves on. It seemed a poignant moment to consider why people travel… obviously he wanted to know more but hadn't thought to get a guide or a book or look online. Didn't even have the free booklets they give at the entrance. Still have a gazillion questions about that interaction.
Am I glad I went? I guess. The good stuff is in the archaeology museum (as it should be), replicas dot the site (as they should), but I prefer lesser known digs like Conímbriga or Baelo Claudia. You can't let your imagination run wild & connect with the past when you're trying to avoid being in someone else's selfie or skirting around an excessive amount of groups.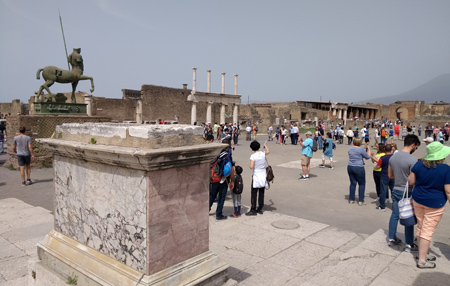 Apr 27 · Little did I know today would be one the best days of the entire trip. With just enough time before my train to check out San Martino, I rode the funicular up & couldn't believe the amazing views. Or the Nativity scenes. Or the Carthusian monastery. Or the royal boats on display. Stunning. Hopefully I convinced Rick to give San Martino another triangle. It was the perfect end to my Naples experience, seeing Vesuvius loom over the beautiful bay.
My attitude about Naples did a complete 180 during the few days I had there. I can understand why some may be apprehensive about the city's hectic vibe, but less wealth & less pristine does not necessarily equate with dangerous. Caution is key as in any other major city & that's that. I honestly can't wait to go back. I raved so much about Naples to one of the hotel receptionists that he cracked up & said, "I think you like chaotic places." Indeed, I do.
There's no way to describe the beauty of Paestum here, but I had the most perfect lunch followed by a breezy afternoon filled with gorgeous light. And yes, I had a moment. I couldn't imagine how I ended up in a place so beautiful & so perfect given that I come from a poor/crazy family from the South. What are the chances? Even though most of the museum exhibits had moved around —a researcher's nightmare!— I felt truly fortunate for having that wonderful day .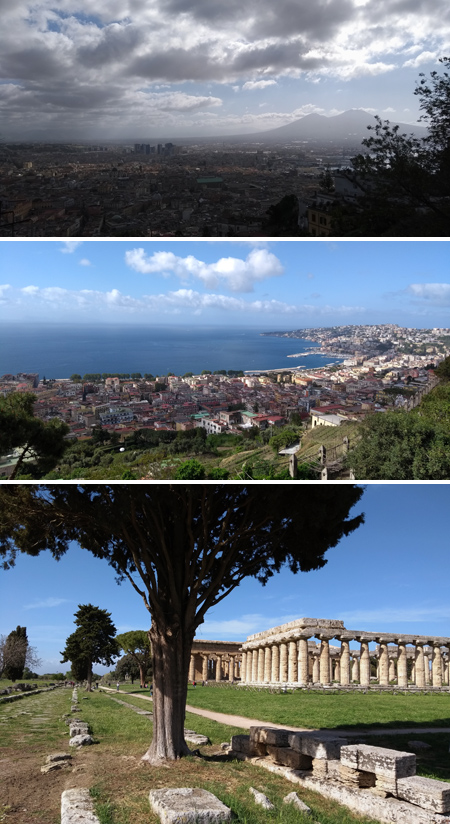 Apr 28 · One train, two ferries, a walk uphill & a local bus. No small miracle to arrive in Positano with so many different connections. By the time I put down my suitcase, I'd had lunch in Salerno, seen the Amalfi Coast from the water (when the boat wasn't bouncing wildly up & down on choppy seas) & got another dose of overtourism along the main shopping drag. Partial views from the Airbnb were nice enough, but I'd ended up in the boonies… figuring out the new accounting system took priority as did petting the cat on the property. Do what you gotta do.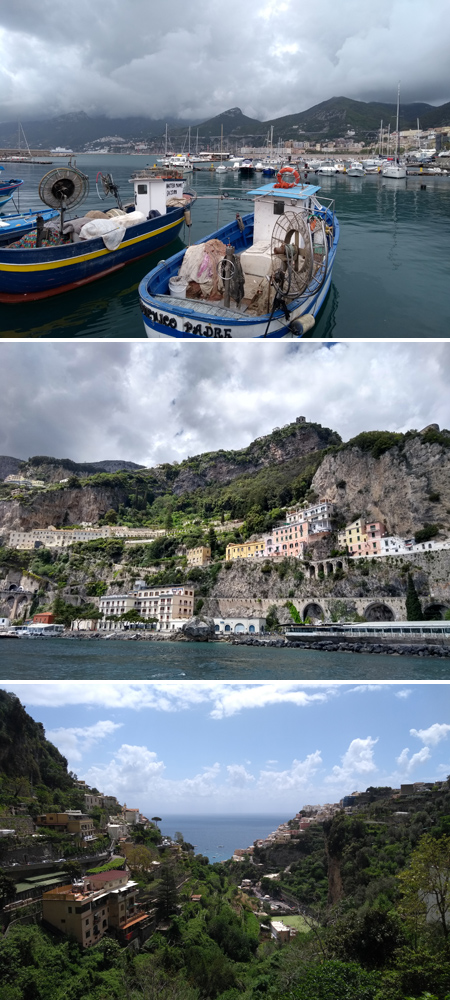 Apr 29 · Today's mission was clear. In addition to checking everything in Positano, add hotels. As many as possible. Maybe not the most thrilling assignment but necessary & a good way to explore. People were wonderful today which made my job a lot easier… you never know how owners will react since I'm a new face in town. All I kept thinking was: how many shades of blue can one place have? Along with: how many more %$@# steps do I have to climb today?

Apr 30 · Amalfi Coast! I'd already had a preview from the water, but now it was time to see things from a different angle. Raffaele had the entire day planned, & thankfully he knew what we had to visit for the guidebook. I doubt my psyche would have survived if I'd had to do it all by bus. We drove from Marina di Praia to Amalfi to Ravello. Although not high season, everywhere seemed too crowded for me. But I get it. Spectacular views, great food, St. Andrew's tomb, etc., etc…
But I had another unexpected interaction that made the day memorable. I'd walked to the paper mill museum in Amalfi, & a couple overheard me speaking italo-español with staff while writing notes in the guidebook. They came up to me & said:
Couple: Are you a travel journalist?
Me: Uh, yes… I am. I work for Rick Steves (holding up the guidebook).
Couple: Really? That's amazing! Thanks for all the hard work you do! (followed by a handshake & a big hug) We've used those books for a few trips to Europe already & always love their take on things.
Me: (in shock) Well, thanks so much!! We check every word & every place we physically can. It's hard work but worth it.
Couple: We can tell! Thanks again & have a great day! Nice to meet you!
Me: (still in shock) It means so much to hear that. Thank you!!
I still can't believe that exchange happened. In the 20 years I've worked for Rick, I've heard almost everything. But compliments are not as common as one might believe. When I posted this conversation & how we're out there working hard to make everyone's vacation better, the tweet went viral. An outpouring of gratitude from so many people made my day. Raffaele even dropped me off in my next destination, Sorrento. Grazie mille!

May 01 · Labor Day meant just about everything shut down. Fine by me. After an incredible breakfast at the Sorrento hotel, I sat down to edit text & correct maps. I stayed at the computer from 09:30 until 20:00 when I realized I needed something to eat! The mini-market across the street had a tasty-looking eggplant parmesan, so I grabbed a portion plus a couple of beers & kept working until about 23:00. My feet needed the break too.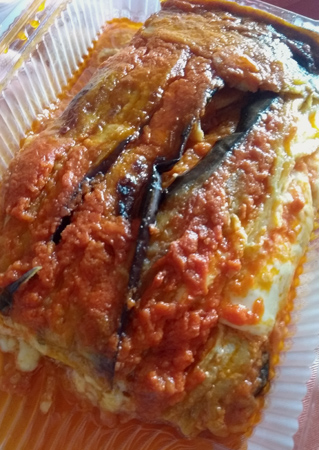 May 02 · Fun day exploring Sorrento: meeting with a local food guide, lots of hotel work, cutting a couple of not-so-great restaurants & adding a couple of gems, wandering through the non-touristy section a bit, then having dinner with Raffaele & his wife. Good break from the solitude of yesterday.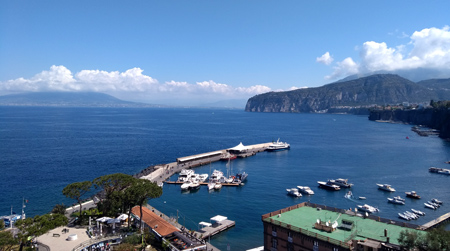 May 03 · Crazy Capri. Another mob scene, but I had lots of fun helping some Brits & Americans understand the bus options for getting around the island. I also had yet another moment. Stepping into the Chiesa San Michele & looking at that gorgeous, painted tile floor, I realized I'd seen it before. But where? Took me a minute, but I suddenly remembered being a kid & seeing the tiles on some travel show. Or maybe in a travel magazine. Turned out to be a powerful memory hidden deep inside my head that revealed itself right then. Wow. Leaving Capri, I saw a "Thanks Daddy" sign at the entrance of a large house & cracked up, then thought: hmmm, maybe I don't want to know more!

May 04 · First up, walking in the rain for over 40 minutes to wrap up the last bits of Sorrento text. Then waiting while soaked for the bus to take me to the Naples airport. And that l–o–n–g ride. Fun times. At least the airport food was tasty, & the wine bar gave me a comfy place to write. When my flight to Venice was delayed, I rejoiced. More great wine with work!
But as time went by, my plans were getting screwed. I'd decided to do the same as with Naples —wander the streets of Venice without my guidebook, get some sort of bearings & a general feel of the city. No such luck because I didn't arrive at the hotel until about 22:00. Dark, drizzly & freezing, I took a brief jaunt over to St. Mark's Square then called it day. At least I'd made it to Venice for the first time in my life!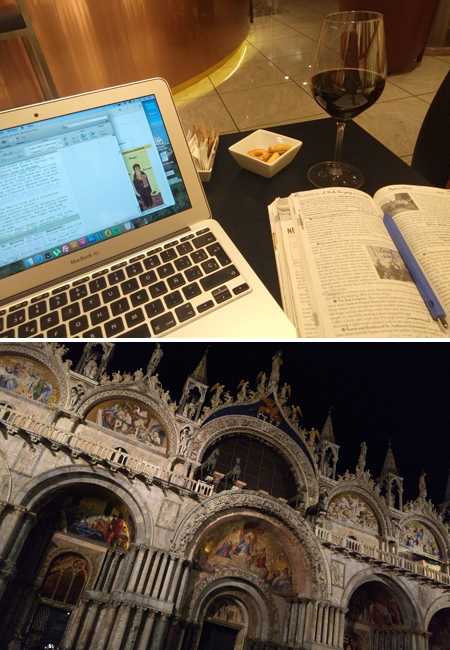 May 05 · Surely today would be better than yesterday. Right. During breakfast alongside an annoying couple who wouldn't put their phones on silent mode, the rain started to pour. How can the travel gods not be with me now? As I listened to rain slamming against my window, I looked at the forecast: 45 km/hr winds + heavy precipitation all day long. Good god.
I made an executive decision & switched my last day in Venice —reserved as a writing day— for today. No way my IKEA umbrella could handle the weather, & if I can't read, walk & write outside then I can't do my job. Hello, map corrections! According to Google, there would be a one-hour break in the rain… perfect for me to get lost, find a supermarket, get sustenance & run back to the hotel for more text edits. So basically two nights in Venice would pass & I hadn't been able to venture far. I'd have my work cut out for me over the next few days.
May 06 · Thanks to hotel time yesterday, I had my schedule planned to the minute today. Hotels, hotels, hotels. We recommend over 50 —based on which sestiere you'd like to stay in— & I had to hit them all. What a way to explore the city! I made it to 31 before I had to quit. At the same time, I could check on Rick's requests, some reader feedback… a little bit of everything. Of course I stopped occasionally to take a picture & admire the view. Venice is as breathtaking as people say.

May 07 · Vaporetto time! Loved the industrial side of Murano, but the glass itself not so much. Found a fun place to add to the book that sells glass tiles for mosaics, then continued on to Burano. Painted houses, leaning tower, meh. The crowds took away my appetite for lunch so I skipped it. I had to get back to Venice & switch hotels anyway… to a dark hole with minimal cell coverage & internet that only sorta kinda worked if I sat right at the door. Did I just go back in time to 2002? Adored the Cannaregio neighborhood though… residential realness.

May 08 · The views from Giudecca are indeed amazing (Rick asked for my opinion), & the island itself is laid-back with an interesting residential section. I even found a house I'd love to buy! But I had a date with Peggy Guggenheim… ah, if only. I paid my respects for all she did for 20th-century art. Many of the paintings had been moved so I had my work cut out rearranging text & correcting maps. At this point my body said "enough is enough". I'd walked about 80% of the city over the past few days, taken countless vaporetto rides, finished all hotels & needed pizza, wine & rest. Whew.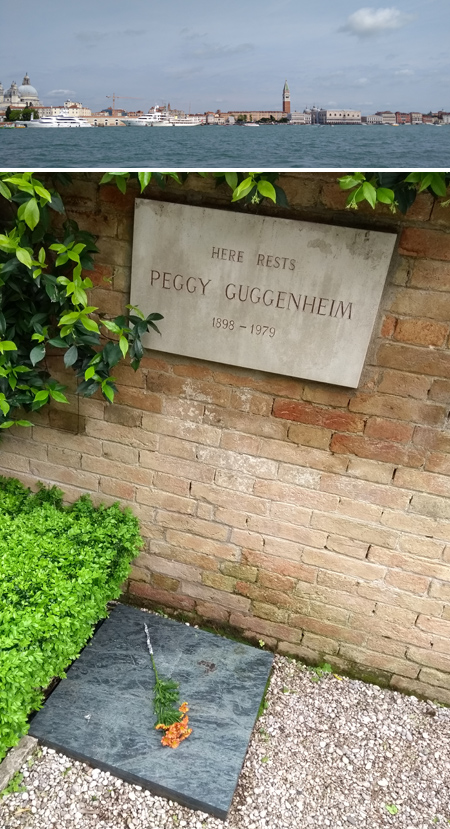 May 09 · After a morning of tracking down recommended shopping sites (and buying a few souvenirs for home), I decided to do something for me… I'd yet to see a church interior, so randomly picked Frari because I was nearby. Score. Had to switch hotels again for one night only, did a last minute review to see if I'd missed anything, then realized I needed to check in for my flight. Duh. My vaporetto pass would expire soon, so I needed one last sunset boat ride. Even though I saw very few of the typical tourist sites —a previous researcher & Rick had covered that part earlier— the charms of Venice were obvious. Can't wait to return!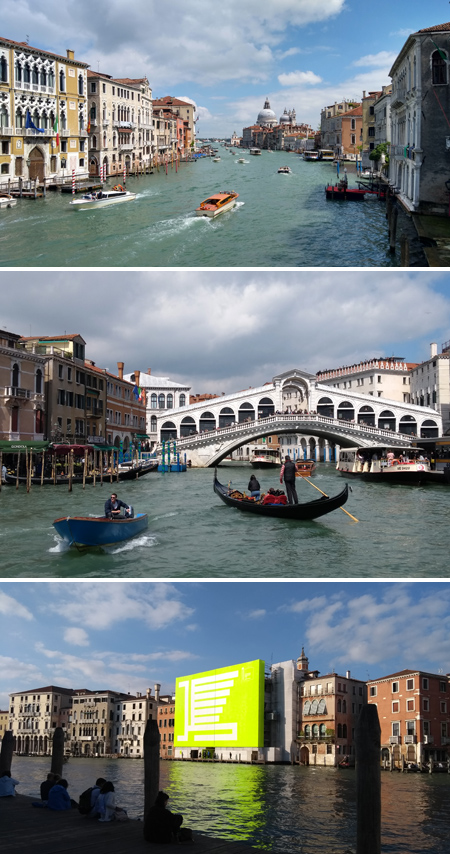 May 10 · Ever wonder what Venice looks like from a water taxi at 05:30? Now you know. Direct flight home to Sevilla & two days to prep for my next tour. Zzzzzz…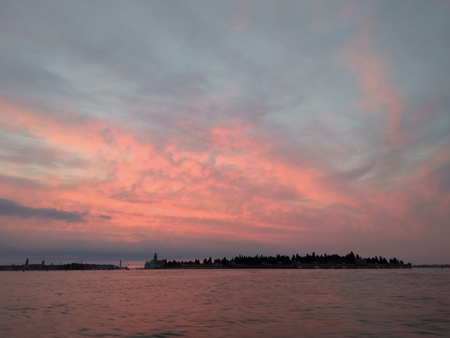 ---
Apologies if this was a bit wordy & with more photos this year, but I had many new experiences during this trip that I wanted to share. Rick Steves' Italy is his best-selling guidebook & the Rick Steves' Venice book is a labor of love, so I felt a little pressure to make sure things were as good as possible. In spite of the weather changing every 6 hours, from chilly & rainy to way too sunny, I had an amazing, exhausting time. I've grown professionally as a guide & as a writer, plus explored places I never thought I'd see. I wonder where they'll send me next year…