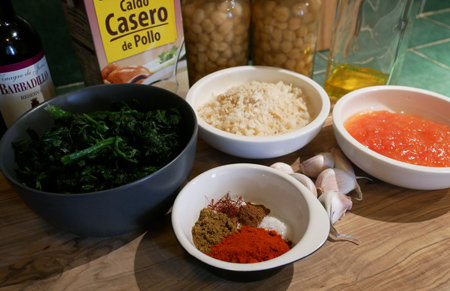 With Semana Santa just around the corner, bars in Sevilla sell up to three times their normal rate of any tapa without meat… whether customers are observing Lent or not. Of course anything with cod is a big hit now, but espinacas con garbanzos are popular all year round. Tender, healthy & packed with flavor, this is a great way to get some veggies into your bar diet. Let's get cooking!
Spinach with chickpeas
3/4 c breadcrumbs
500 g canned chickpeas, dry weight
1.5 c chicken broth
1/4 c extra-virgen olive oil + 2 T more
6 garlic cloves, sliced
1 T paprika
1 t cumin
1/4 t salt
1/8 t cinnamon
1 large pinch saffron
2 plum tomatoes, grated
4 t sherry vinegar
300 g frozen spinach, thawed & squeezed dry
Step 1: Place garbanzo beans in a pot along with half the canned liquid. Here in Spain, our pre-cooked chickpeas come in glass jars of 560 g (400 g dry weight). But in the US, two 15.5 oz cans give the total for this recipe (using the liquid from one can). Ah, the joys of recipe conversion!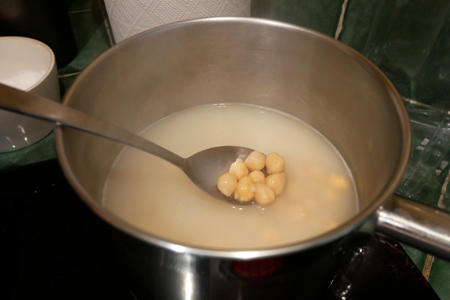 Add chicken broth & bring to a boil. Reduce heat to a simmer until the liquid is just below the level of garbanzos (about 10 minutes). While waiting for the liquid to evaporate, move on to…
Step 2: Make your majao, a breadcrumb thickening agent used so often in Andalucian cuisine. Process some crusty bread into a fine crumb —much tastier than pre-made— while heating the first measure of olive oil in a skillet. When shimmering, add the bread crumbs; they'll absorb the olive oil right away. Toast on medium heat until just golden brown, stirring often. Add garlic + all spices, & cook for 30 seconds. Stir in tomato & vinegar, & remove from heat. Reserve.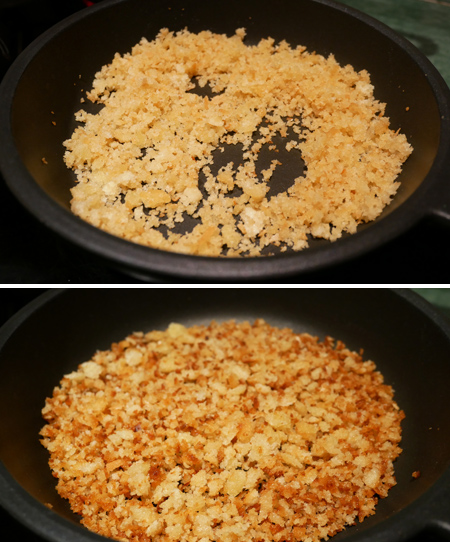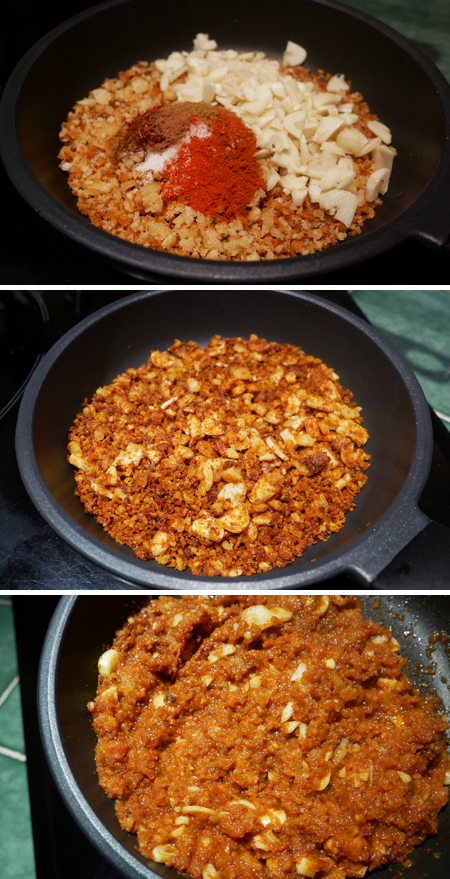 Step 3: Add the majao from Step 2 to the chickpeas & lightly mix through. Break up the spinach by hand into small pieces as adding to the chickpeas… try not to overstir as skins can separate, & we certainly don't want that!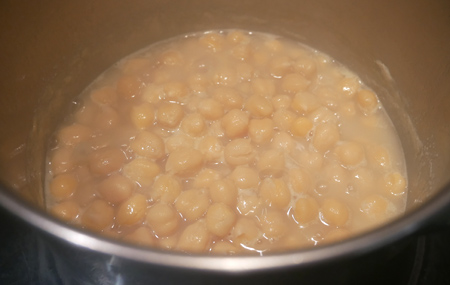 Add remaining olive oil & check for consistency; if it's too liquid, then continue to cook for a few minutes. Taste for salt & vinegar & serve! If you need to be extra, toast some small pieces of bread in a bit of olive oil to serve on the side… perfect for scooping.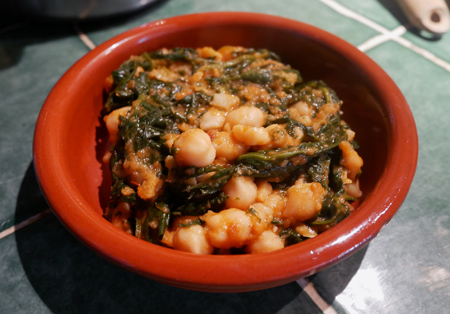 I adapted this recipe from America's Test Kitchen. Their version calls for cayenne, but no Spaniard would ever do that. I'm all for it personally, but this has never been a spicy dish. Also, they prefer minced garlic while I like to see & taste it here; another personal preference. Next time, I'll probably toast the garlic in olive oil before adding the breadcrumbs & see how that flavor profile turns out.
Kudos to the ATK crew because this version is as good —if not better— than any I've had in Sevilla. And what a great way to use canned & frozen goods! However, instead of "majao" (or "majado" in regular Spanish) they use the word "picada" …which is more of a Catalan term. Terminology can be difficult, & the end results are so good that I'll cut them some slack 😉 Enjoy!