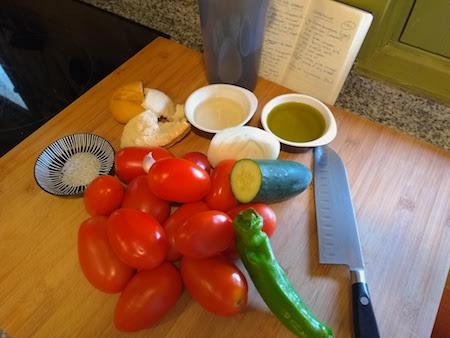 After spending so much time cooking during quarantine, I've decided to post more recipes. Usually I'm on the road so I post about those experiences but this year has been, well, different. And every attempt to reproduce Spanish & Portuguese recipes gives me that much more insight into Iberian culture. Note: Every recipe I post works. I often try a few times to get flavors exactly how I like them. So consider these posts as a base to start exploring Iberian cooking… then you do you.
That said, let's agree on one thing: everyone claims to have the best version of gazpacho. Your mom's or your grandma's recipe can't be messed with. Fine, but this is my favorite. Just like salmorejo, gazpacho takes advantage of abundant summer produce & leftover ingredients. No one is sure which Iberian culture invented this cold soup, but there's nothing better on a hot summer day. When it's 41ºC outside (like right now in Sevilla), gazpacho can be even more satisfying than a tall glass of water or a cold beer! The following recipe makes about 1.5 L.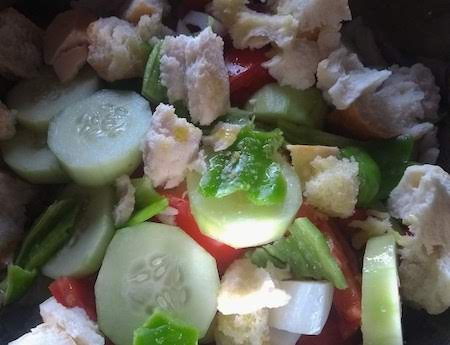 Gazpacho
1 kg Roma tomatoes, ripe
1/2 cucumber, peeled
1 clove garlic
1 small green pepper
1/2 medium onion
3 large pinches salt
350 ml cold water
60 ml olive oil
30 ml white wine vinegar
fist-size piece of dry bread
Prep couldn't be easier. Roughly chop all ingredients & blend. Chill & enjoy. Can you chop onion, green pepper & tomato for garnish? Sure. Can you add picos or toasted bread cubes? Of course. Can you drink as is with no garnish? You bet.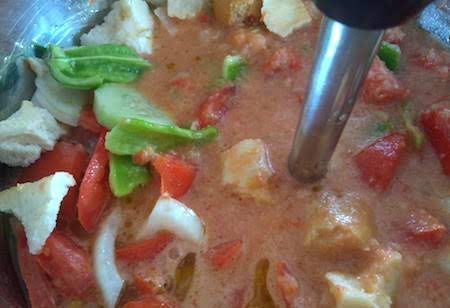 Ingredient breakdown
Below are a few tips I've learned from all the batches made this summer… we'll go through each ingredient one by one:
Tomatoes – Using the ripest tomatoes works best. I tend to grab ones that are slightly mushy in the supermarket. Ultra ripe but not spoiled. They may not be ideal for salads, but they have the most flavor for this dish.
Cucumber – Some people peel their pepino, some don't 😉 Try each & decide which you prefer.
Garlic – If you love garlic like I do, it's difficult not to throw in a few extra cloves. But since this soup is raw, adding extra garlic ruins the flavor balance. Moderation is key; you've been warned.
Green pepper – What we use in Spain is the skinny Italian pepper, or pimientos de freír (pictured above). The larger version more readily available in the US can be used as well. No problem. The flavor isn't quite the same, but it's just fine. Look at the size of the pepper in the top photo to judge quantity.
Onion – Regular yellow onions are what we use most at home. Some people swear that adding onion is blasphemy. Whatever. I am 100% team cebolla. I've also tried this with spring onion bulbs (cebolleta) & the result is subtle & very tasty. I've got some red onion at the moment & will experiment to see if there's a noticeable difference. Update: I added 3/4 of a small red onion & wow… deeper color & a sweetness that other onions lack.
Salt – Are your pinches the same as mine? Probably not. I measured my total before blending & the equivalent was a heaping 1/2 teaspoon.
Cold water – I've never found a real reason to use cold water vs. room temp water. Maybe if you want a glass right away? Share your thoughts in the comment section.
Olive oil – Only use extra virgen. Only. The more fragrant, the better. I like picual because can be very floral & a touch spicy, but I'm going to open a bottle of arbequina soon. Stay tuned. Update: Arbequina makes everything so mellow. Ahhhhhh.
White wine vinegar – No, balsamic is not ok. Neither is that super strong, white vinegar. Sherry vinegar works too, but white wine vinegar is my preference. And don't go crazy here either. Like garlic, adding too much vinegar is the quickest way to ruin gazpacho.
Dry bread – Here we go again. We probably don't have the same size fist. But it's the best approximation I can find without getting out the scale. Look at the top photo for a guesstimate.
Purists will say that all veggies must be blended first with the olive oil to form a type of cream. Only then add bread (which has been soaked in the cold water), vinegar & salt. Again, you do you. Some people even put their gazpacho through a strainer, but honestly I can't be bothered. And why remove all that fiber? A few more tips can be found in this video (in Spanish) by El Comidista, the El País food guru. Approach gazpacho with the idea of finding your own perfect blend, & you can brag you've got the best too.
Variations on a theme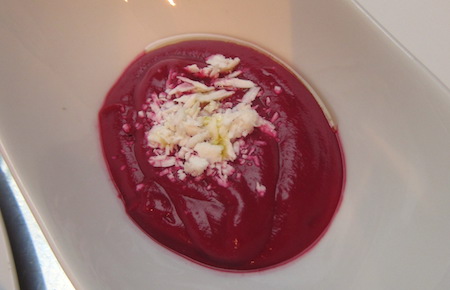 Several years ago, making gazpacho from beets became all the rage. I loved it because finally I found a way to enjoy eating beets! Recently strawberry or cherry gazpacho has been appearing on menus. The recent season finale of MasterChef Spain featured an olive-based gazpacho. Possibilities seem endless… experiment & create your own!