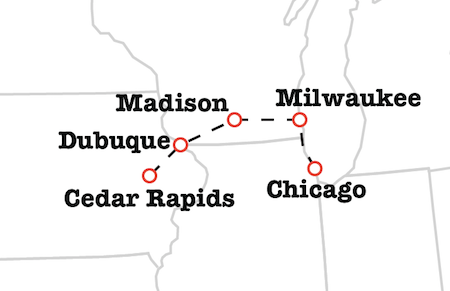 We're racking up the miles slowly; my fifth trip to the US with Rafa & his third time in Iowa. Our first international travel since COVID, we had to use flight vouchers that would expire soon to see my 84-year old aunt. Mission accomplished. But we drove a bit north for some sightseeing instead of going straight across Illinois. As always, Rafa & I discovered some fascinating sights along the way…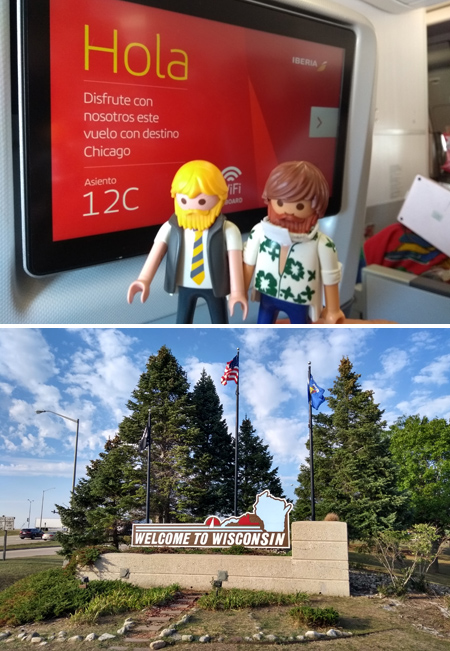 Milwaukee
Growing up in the 1970s, my only notion of Milwaukee came from Laverne & Shirley & Happy Days. That's it. So when planning this trip, I couldn't believe the city was only one hour north of Chicago. Incredibly close. We decided to get the rental car & head straight there on a beautiful autumn afternoon. Even with jetlag, I could do an hour's drive from O'Hare.
Our hotel deserves a side note. A Days Inn on N 6th St served as a drug dealing location throughout the night, hallways were stained with who knows what & smelled of weed, walls were chipped & artwork had been slashed. That said, the location was great, our room was clean enough & honestly we never felt unsafe. From the first night, drug dealers knew we weren't interested, let us be & even chatted with us… well, when they were high 🙂 We were hardly at the hotel anyway, so no big deal. However this was one of the most bizarre hotel experiences I've had, & that's saying a lot given my profession.
Let the sightseeing begin!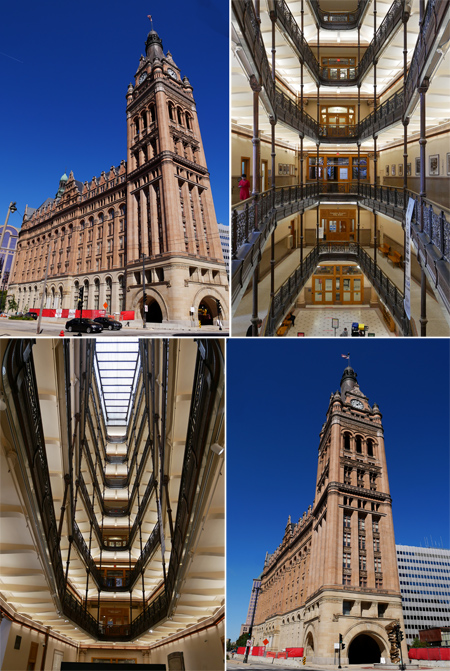 Rafa made his usual pre-trip booklet, designing walks to see great architecture in the city center & get a good feel for historic Milwaukee. All kinds of revival styles dotted the central area, along with magnificent Art Deco. The river walk was too PoMo for our taste, but the absolute highlight was city hall (photos above). Inspired by its Hamburg counterpart, this triangular building was the third-tallest in the US when built in 1895. Its open interior & photo display on the third floor thrilled us, & we got to see COVID vaccinations happening on the ground floor. Other treats: a mansion, repurposed classic hotels & a Moorish Revival Shriners' Temple:

North of the city center, Prospect Avenue offered upper class houses & modern apartment buildings… a real treat to explore. Parks leading to Northpoint were dotted with statues, an amazing lighthouse, a water tower + a chunky Frank Lloyd Wright house: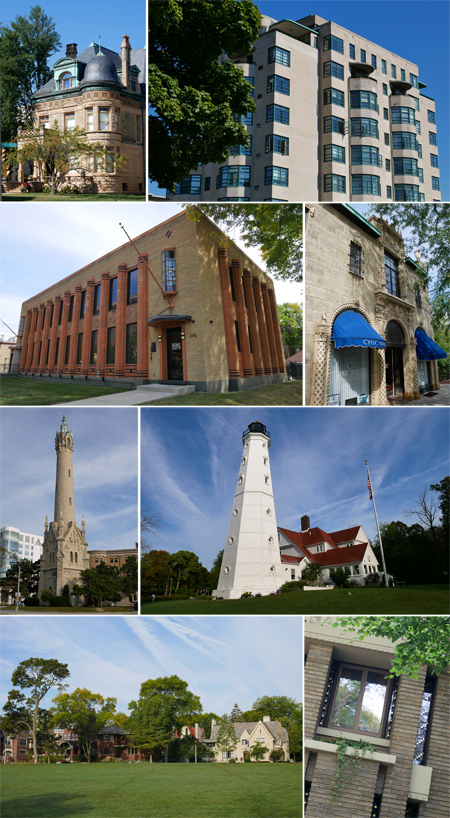 One morning Rafa & I spent blissfully alone in Forest Home Cemetery, a serene spot filled with family plots of beer barons & city leaders. Timing couldn't have been better for this trip as the leaves were just beginning to turn. Of course we drove out to see the small group of American System-Built homes designed by Frank Lloyd Wright in 1916. We also made a stop in Lincoln Village to see the over-the-top Basilica of St. Josaphat: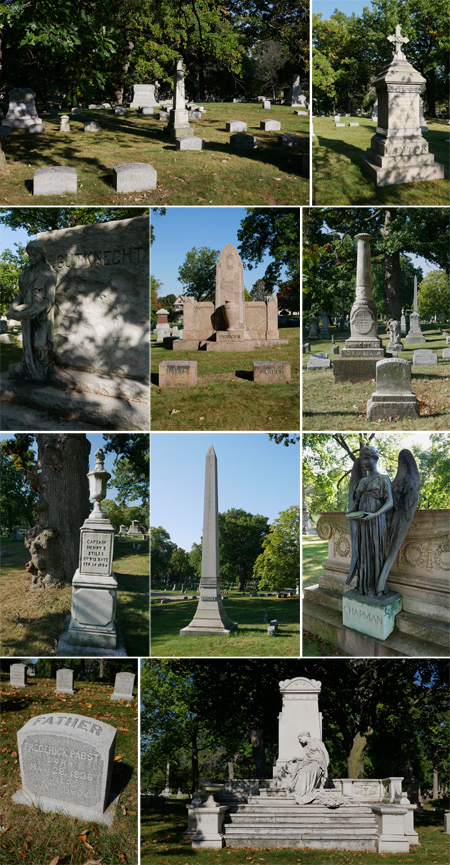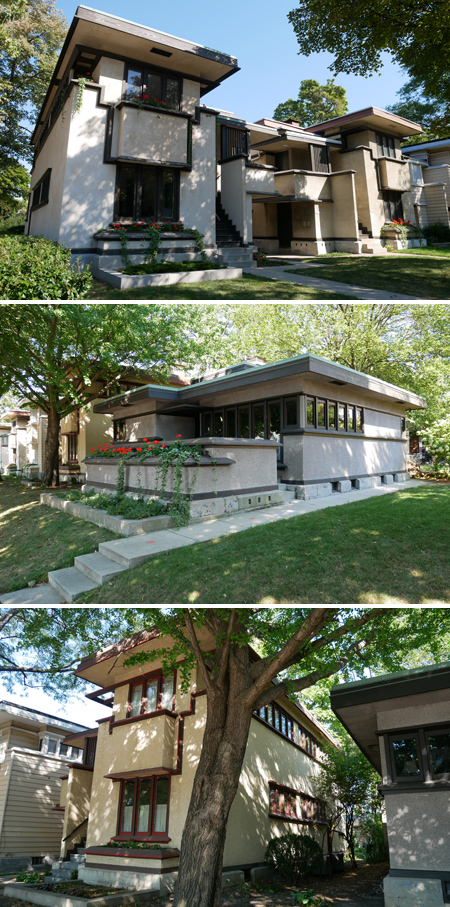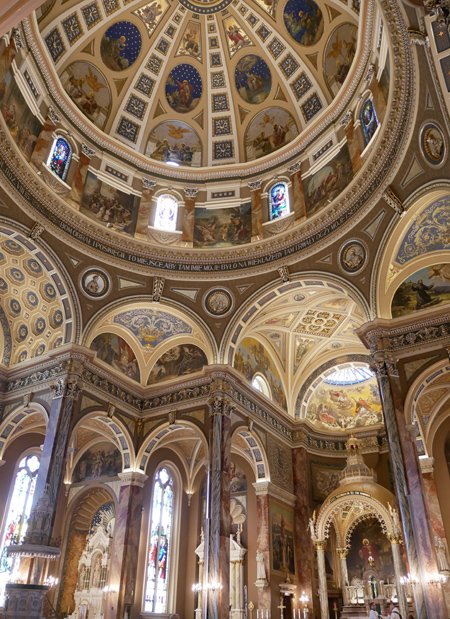 One of the most special moments of the trip turned out to be a visit to the Milwaukee Art Museum. In spite of having part of my heart in Spain, I'm no big Calatrava fan but the collection interested me. We watched the Burke Brise-Soleil open, then had a little over an hour to visit… not ideal but on a tight schedule that day. Saw a Motherwell + a Zurburán but spent most of my time in the temp exhibit Americans in Spain. Cuz that's me. A fascinating collection of US artists inspired by their time spent in Spain, but the best was overhearing everyone's conversation: "I recognize that's Segovia because of the bell tower", "When I was in Spain…", "Let me tell you what I saw in Granada…" So many had a direct connection to Spain & wanted to share it. Others were completely entranced by the artwork. As an adopted Spaniard, I left the exhibit beaming… especially seeing someone who couldn't get enough of the Zuloaga on display at the exit.
Madison

One of my best friends in Seattle spent his undergrad years at UW-Madison, so I wanted to see the place I'd heard about for so many years. Plus, Rafa & I could visit our fourth state capitol. We managed to see a few Frank Lloyd Wright buildings early in the morning, a fantastic Louis Sullivan house & spent a nice campus sunset on Lake Mendota. Rafa also got to see his first garage sale. Americana 100%. If only we'd been able to attend the homecoming parade we were invited to!
Dubuque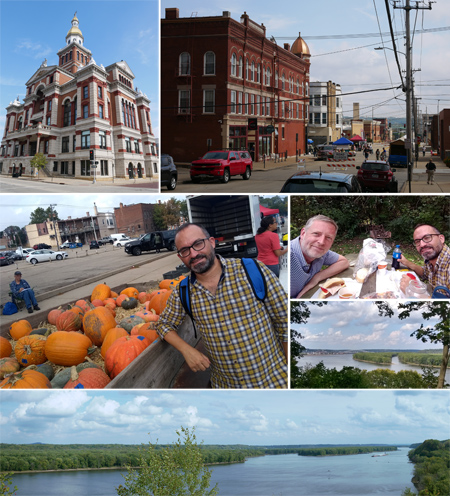 This brief break/lunch stop turned out to be another great moment of the trip. First of all, today I turned 51 & arrived in Iowa… already a good start. We caught the end of a farmer's market that helped spur Rafa's obsession with pumpkins. And I saw another Spain connection close to my family history: Frenchman Julien Dubuque founded the town & named the Mines of Spain in honour of a land grant given by the Spanish Governor of Louisiana in 1796. Romantic picnic + sweeping views of the Mighty Mississippi made for a perfect afternoon.
Cedar Rapids/Marion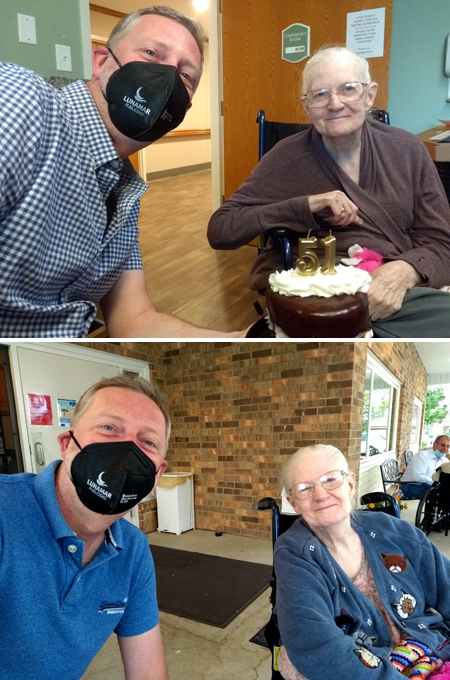 After the stop in Dubuque, we arrived in Marion to see my aunt. When she turned 84 in June, I told her my gift would be a visit on my birthday so we could celebrate together. COVID cases were on the decline, & Rafa & I would both be fully vaccinated by then. In spite of a mild case of dementia, Mae still has her sense of humor… and is as stubborn as I am. More than the nose runs in our family! Although our visits were brief, we had an amazing time.
Breweries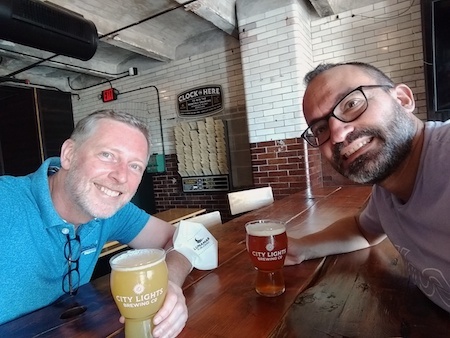 When in Rome…
Our US trips are always heavy on pubs with craft beer, but we had our work cut out for us given the sheer quantity of breweries along our route. Due to COVID, we ate most of our meals picnic-style in parks & chose breweries with good ventilation or an outdoor patio. What we didn't know before going —not sure how this escaped our trip prep— is that the majority of breweries are closed Monday to Wednesday, often with limited hours on Thursday. Like 15:00 to 20:00. We've never encountered operating hours like these in any other state, so what gives? Is it a Germanic heritage leftover? No shortage of brew to be had, but we missed a few places due to the days we were visiting… worth keeping in mind for the next trip. If we could have brought back an antler chandelier for our new home, we would have!!
Most fun: Good City Brewing, N Farwell Ave location.
Best view: Lakefront Brewery at sunset.
Friendliest staff: Von Trier, although not a brewery.
Surliest staff: City Lights Brewing.
Most German decor: Von Trier & The Brown Bottle.
Frutiest IPA: Set List at Eagle Park Beer.
Juiciest IPA: Jinkies! at Iowa Brewing Company.
Tastiest canned IPA: Fantasy Factory.
Best patio: Third Space Brewing.
Fishiest fry: Vintage Brewing.
Most socially responsible: Giant Jones Brewing.
---
I felt rushed during this 8-day trip since our usual time abroad is at least two weeks. We packed in a lot but not as many museums this time. Prices in general seemed much more expensive than last year before the pandemic (our last trip to the US). We really enjoyed Milwaukee & saw lots of potential for tourism… one downside would be a high degree of residential segregation & the consequent development of white, black & brown neighborhoods; I got a distinct Memphis vibe in that sense. But what a green city! Whether intentional or not, all those trees were a welcome sight especially when Spain's urban planners are removing them. Ditto for Madison. Cedar Rapids & Marion are undergoing major construction at last, & I can't wait to see the improvements finished. We'll definitely be back to see what we missed but had a great time during our first trip to Wisconsin!