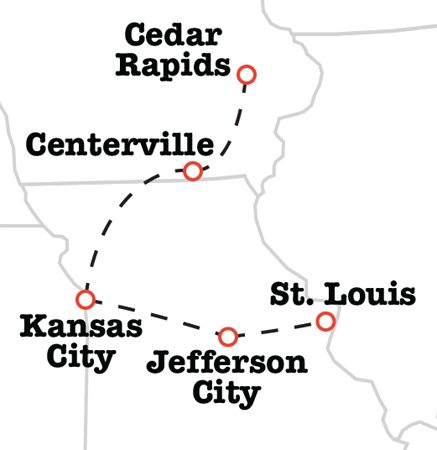 My uncle passed away three months prior to this trip, so the first few days consisted of wrapping up family matters in Iowa. But we'd be close to the state border after scattering my uncle's ashes, so why not dip down & see what Missouri has to offer? As a kid I'd always just driven through, however we discovered a ton to see, do & eat. The state lived up to its motto & showed us how great Missouri is!
Cedar Rapids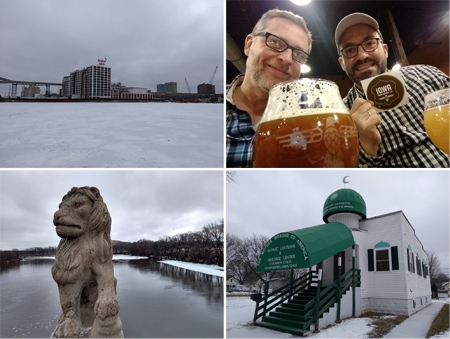 This was Rafa's second trip to Iowa, but we wouldn't stay long. Honestly, I couldn't believe how well Mae coped with the loss of my uncle, & she thought taking Carl's ashes to the family plot in Centerville was the best idea. Rafa & I had one brief moment of tourism before leaving: the mother mosque in the US —the first to be established— is in Cedar Rapids! How did I not know that? Our typical night out at Iowa Brewing Co. ended with us buying a growler to take home to Spain, & friendly staff loaded us up with stickers & cups. But ice flowing down the Cedar River gave us an idea of the winter storm to come…
Centerville
How did we not have an accident? In hindsight, we should have skipped stopping at the Banana Republic outlet in Williamsburg. Duh. But even with freezing rain in the forecast, we had plenty of time to arrive in Centerville before conditions got too severe… or so we thought. Fog reduced our visibility, jet lag & tired eyes from having to concentrate got to me, & we'd not picked the best route to go. But there was nowhere to stop & stay along the way, so carefully onward we went.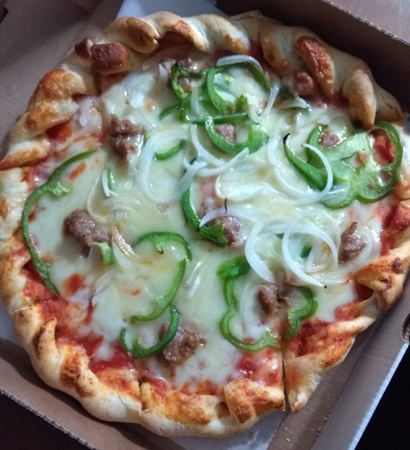 Our rental car did fantastic because when I hopped out to check us in to the hotel, I realized that we'd been driving on ice for the last part of the trip. Slick like crazy. I told Rafa to watch his step when getting out of the car but to no avail… down he went, breaking his glasses along the way. Fortunately he was ok (but sore), so I got us a pizza to go while he rested in the hotel. What a night.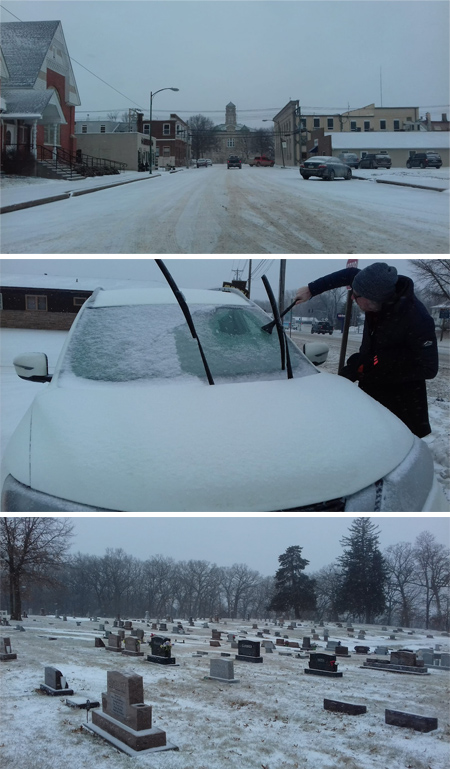 We woke up to a thick coat of ice covering the entire car. Mega thick. The comedy show began as I scraped off as much as I could while Rafa carried out buckets of hot water from the hotel to pour over the car. At least skies were clearing, & road crews had been sanding the roads. We made it to Haines Cemetery where my grandparents are buried, had an icy service for Carl, then continued on to Missouri…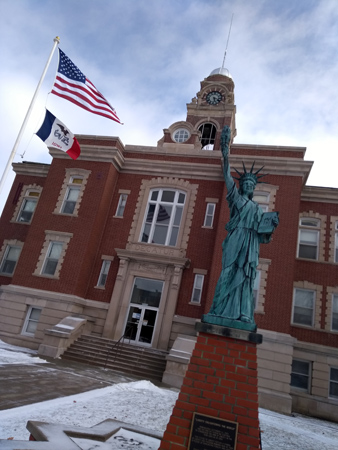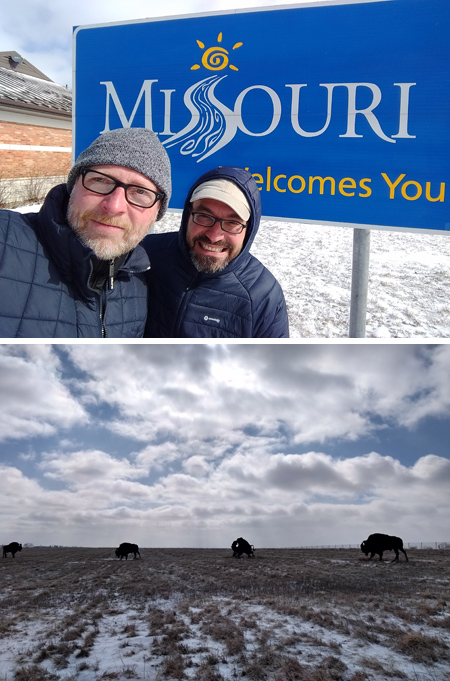 Kansas City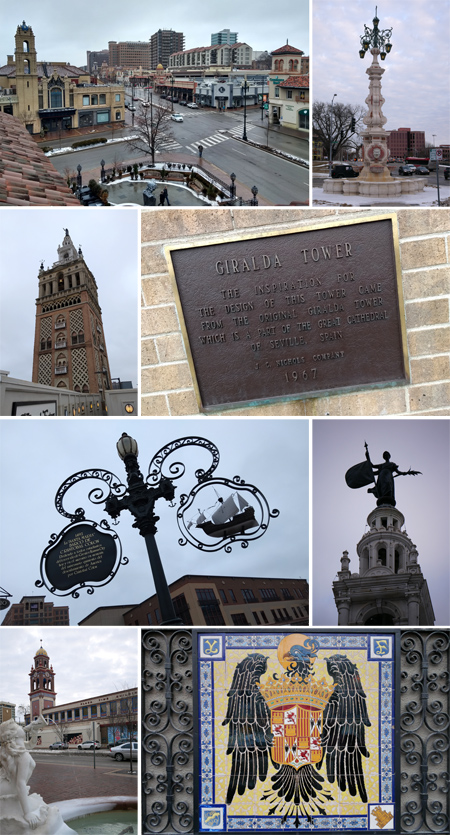 KC seemed like a logical place to start our vacation with its Andalucía-inspired Country Club Plaza & other Regionalist architecture in the city. We went to the Plaza twice but honestly, outside of the Giralda mini-replica, the fountain reproduction & a few tiles from Triana, I found it kinda bougie. Sorry. Developed in 1922, the shopping center was the first ever designed specifically for customers to arrive by car. But a 1977 flood damaged many of the older buildings, & new replacements seemed to embrace PoMo like so many others of that time. At least we snuck up to the top of the Giralda 😉

Other than that, the rest of our visit rocked! We went twice to the stunning art collection at the Nelson-Atkins Museum, explored downtown, spent several hours at the National World War I Museum & had the best BBQ of our lives at Q39… not to mention great beer & an impromptu tour of Brewery Emperial. I feel like we only scratched the surface of Kansas City though, so we're looking forward to our next visit!

Independence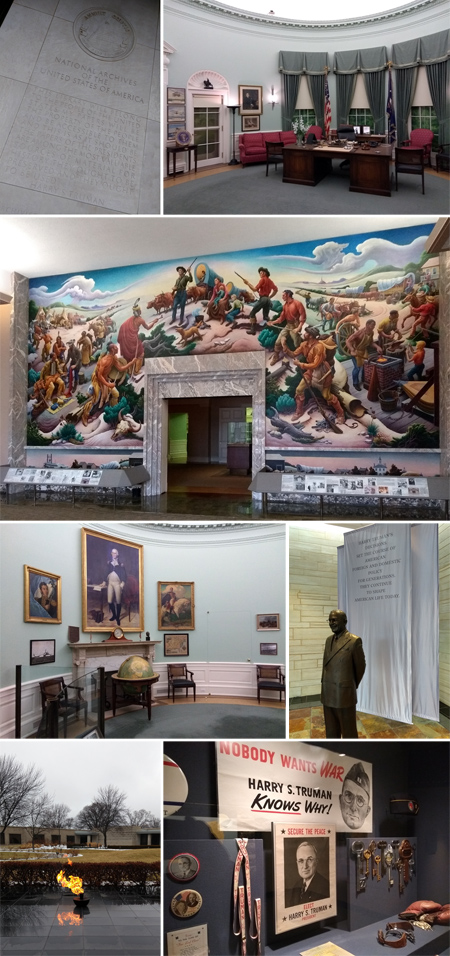 We must have been the only people at the Truman Presidential Library on this insanely cold day. I'd never been to any presidential library & was curious about the experience. We had an amazing time discovering the Thomas Hart Benton mural —how had I never seen his work before?— watching the intro movie, seeing the exhibits & gravesite… with all info taken with a grain of salt. That said, revisiting one of the more important eras in modern U.S. history made me nostalgic for a time I never experienced. The museum has been completely redone since we visited, so the pics above are now dated.
Jefferson City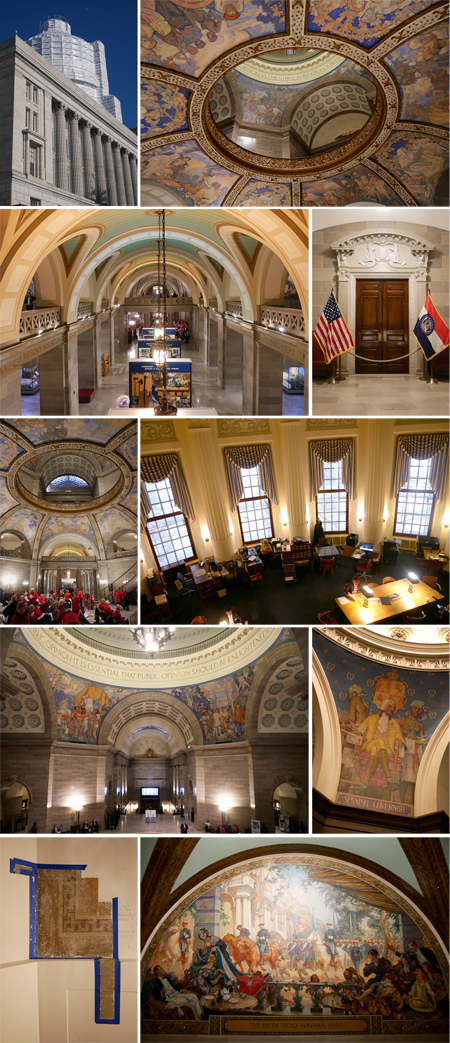 In 2015 we visited the state capitol in Olympia, WA, so this second one was a treat… in spite of restoration works covering the dome. Stuck with a school group for the official tour, Rafa & I got to roam around the building afterwards completely on our own. I was excited about seeing laws debated live, but even more so for Rafa as a Spaniard able to witness how US government works. Other highlights were the Thomas Hart Benton social history mural (below) & of course, one more reference to the 1898 Spanish-American War to add to our US travels.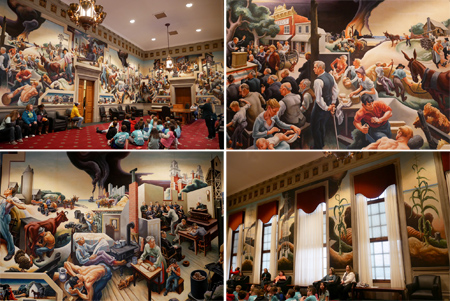 During lunch, skies cleared & we walked around to see more of downtown. With all the beautiful houses along East Capitol Avenue, we couldn't understand why so many were vacant & boarded up. How did this happen? The former state penitentiary looked suitably foreboding, & we got yelled at for wanting to photograph the Union Pacific station… something to do with private property. At least we got to see a train go by. Again, we seemed to be the only tourists, & most of the central area was beautiful but somewhat desolate.
St. Louis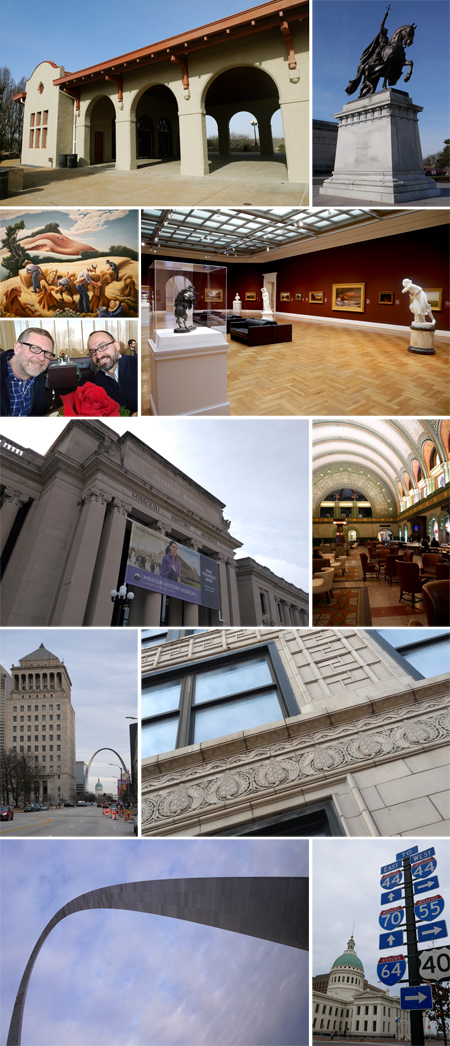 How did we see so much in so little time? We first explored some of the sights in Forest Park, like the art museum —with a wonderfully romantic Valentine's Day lunch— a Louisiana Purchase Expo pavilion, & the Missouri History Museum before returning the car. Rafa & I stayed at the fancy Union Station Hotel but didn't rest much… we set out to explore downtown right away. The sun set as we got our first view of the Gateway Arch, concluded that Laclede's Landing was too touristy for my taste, & stopped for a drink at Gringo before getting grocery store dinner supplies. Whew, what a day.

We already had such great vibes from St. Louis, & the following day reinforced that feeling. We walked from the Central West End to Midtown, admiring fantastic architecture along the way. So many visual treats! We needed a beer from Urban Chestnut before more BBQ at Pappy's Smokehouse. Tired & full, we bussed back to the hotel for a quick siesta then headed out again. More beautiful architecture downtown at the Post Office, the military museum & the Central Library. We ended the afternoon by going up the Gateway Arch… something I'd always wanted to do. Of course we spent a long time in the adjoining museum before collapsing from exhaustion & info overload. What a fantastic way to end our trip!
---
Ok, this post is long with more photos than usual, but I couldn't resist. Just wanted to share the thrill of discovery! It's such a shame that Missouri is often referred to as a flyover state with little of interest; nothing could be further from the truth. Both St. Louis & Kansas City served as gateways to the West, & their important role in national history still shows. The state capitol had such great, unexpected art not to mention the stunning collection at the Nelson-Atkins. And all the food! We can't wait to pick up again in St. Louis & explore more!