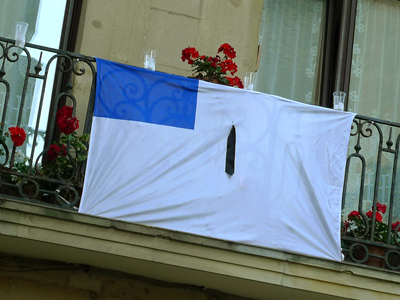 After transforming into a posh seaside resort & cuisine capital during the 20th century, San Sebastián's humble beginnings as a border outpost can be difficult to imagine these days. Thank goodness for a scale model of Donostia in the city museum to demonstrate how it appeared 200 years ago: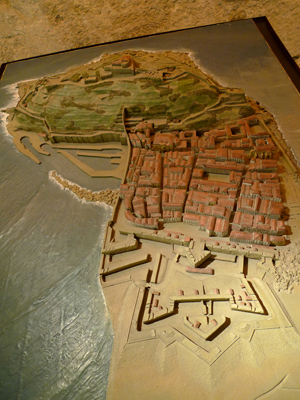 The city's most devastating event took place then, during the Peninsula War. After the 1808 invasion by Napoleon, Spanish troops (with the help of Portugal & the UK) fought hard to defeat the French. Close to victory, the Duke of Wellington needed to retake the towns of San Sebastián & Pamplona before attempting to march to Paris. In June 1813, the siege of San Sebastián began. Heavy artillery fire weakened the city's defenses & allowed a group of volunteer Spanish soldiers to enter the city on August 31st… only to be shot down by the defending French. But a chance explosion of mutitions & the resulting fire distracted the French long enough for British & Portuguese troops to take the city.
Left with no other choice but to run for their lives, the French moved uphill to the Castillo de la Mota. They surrendered a few days later. In the meantime, conquering troops ransacked San Sebastián. Leaving only the buildings on Calle Trinidad untouched —these had been claimed as officers' quarters— the rest of the city burned. Talk about a bittersweet victory… the enemy was gone but allied forces behaved worse.
The only street not destroyed by fire has since been renamed Calle 31 de Agosto. Also to commemorate those tragic events, locals hold special religious services, reenact battles & hold a candlelight vigil every year on that date. Many residents hang the city flag on their balconies, pinned with a black ribbon (top photo). Here, before the battle, soldiers having a drink & kids get to pet a horse: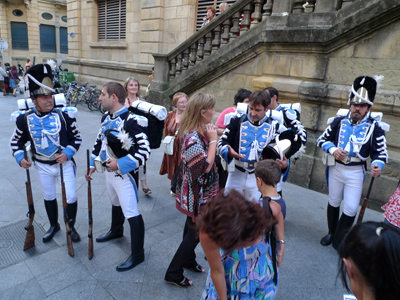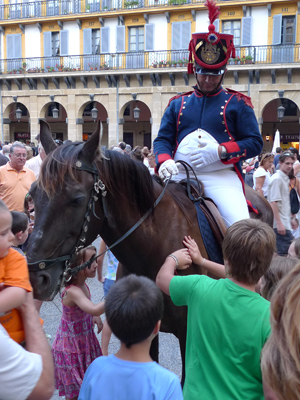 Later, dueling bands of locals vs. occupying soldiers fiercely drum it out & shoot cannons in Plaza Constitución… consider it a mini-version of the Tamborrada festival in January. Lots of noise & lots of fun: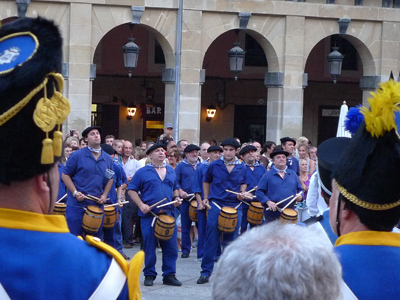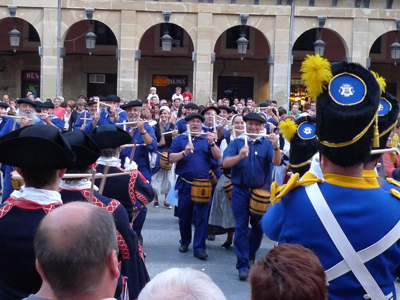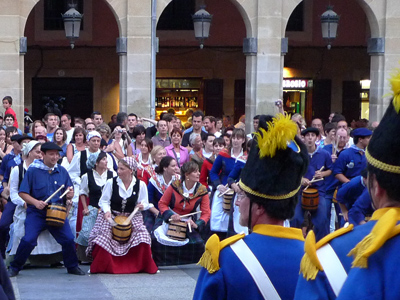 As evening approaches, a special Mass begins in the Iglesia de San Vicente, located at the end of Calle 31 de Agosto. A small group holding symbolic torches leave after Mass & walk down the dark, crowded street. All lights have been turned off, & locals place candles on their balconies as a choir serenades the public. Very solemn & moving: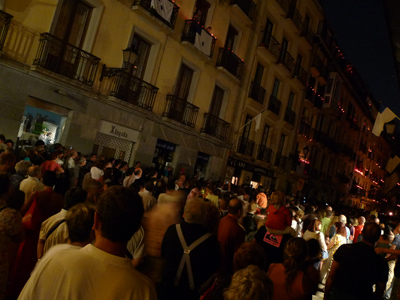 What better way to commemorate emerging from such a disaster? Basque people are known for staunchly upholding tradition as well as being merrymakers, & this particular festival sums up both those qualities nicely.