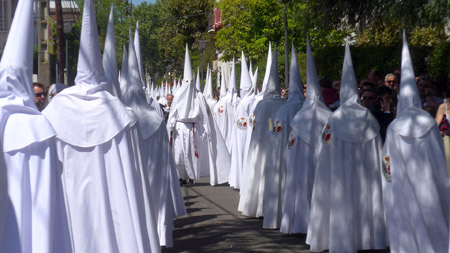 What a week! Yesterday wrapped up my second Semana Santa in Sevilla, & it's time to come down from all the exhilaration + exhaustion. There's nothing quite like bringing in the spring with a week-long pageant: the city government spruces up public spaces, locals deck out in their finest new clothes, & everyone says goodbye to the winter blues.
For the devout, Holy Week means an opportunity to do penitence. If you belong to a religious brotherhood, then you have the chance to participate either as a nazareno (fully-robed for anonymity with the cone-shaped capirote hat), as a penitente (fully-robed, no cone in the hat & carrying a cross) or as a costalero (guys who bear the weight of a float on the back of their necks). Other ways to join in exist, but these main participants form every procession along with one to three floats parading through the city… first to the cathedral, then back to the church or chapel where they started.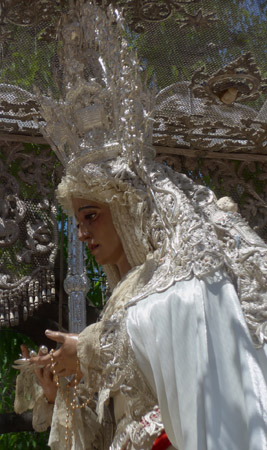 Floats originally paraded in order, according to their scene/subject matter as the Christ story unfolded. But so many new fraternities have joined since the Middle Ages that it's impossible for the story to be told as it happened. Older fraternities get priority, & that's a big deal since over 60 of them have a tight schedule to follow. Imagine coordinating 8-9 parades to & from the cathedral per day with anywhere from 1,000-3,000 people walking in each!
Logistics may be tight for participants, but they're equally as rigorous for spectators. You need to know where to stand for the best views & photos, be patient & figure out a plan —with practical alternatives— before heading out for the day. Sevilla developed its street grid long before straight lines became fashionable. So despite valiant attempts by the city government to make a more orderly city, your best friend is Google Maps if you aren't familiar with Sevilla. Or attempt to purchase in advance a seat on one of the main routes & let the floats come to you. I get the convenience factor, but for me, part of the fun is walking the city & figuring out where I'd like to be. And I have better things to do with 600€!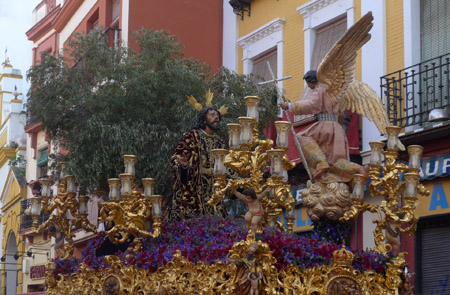 As the week unfolded, I wrote down a few tips that helped me get the most out of Semana Santa. What else is there to do while standing around for hours? 🙂
Tips
• Pre-Holy Week events like besamanos or besapies moments in churches (images brought down to your level so you can kiss their hands or feet), Via Crucis processions or witnessing the placement of statues on floats are incredibly interesting & private… usually it's just the members of the fraternity & a few people in the know. No one is let in after Mass begins, so time it right. If you see people lining up outside a church, join in. I was impressed by the ceremony of the Quinta Angustia brotherhood in the Iglesia de la Magdalena: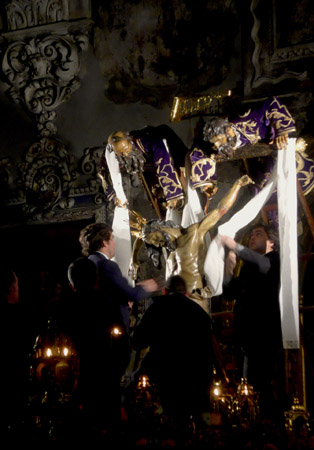 • If Holy Week is later than usual, sunscreen is a necessity… although I tend to prefer twilight or evening processions regardless of when the week falls. Carry a warm coat at night since it's usually colder than you think when you're standing in one spot for a couple hours around midnight.
• Dress code for the Sunday before Easter is fancy, with lots of people showing off new clothes. Very appropriate for the beginning of a fiesta. But by Thursday, the story turns dark so dress in darker colors. The mantillas & black dresses come out then.
• The reality of 2017 was a heavy police presence. Be respectful… their job is to protect you.
• Pick up a good guide, either printed or digital. Super essential for planning. The El Llamador app is a great resource because it contains route maps in Google. People line up around the block for the Canal Sur print edition but honestly the app is more useful. I found the descriptions in "Gota a Gota" published by Fundación Cajasol to be informative. The city government-published Capiroteando —available at the TI— has nice design & limited info, but their webpage is a handy resource. Study photos of the floats, decide which you'd like to see & organize, organize, organize.
• Go at least one hour early for a prime spot. If you plan on watching a float exit its church, hang around side streets close to the entrance to see nazarenos arrive without the crowds. Good photo ops like Rafa's picture below.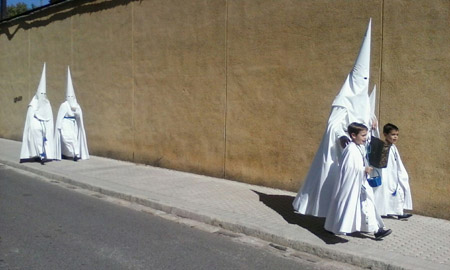 • Where to stand? Obviously front row is best, but if you don't arrive early enough then find kids in a front row or people shorter than you (let's be realistic, ok?) & get behind them. Scout out non-smokers if that's an issue. Corners are excellent spots because floats must turn slowly. Direct line of sight is best at a 90º turn, & being on the outside edge is preferable. Seeing a float exit or enter its church or chapel is always interesting.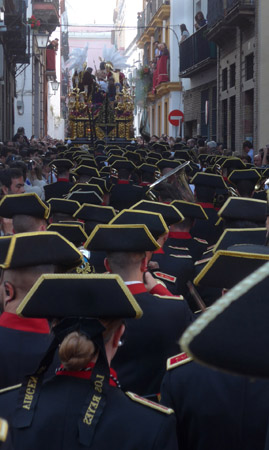 • Don't be timid about telling people to move if you've been standing there longer. Most sevillanos respect this unwritten code. Of course, some people arrive late & expect to get the best view, especially tourists who may not understand the way the system works. Let them know politely. On the same token, lots of people want to get their kids to the front for candy or wax (see below), some people walk in front of you because they know someone parading (most likely from the same brotherhood) or just people trying to get by. That's all to be expected.
• Have a strong bladder because you don't want to lose your spot. Moderate your liquid intake because it can be difficult to run into a bar once a procession starts. And guess what: people fart. Not very pleasant, but don't let that move you from a prime spot. Unless it's non-stop! That emotional first view of a paso as it rounds the corner, candles coming into sight, is worth it.
• As a resident, I learned how important it is to have food already prepared at home so we didn't waste precious procession time cooking. Otherwise be prepared to pay Semana Santa prices in bars. Also know that some bars may not serve meat options during this week. Plan a snack break between processions or do like many locals: bring a sandwich. Aluminum foil wrapping is given to kids, they ask nazarenos to coat it with melted wax, & the biggest ball among friends wins. Hmmm, did I just write that?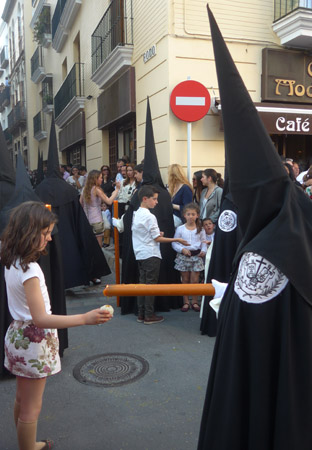 • If the paso rests near you, take as many up-close photos as you can before they move on but be sure to notice the heat coming from the costaleros. Amazing. And the guys giving them water.
Not-so-enjoyable moments
As with any large event, it can't be all good. Mountains of leftover trash (especially near McDonalds & Burger King), people cutting through a marching procession, cameras & cell phones held overhead that block views, carrying gin tonics past participants, screaming kids, families & friends that won't stop talking regardless of what's happening around them… it's not a soccer match, peeps. I'm not Catholic or religious at all, but let's all be respectful. Not too much to ask.
Favorites
I typically see 3 to 4 processions each day of Semana Santa, so being selective is the key. What makes a personal favorite? It could be the float itself, a particular image of Mary, a certain scene from the Passion, a multitude of Roman soldiers, accompanying music, or any number of factors. Here are a few of mine:
La Redención · An intricately carved float without as much gold leaf as others. Outstanding piece of work.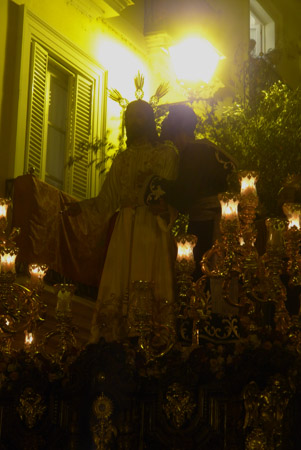 El Museo · The crucifixion image is made of a composite material —not wood— so sculptors got creative with the shape. The curve of Christ's body & a realistic face gazing upwards make it unique.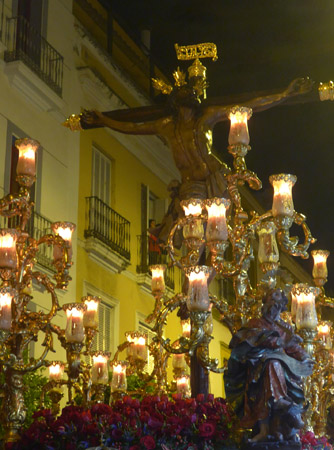 Vera Cruz · Minimal music, solemness, carrying a relic with a piece of the True Cross, & representatives of brotherhoods from all over Spain make this entire procession memorable.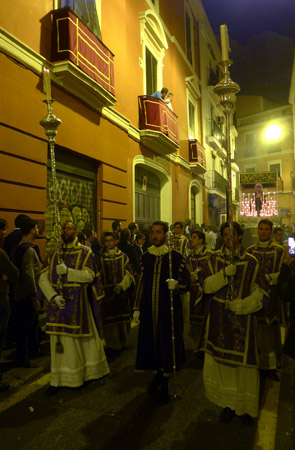 Santo Entierro · Three NeoGothic floats sum up the entire week: Death as a skeleton sitting dejected after his defeat, a large urn carrying the body of Christ & Mary in sorrow surrounded by a multitude of figures. Representatives of each brotherhood in Sevilla accompany the float along with the military.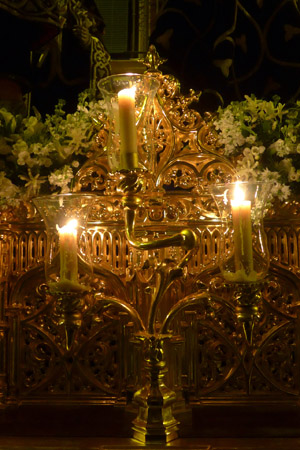 Nothing beats listening to a saeta —sung from a balcony— particularly moving when watching a procession on a street where they've turned the lights out as it passes. Candles, incense, a cappella singing, flamenco-style melismas, magic. The audio clip below is long at 3 minutes, but first you hear the murmur of the crowd, the song beginning, & towards the end the *clak, clak, clak* of the llamador or big knocker that brings the costaleros to attention, the band begins to play & the procession carries on.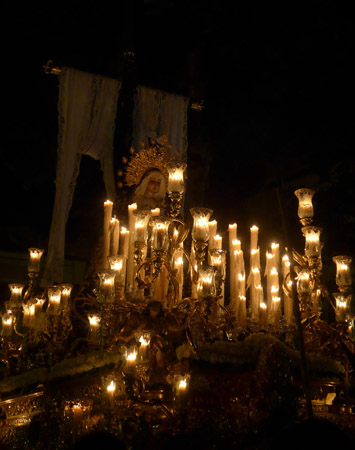 ---
Which is your favorite procession? Have advice or more tips? Want to share your experience? Leave a comment below, & see you in the crowds next year!
Update (Apr 2020): With Semana Santa cancelled this year due to the coronavirus pandemic, I wrote an extended post about more of my favorite moments… we'll just be patient until 2021. Or 2022!