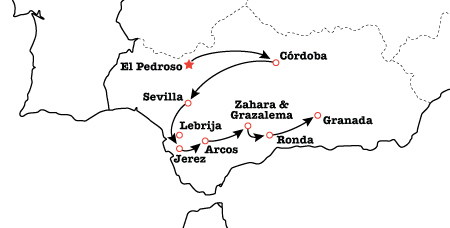 After a two year break, I'm on the road again! The book department —as Rick Steves himself put it— has a herculean task ahead of themselves this year: update each & every guidebook the company publishes. We all have our work cut out for us. In fact, this is just the first part of my schedule. I'll be updating the entire Portugal book in June & July. But let's not jump the gun…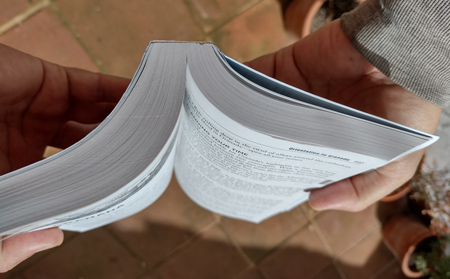 ---
09 Mar · Nothing like Córdoba in early spring: cool temps, awakening gardens & caracoles! The snails at Los Patos are just as worthy of a visit as the mezquita-catedral. Not as many changes to the guidebook as I'd expected, & the overwhelming response from talking to hoteliers, restauranteurs, & museum staff was a mix of relief & joy to return to work. Much like what I was feeling too.

10 Mar · Most people don't realize that while checking information, we're also going up & down on a emotional rollercoaster ride. Great reminder of that today. Talked at length with hotel staff I'd met many years ago about tourism, personal experiences & the pandemic. We formed a wonderful bond… something I treasure about this job.
Then the opposite experience five minutes later while talking with a local guide. Nice enough person but the first time we meet & she indirectly says that I don't deserve my guide license now because requirements are not the same as when she did it. Also bitter about other work-related experiences (many rightly so but hey, we've just met). No time to dwell on the negative though. I'm off to Sevilla to eat…

11 Mar · Weather can make or break a research trip because we're on such a tight schedule, & rain never helps. At least I have enough days in Sevilla to play around & reorganize my original plan. I had a great time in the Alcázar, met several old work friends & got to hang out in my former hometown… with soggy feet. Rafa was in Sevilla for work as well, so we hit the restaurant section hard. Maybe too hard!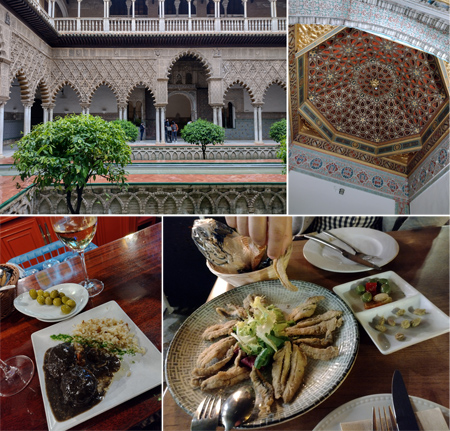 12 Mar · While checking the Santa Cruz walk, I heard a couple reading what I was but aloud. I stopped & said, "Seems like we're on the same page." Cathy & Gerry from Oregon laughed & were so nice to talk with! I always consider chats a great use of time… full of helpful feedback & observing how people use the guidebook.
Rafa & I had more food to check out tonight after catching a few minutes of the Vía Crucis procession for San Esteban (video below), but what a bust. Another of those downs while researching: a scuzzy waiter who wanted to oversell, the foreigner treatment in another place, & finally a fully-reserved restaurant with no room to seat us. No luck that evening, but that also translates into a better guidebook!
13 Mar · Last day in Sevilla, & the sun came out! Everyone was prepping for Semana Santa as costaleros practiced in the streets & more Via Crucis processions went out with marching bands. I did two more city walks early before the streets grew crowded & had a wonderful lunch with Shawn of Azahar Sevilla tapas tours. Thanks to her help, the food section is much improved!

14 Mar · A day off! In retrospect, I could have picked a better city —heck, I could have even gone down to Cádiz— but I wanted to explore Lebrija. Turns out I was too tired to do much of anything & vegged out for most of the afternoon in a cute but rather noisy hostel. Meh.

15 Mar · Jerez wins the award for most undrivable city in Spain! Great place to pick up a car rental, but so many roundabouts & crazy streets. Always better to park, hoof it, then move on. No matter how often I return, Arcos de la Frontera has always felt like a second home. The main church is quite stunning, & it's much more of a food destination than most give it credit for. Mari promised her albondigas recipe in the near future, so look for that in a future post! Had to deal with a huge wave of Sahara sand hitting Andalucía mixed with rain, but Arcos didn't get the brunt of the storm.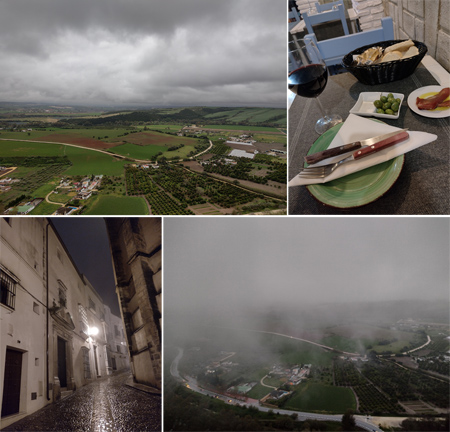 16 Mar · Again, so much of this job is talking. Caring & sharing with business owners, hearing from local guides, reestablishing & making new connections, earning trust, listening to complaints, joking around & basically being the only face of the company that many will ever see. Exhausting & exhilarating at the same time. The drive to Grazalema & Zahara was gorgeous & grey —at least the rain briefly stopped— and a bonus: taking a few minutes to buy merino wool blankets that I'd been yearning for! Started exploring Ronda right away & was instantly reminded that the often-overlooked Jardines de Cuenca have some spectacular views.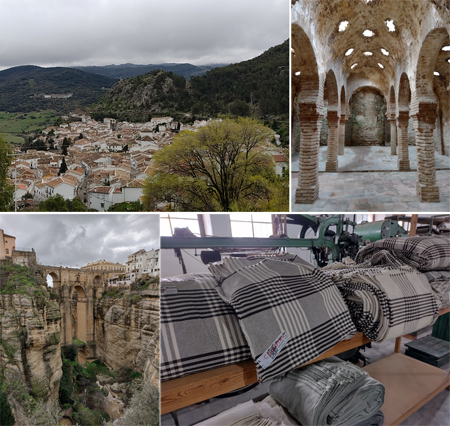 17 Mar · Full-on Ronda day. A good night's sleep in a cozy, warm hotel after being productive with text & map changes is always energizing. Add to that an amazing hotel breakfast & I was set. More off-and-on rain & chilly temps, but I managed to check almost everything off the list. Nothing like a good stew to take away the chill. Of course it poured again later… time to triage, stay inside & work on more input.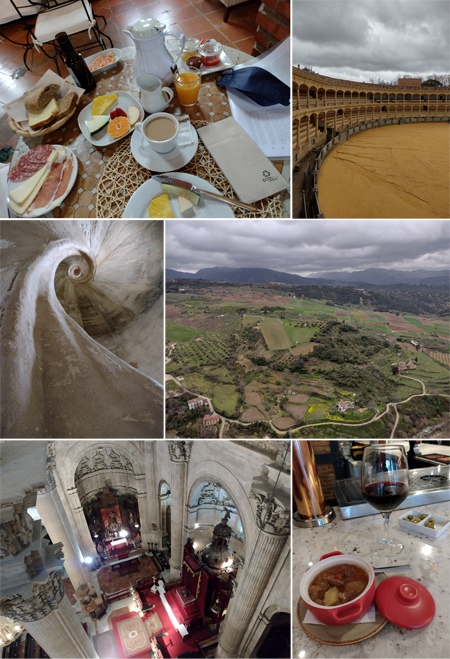 18 Mar · The folks at ReservaTauro are so darn nice! I know I spent too long chatting with them, but it's so easy to get carried away. And that homemade chocolate cake didn't hurt either. On to Granada via Antequera where I saw the beginnings of a national transport strike: kilometers & kilometers of parked trucks but fortunately for me in the opposite direction! I managed to turn in the car early, got a late snack for lunch & had a lovely welcome at the hotel. Granada was hopping!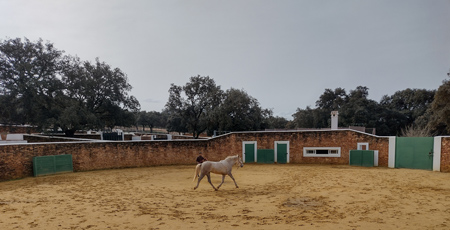 19 Mar, 20 Mar · Granada is truly one of Spain's great cities. So much history, a fantastic location, a Muslim palace complex, & that classic granaíno attitude. Another whirlwind of emotion too as I chatted with people I've known for over 20 years: How did we survive the pandemic? How could we be apart from each other for so long? What a sense of comfort to share those stories in person again. I also had a negative COVID test which surprised me, given the number of interactions I'd had since the beginning of this trip!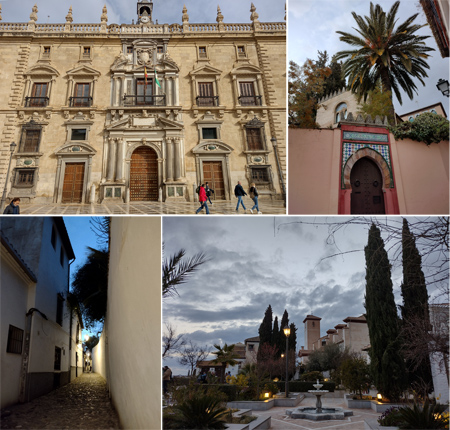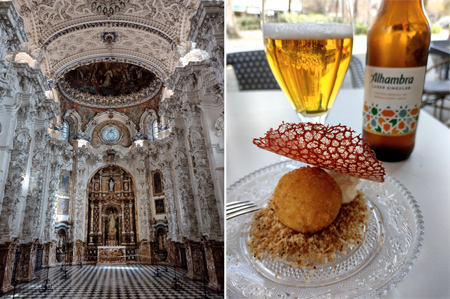 21 Mar · Saved the best for last: the Alhambra! Few things changed there due to the pandemic, & it is nice to see the text so tight & concise. Granada finally has train service again, so getting home was easy… & scenic. Even the two-hour wait in Santa Justa for my local commuter train went by quickly. What an intense & crazy 13 days!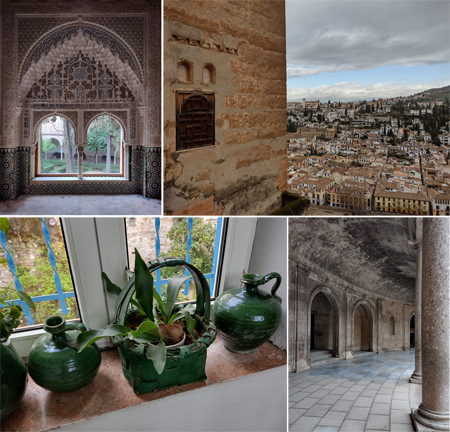 ---
Still a few days of corrections & remote research to go, but the most strenuous part is over. Time to dry off at home! Surprisingly little has changed for the Andalucía portion of the guidebook… only a few pandemic casualties with the random hotel or restaurant closed for good. My update for the 18th edition is a wrap, & this makes the 21st book I've updated for Rick. Time flies!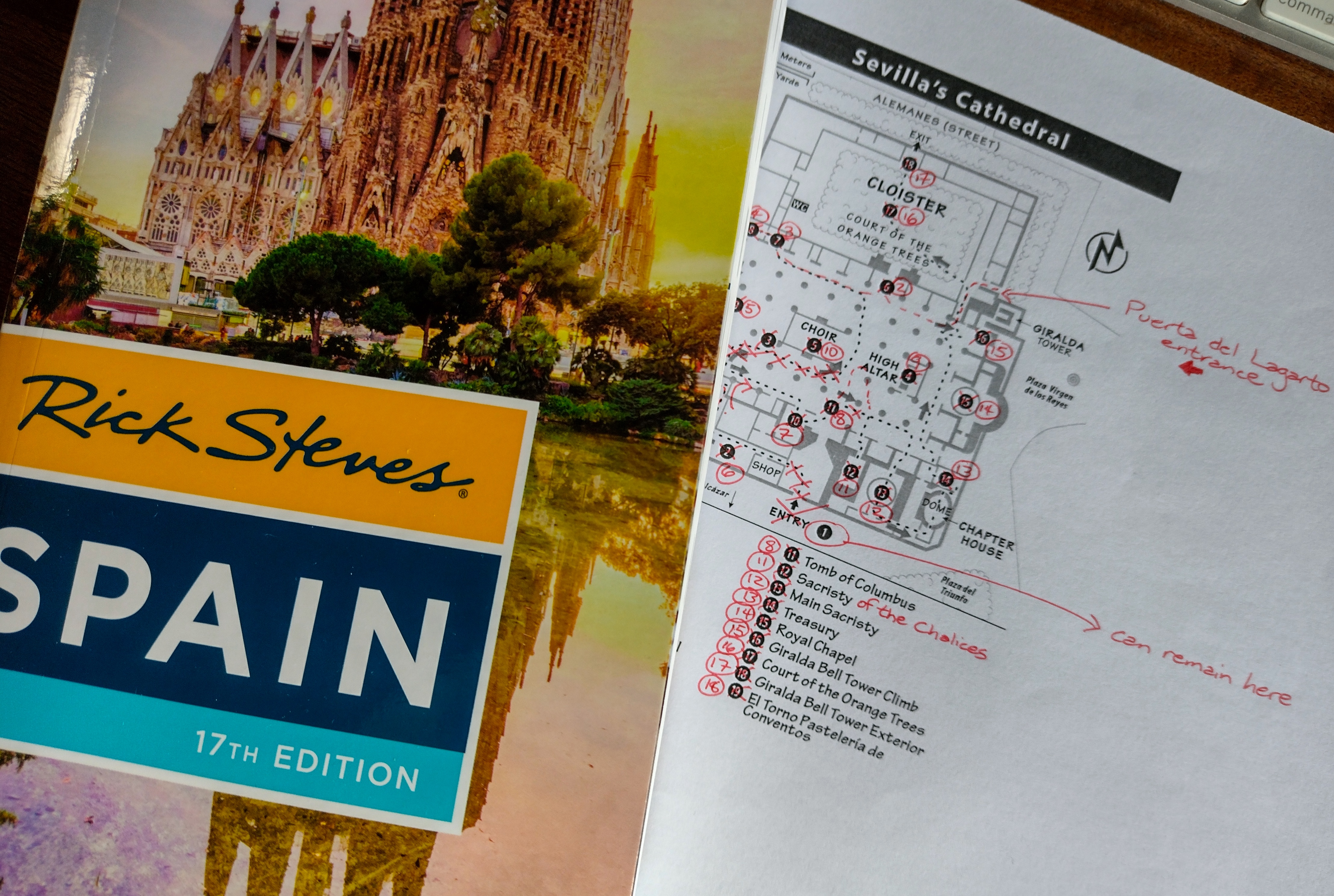 Update (31 Oct 2022): Guess what just arrived in the mail! Nice to see in print after all this time.