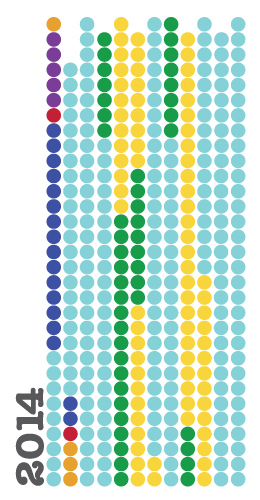 ● Where was I?

Argentina

,

USA

,

UK

,

Jordan

,

Israel

,

Portugal

, &

Spain

.
Welcome to the fifth edition of my year in review… I write this for personal reasons, but you're welcome to revisit the past year with me. I'll go out on a limb & say it. 2014 turned out to be one of the best years ever, in every regard except a major one. Let's focus on the positive for now, shall we?
---
JAN – Began 2014 with a work trip to Seattle… the first time I'd been back to the US in four years. Seattle had changed so much & for the better. Seeing old friends meant the world to me, & the icing on the cake was 11th row tickets to see Justin Timberlake with Tara! When the stage moved directly behind us, we basically had 3rd row for the second half of the show. Leaving Seattle on a high, I met Darío in London where we set off for his PhD celebration trip to Jordan & Israel. Petra, Jerash & Jerusalem were so amazing that I didn't even get upset when I discovered my debit card had been compromised in the UK.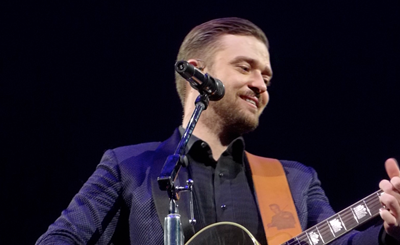 FEB – Left Tel Aviv to return home via NYC. My first time there & hosted by the wonderful Tim & Mike. The rest of the month I caught up on my photo catalog (you can imagine what that was like) & wrote about recent travels.
MAR – Guided tours in Buenos Aires with NYU students plus more catching up with friends… those 10 days flew by but I managed to see Julie-Anne, Daniel, Johann, Fabio & many others. Darío took off to Portland, OR for a conference while I resolved the final details of my spring work schedule: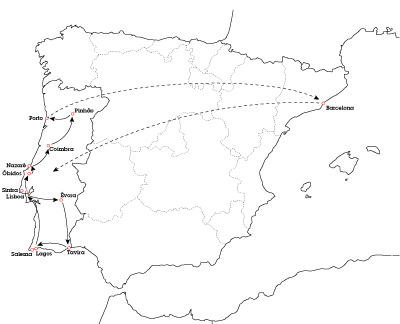 APR – In January I'd finished a very sketchy version of an app for the Mosteiro dos Jerónimos in Lisbon. With only a few weeks before having to switch gears, I dove into Android development again. Intense. I also finished the May edition of the Argentinian Journal of Applied Linguistics. Arrived in Lisbon at the end of the month.
MAY – Researched the entire Portugal book for Rick Steves! Exhuasting but exhilarating at the same time. With only one day off, I had to get to Barcelona to start the first Spain: My Way tour of the season. Lordy.
JUN – Another Spain: My Way followed by 10 days of doing absolutely nothing in Lisbon. Ahhhh. Then yet another Spain: My Way tour.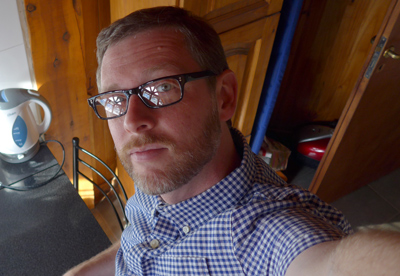 JUL – Really glad to be home again, even though watching Argentina lose the World Cup to Germany didn't put anyone in a good mood. Caught up on movies & books, & let the beard grow. Also tried to continue with Android but a software issue prevented me from doing anything.
AUG – With app development unfortunately on hold, I decided to tackle another project: blog consolidation & migration. All previous content is now easier to manage & easier to read. The move made sense because of my ten-year blog-iversary. Have I really been writing online that long?? The Algarve radio interview Cristina & I recorded with Rick in January premiered, & I went back to Portugal.
SEP – Assisted a Portugal tour & led two more Spain: My Way trips with few days off… taking a not-so-interesting trip to Palma de Mallorca: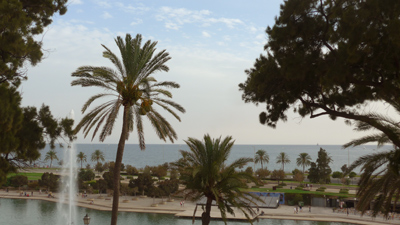 OCT – Happy 44th birthday to me in Ronda! Final tour of the year & back to Argentina. Wrapped up another edition of Darío's academic journal.
NOV – Finally got back to Android. Better luck this time, lots of redesign & new features added. Basically the app is complete but still needs to be tested a bit more before release. Super excited! The Buenos Aires radio interview I recorded with Rick Steves aired this month, & Blake paid me a visit in Esquel to film an interview about a Recoleta Cemetery documentary he's making.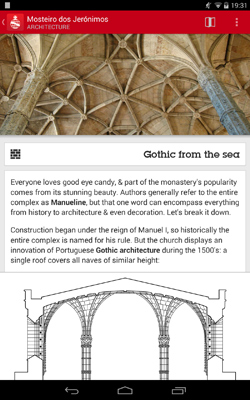 DEC – Not much positive to say about this month since Darío & I called it quits after five years together. Quick packing & a few weeks in Buenos Aires to say goodbye to the city & several friends. Certainly one of the most difficult things I've ever had to do.
---
What's coming in 2015?
Work & travel: Recent events obviously delayed app release, but I hope to make it available soon. I've also begun work on a guide to Lisbon churches to be released next year. I'll be working for Rick Steves again in 2015 both for tours & hopefully guidebook research. Busy, busy, busy. I've decided that I can't start over again in Buenos Aires one more time (been there, done that), so I'm moving back to Seattle! At least temporarily. I haven't lived in the US for 14 years, so I need to be ready for reverse culture shock.
Online: I managed to post Romania & Bulgaria photos finally, so I'm happy with the progress. Without AfterLife & the Lisbon tumblr website taking up my time, I've written more here… & hope to keep that up.
Big questions: How will I adjust returning to the US after all this time? Should I rent a place in Seattle or just dive in & try for a residency permit in Portugal? Where exactly will I end up?
One underlying theme to the entire year has been reconnecting with friends. It shouldn't be so difficult these days to maintain long-distance friends, but sometimes it is. I'll never forget their support over the past few weeks —I needed it! This coming year will bring lots of change, so stay tuned. Have a great 2015!