Congrats to Mauricio Macri. The fight isn't over yet, but Macri definitely won the first round with 47% of the vote… almost the 50% needed for a definitive win. That means a runoff will take place on 31 Jul between Macri & the second-place candidate, Daniel Filmus. Filmus received almost 28% of the vote with Pino Solanas coming in third with a respectable 13%. Not bad for a relatively new political party.
In general, the election itself was rather lackluster. There was not enough discussion of issues which locals face every day… & there are lots of them. Filmus opted out of the first debate, & Macri was absent from all others. I would rate Macri's performance for the past four years as very average. During the campaign, he liked bragging how porteños love to consume culture… but during his term the number of cultural events lacked compared to previous administrations. Filmus appeared to be going through the motions, merely taking orders from above. Solanas was great at criticizing other candidates but did not offer many real solutions to the problems which face Buenos Aires.
What amazes me is that no candidate presented a coherent, urban plan for residents to consider. Maybe that's asking too much, but show me cost-effective solutions to traffic, noise, housing & other major problems before asking for my vote. Don't just name the problems… offer real solutions. I know, I know. You don't have to tell me I'm dreaming.
But kudos to the city government for providing real time election results in an easy-to-read, graphic interface. As of 21:00, anyone with internet access could refresh the page to obtain the latest results. The following screen captures were taken at 22:48 with a little under 50% of votes tallied: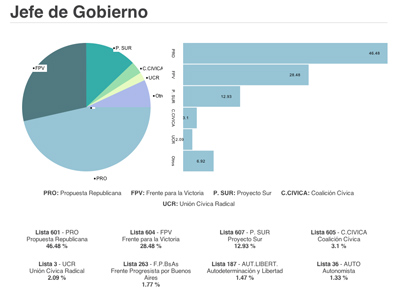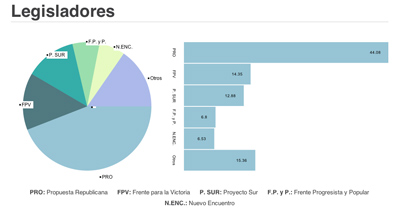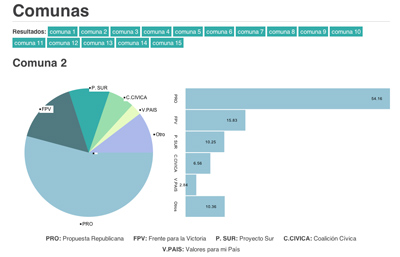 Besides Jefe de Gobierno, half the city legislature was up for grabs. While Macri's party failed to win a majority, they got a couple more seats. Below is the composition of the legislature before & after yesterday's vote: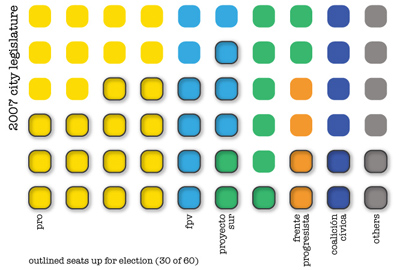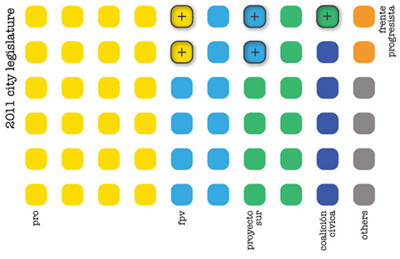 No need for a map showing which political party won each of the 15 comunas… it would be all yellow. Macri's PRO party got them all. It will be interesting to see how this devolution of government plays out over the next four years. My suspicion is that since most porteños had little idea about the function of comunas, they merely duplicated their vote for Macri. PRO percentages for each comuna are almost the same as Macri's.
Runoff results will be added to this post at the end of the month. I can't see Filmus winning Buenos Aires. Peronistas have a long history of mistreating the national capital & constant antagonism fails to win votes. Simple as that. Perhaps Filmus will obtain approval from CFK to pull out of the race early but it's not likely. Then again, he obtained 40% of the vote during the last runoff in 2007. Only time will tell.
Update (03 Aug 2011): It never takes long for controversy to brew in Argentina. The day after the initial election, local rock-pop legend Fito Paez sent an op-ed piece to Página/12 criticizing those porteños who voted for Macri. His exact words: "Half of Buenos Aires makes me sick." Full of anti-democratic disrespect, Fito's commentary really is not all that surprising… list it as yet another example of how much Argentina has yet to grow.
Whether such a public display of intolerance made voters shy away from Filmus is unknown. It certainly created a furor in the media. Elections for governor of Santa Fe province took place the very next Sunday & Macri's candidate for PRO did surprisingly well. That was more interesting than anything Fito could have said since it marked the first big show of support for Macri outside Capital Federal. It definitely made Macri itchy for a try at the presidential election in 2015.
But for now, Macri will have to be content with being re-elected as Jefe de Gobierno of Buenos Aires. Election results from July 31st came in quickly… polls closed at 18:00, within an hour CFK called to congratulate Macri (amazingly out of character), & official tallies were in before 22:00. Super fast. As the graphic from La Nación shows below, Macri obtained 64.25% of the vote while Filmus received 35.75%. Not a bad show for Macri.

But what the next four years hold for Buenos Aires is anyone's guess. Macri's track record in architectural preservation —something I care about very much— is dismal. Ditto for public transportation. But since failing to deliver on his promise of 40 km of new subway during the 2007 election, Macri ran this campaign without making any promises. What voters heard was: we'll double our efforts, we'll improve the city, we'll strive for more dialogue, & we'll listen. In other words, a whole lot of nothing.