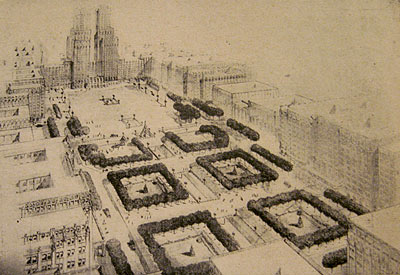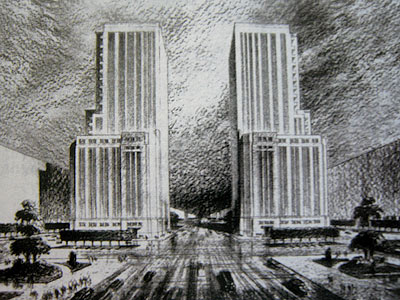 [As requested by Señor F, this is the first of what will be several reposts from the first incarnation of Line of Sight. Originally published as "often overlooked" on 05 Apr 2007.]
Given that there are only two buildings interrupting the supposed widest avenue in the world, they should be appreciated… even revered. But no. At the north end of Avenida 9 de Julio, the fru-fru French embassy receives frequent oooh's & ahhh's by everyone. However, the building on the southern end typically generates scowls or looks of disbelief. I was guilty of the same until today.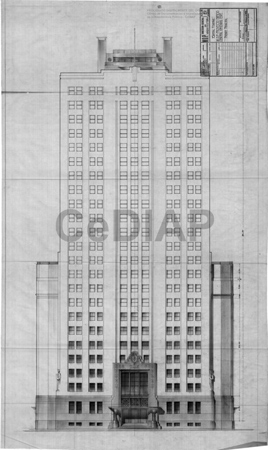 The ex-Ministry of Public Works (Ministerio de Obras Públicas, or MOP for short) was under construction at the same time dozens of city blocks were demolished to make this enormous avenue. My favorite workers' housing architect, Fermín Bereterbide, had a wonderful idea of running traffic underground & constructing twin buildings to fill in the void (top 2 pics). What was finally built by Alberto Belgrano Blanco is a solitary hunk of concrete that few people consider attractive (architect's sketch above). Until you walk around the back… I was shocked at the beautiful shapes —invisible while driving down the avenue. Semicircles, towers, curved balconies & inviting open space are all there. I like this rather dark view of a 27-floor monster: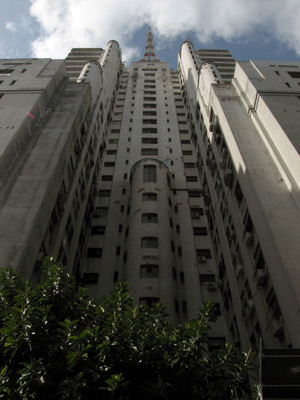 A closer look reveals that it is literally falling apart. Exterior concrete is missing at ceiling-floor joints: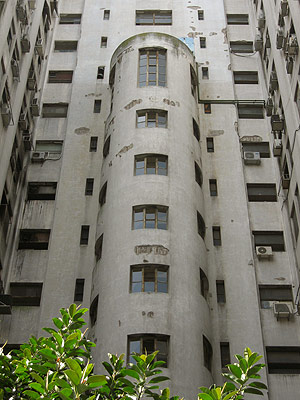 Walking around the north side, the MOP loses most of its decorative qualities. But the rounded back "fins" are super cool: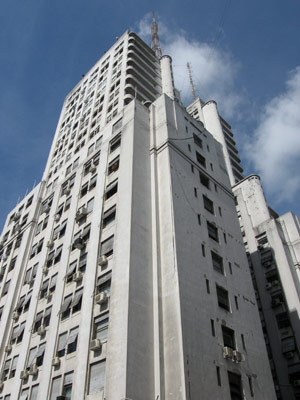 This is what most people see from Avenida 9 de Julio… flat, no decoration, & dotted with air-conditioning units: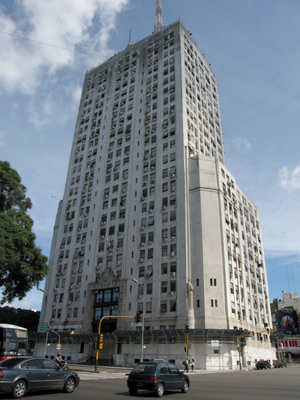 On closer inspection, statues come into focus. Gotham City can't compete. Strong, half-column figures are sternly holding bridges & buildings… projects that the MOP would have been in charge of: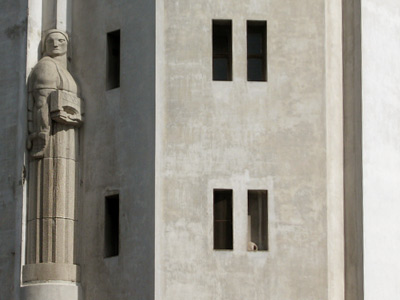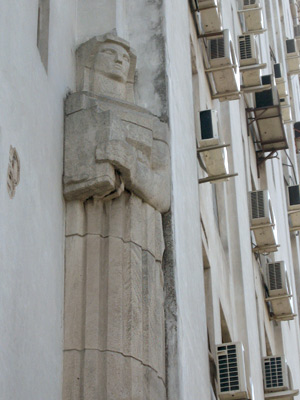 The entrance is fairly blah. Again, A/C units are inserted randomly, & the coats-of-arms surrounding the main entrance are too dirty to distinguish. From across the street I didn't realize that the dark structures were lamps & that there was a guy sleeping on the front steps. BTW, the scaffolding is not for restoration purposes… it's to keep chunks of the building from falling on you as you walk by: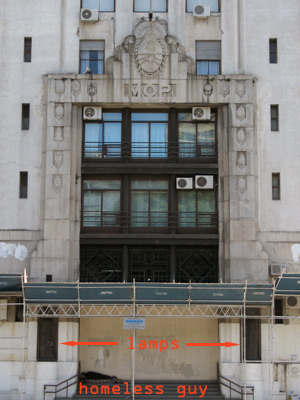 The lamps were the best discovery… large, Grecian urn-like beacons. I was scolded by a cop for climbing on the scaffolding, but the sculptor's name became clearly visible: Troiano Troiani. He's responsible for some of the best Art Deco sculptures in town, from Caballito to Recoleta Cemetery: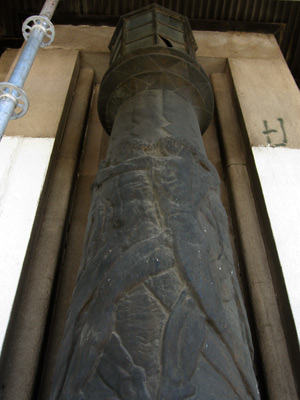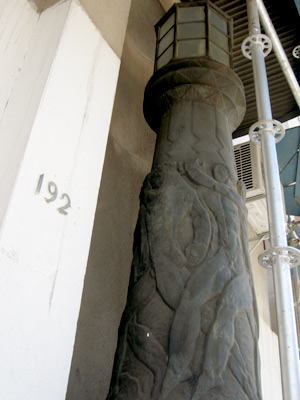 The side entrance is nice & curvy as well: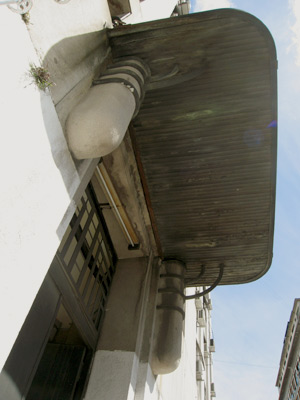 So why is this building in such bad shape? Easy answer… politics. The Perón's would make grand speeches from here, & Eva even accepted her "surprise" nomination as Vice President for Juan's second term. When you think about it, Plaza de Mayo is too small for an effective mass demonstration. Avenida 9 de Julio is better suited. During various anti-Peronist governments, I can imagine this building was an eyesore & neglected. In the 1990s this became the HQ for public health administration, & President Menem unsuccessfully ordered its demolition. The conflict surrounding this building is best symbolized by an homage to Eva Perón… placed in 2003: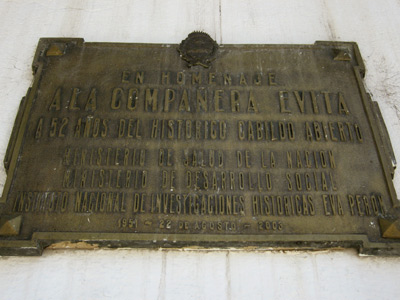 Update (29 Apr 2011): More info (in Spanish) on the blog Barrio Cívico de Mendoza about the future look of this building which will include two gigantic images of Eva Perón. Let's hope it doesn't happen. Although I'm often seen as 110% gorila, that's not why I object to this project. There are much better ways to honor the memory of Eva Perón… the proposal is tacky & lacks taste.
Update (28 Jul 2011): Well, it happened. I honestly didn't think they would do it, but there she is… larger than life: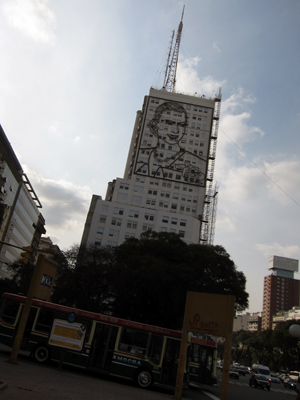 The first rendered image of Eva Perón by Daniel Santoro was revealed to the public by President Cristina Fernández de Kirchner on Tuesday night, the 59th anniversary of Evita's death. Facing south, the artwork is a modern version of Eva's portrait which appears on her book "La Razón de mi Vida" (photo below). CFK naturally invoked the spirit of 17 Oct 1945. Basically the same Peronista diatribe as always. Nothing new.
Winter light doesn't help with photography, & I'll have to return for night shots –the image is backlit– but this is a start. Compare the old & the new: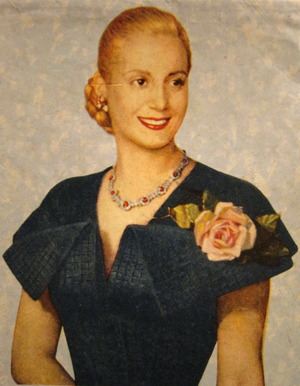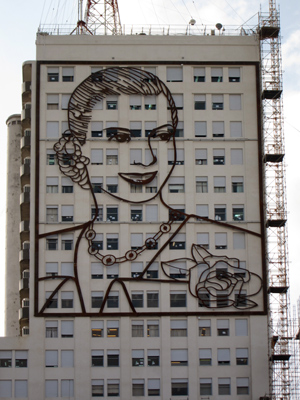 At first, I have to confess that the idea of this project made me a little ill. I'm all for honoring the memory of Eva Perón –she's an important historical figure after all– but I thought that plastering the side of a gigantic building with a gigantic image was too much. I still think it's over the top. But honestly it isn't that bad. Shocking & slightly tacky, yes, but not horrendous.
The best part of this whole project is that the building itself is being restored. Another image will later be installed on the northern façade, currently covered with scaffolding (inaugurated 24 Aug 2011 by CFK from the Casa Rosada. Photos coming soon):
Update (17 Oct 2011): Today really is a día Peronista 🙂
For those of you who don't get the joke, events that took place today in 1945 were key for the foundation of the Peronist Party… workers marched from southern barrios to Plaza de Mayo in order to support Perón. After he won the election, Perón had today declared "Día de la Lealtad" or Loyalty Day. Loyal to whom? Perón, of course.
It's no longer a national holiday, but the expression "hoy es un día peronista" has found its way into local vernacular. These days it refers to a great day… one of those days where the sun is shining & everything goes right. Granted, I tend to overuse the phrase because it makes me laugh so much, but this morning looked wonderful after being under a cloud of volcanic ash all day yesterday.
I used the pleasant weather to take some photos for post updates… like this one. Even though the second gigantic portrait of Eva Perón had been uncovered in August, I'd yet been able to go see it. No better time than today.
My opinions haven't changed. It's insane to have something this big & this tacky as an homage to Eva Perón. I wonder how many decades these images will decorate Avenida 9 de Julio. At least they've moved on to restoring the front of the building. BTW, this side is based on a very well-known photograph of Eva speaking from the balcony of the Casa Rosada: