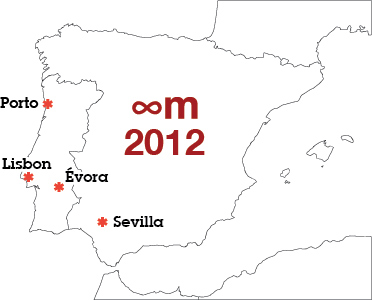 With Buenos Aires content almost finished, it's time to expand. I could happily write about BA for the rest of my life, but Europe is calling. 2012 is all about Portugal with a bit of Spain too. Darío & I are off to Europe in a few weeks, & there's no better moment than now to decide what to research & publish.
It's an optimistic list to say the least… I'm the first to admit that 🙂 Topics selected are a blend of everything I've learned during 11 years of guiding in Iberia plus personal interests. But it makes sense to write about what you enjoy most. Rough outlines for each walk are already in place, & they give me a good idea of what to focus on over the next few months. Given the amount of work involved, I'm just hoping to survive!
Below are details for guides we'll offer this year for the cities of Lisbon, Évora, Porto & Sevilla. [Plans changed after writing this post (see notes in italics below), but it doesn't hurt to think big! Details in this post.]
---

Azulejos (tiles) have enjoyed popularity in Portugal since the 1500's. These days even Spiderman can be found decorating walls in Lisbon. This guide will cover the best of old & new tilework throughout the entire city… a great way to explore!
---

Self-guided walking tour through the Mosteiro dos Jerónimos in Lisbon, one of the most unique & beautiful religious complexes in the world. Surviving the 1755 earthquake, its double-decker cloister defines "awe-inspiring."
---

Map-based guide of the most important Catholic heritage sites in Lisbon. Portugal has always been a very religious country, but much of its Catholic history remains unknown to visitors… a religious guide for a not-so-religious audience!
---

Self-guided walking tour of the cathedral in Sevilla, the third largest in the world & the last of the big Gothic constructions ever made. We'll take you step-by-step through one of Spain's most important monuments. Postponed indefinitely.
---

Encouraged by the Salazar regime, Português Suave—an architectural style inspired by Art Deco & Monumentalism—can be found scattered all over Lisbon. We'll show you where to look. Unique & breathtaking. Postponed indefinitely.
---

One of my favorite destinations in Portugal, a self-guided walking tour of Évora will take you through medieval streets to reveal this town's best-kept secrets. Charming & provincial, this is the perfect daytrip from Lisbon. On hold but it's coming. Eventually.
---

Lisbon often has better weather, but Porto is a fantastic destination as well. An architecture guide to the entire city will attempt to drag you away from the port wine cellars just long enough to appreciate Portugal's #2 metro area. Cancelled.
---

Lisbon majestically meets the Tejo River at the Baixa. Heart of the city, a self-guided walk tells tales of the capital's past & present. Find out what makes Lisbon tick! Cancelled as the area is now overrun with tourists.
---

A self-guided walk through the remarkable heritage left by Sevilla's 1929 Ibero-American Exposition… how it forever changed the city with fantastic architecture, public parks & a smattering of statues that remain. Under consideration.
---
I'm truly looking forward to sharing some of my favorite discoveries with everyone. Now you know why I can't stop returning to Spain & Portugal 🙂 Fortunately, this trip won't be all work… I'll be taking a couple of weeks to visit Glasgow again, Bucharest & Ruse. Me? In Bulgaria? Incredible. Many thanks for your continued support, & expect reports from the road!