In the same year that the concrete blocks of Barrio Balbastro housed families in Bajo Flores, a completely new idea popped up in Saavedra: the chalet californiano, single story houses set back from the street with terracotta roofs & wooden shutters. Based on Jesuit missions in California, a certain sector of the upper class loved this imported & definitely foreign style. The Perón government brought it to the people.
Originally leased in 1948, 177 units were available for purchase only four years later. Rosa Aboy quotes a resident of this project in Mundo Peronista: "All houses had been rented by the Eva Perón Foundation. A few days ago Evita decided to sell them to us through easy monthly payments & we have all decided to buy. Thanks to Evita we have our own house!" Sure, it sounds like propaganda & it was, but many families had undeniably acquired the dream of a casa propia.
My first impression as I approached the area was, am I in the right spot? Surely an abandoned playfield wasn't part of the Peronista ideal. I walked past an abandoned flagpole. This must be it. Even though houses were tightly packed together & mainly single story, few unified design elements which usually identify this kind of project could be seen. The more I walked around, some common elements popped out. Still… I didn't understand what was going on.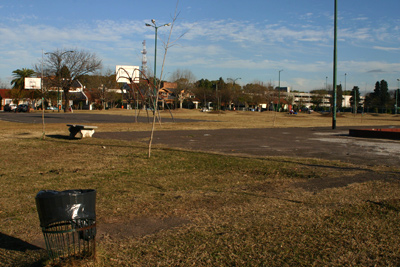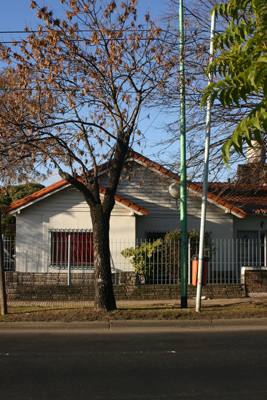 I randomly took a few photos at a standard, corner house. A woman sat at the window sewing with afternoon light streaming in. She saw me looking a bit confused, so I walked over. I'm glad I did. She opened the window & shared a great story:
Her grandparents came to Argentina during Pellegrini's presidency (1890's) & lived in an apartment building on Cerriti… the side that was eventually demolished to make Avenida 9 de Julio. So her parents were offered to rent a house in the new project. Perón's idea was to give houses to families & she had just been born, so they easily qualified. Her aunt was taking care of her grandfather & managed to convince authorities to give them houses next to each other. Lucky for them.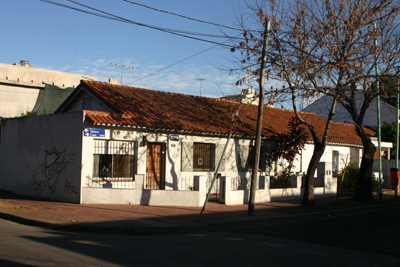 She said that her family was thrilled to have their own house, but her mother used to cry all the time because she felt so isolated. Of course. It's odd to think of undeveloped parts of BA in the 1940's. Back then, the only paved roads belonged to the housing project. Sidewalks weren't even installed… mainly because that would allow the city government to charge a maintenance tax. Her exact words were, "los tanos son vivos," meaning that Italians are sharp/clever… good for avoiding extra taxes. She confirmed the sale of houses to residents. Large initial payments gave way to minuscule monthly bills, & she claimed that the fare to get to the bank downtown was more than the final payments.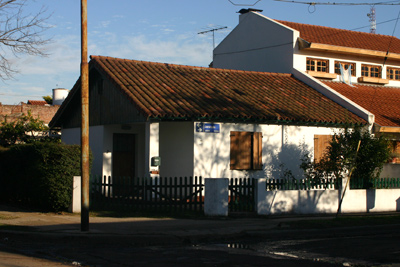 Also confirming my observation that most of the houses had been modified, she said few original structures survived. But her aunt's house next door happened to be one with the least changes over the years. Cool. Note the lack of a large fence. Only a simple gate separated the house from the street. Also the wooden shutters are a bit overexposed in the first photo, so the second pic of a different house is for clarity: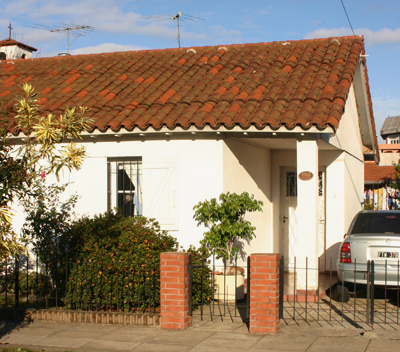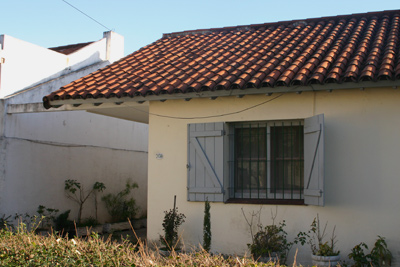 A few more things to mention about this project… it had one very famous resident, boxing legend José María Gatica. He may have never been a champion, but he was loved by many & had a special relationship with the Peróns. His first child was named María Eva, & Evita reciprocated by giving him a house here. After Perón fled in exile in 1955, this project officially changed its name to Barrio President Roque Sáenz Peña. Another example of the useless attempt to undo what the Perón's did. The first day of March –which gives this neighborhood its name– was the day that Perón officially bought the entire Argentine rail network from the British in 1947. That story is highly controversial & outside the scope of this series, but residents recently switched back to the original name. Good for them.
Update (28 Jan 2011): An interesting article by Eduardo Criscuolo tells a few local stories about this neighborhood (in Spanish).
Direct link → Master list of all Housing for the Masses posts.