For all the private donations & construction projects I've mentioned in previous posts, the federal Comisión Nacional de Casas Baratas (CNCB) had only one building complete by 1920. Large tracts of land purchased by the government sat empty while legislators debated on the best (& most affordable) way to build housing projects. I'm not sure whether it was embarrassment at their years of inaction or merely a decision to experiment, but the early 1920's were a busy time for the CNCB.
In contrast to their first project —the Casa Colectiva Valentín Alsina— this time the CNCB opted for individual chalets rather than a big, bulky apartment building. They even named it after the Congressman who began the social housing movement. Due to Dr. Cafferata's contributions, most porteños have a tendency to call every mini-neighborhood built by the CNCB a "Barrio Cafferata"… which makes finding accurate info a problem. Vecinos, sólo hay uno 🙂
The layout denotes a series of row houses centered around an oval-shaped park. Some of the street names clearly refer to social trends of the time, such as Igualdad (Equality) & Fraternidad (Brotherhood). 97 2-bedroom units & 63 3-bedroom units were built for a total of 160 small houses. Walking around the neighborhood today, it's still beautifully maintained & peaceful but there is very little that remains from 1921. The oval park is completely fenced off & is now occupied by a school. Most houses have been modified, either enlarged or rebuilt. The general style is still one of chalets, but the modernity gives it a suburban feel. The photos below show a few of the original units remaining. The CNCB obviously didn't think windows were very important: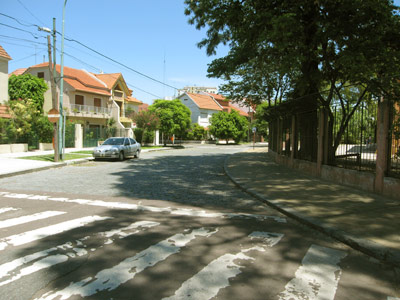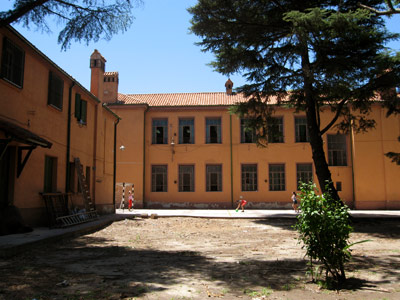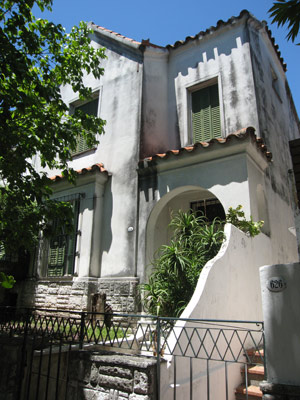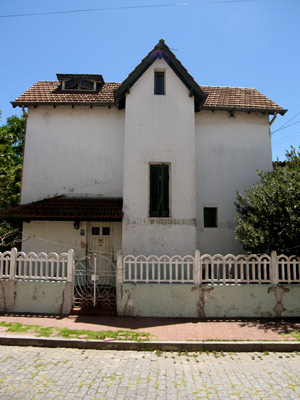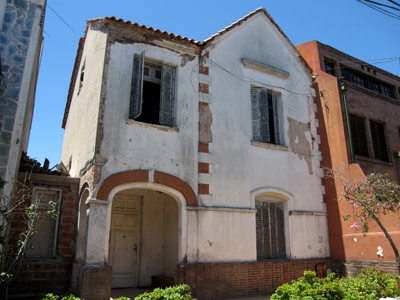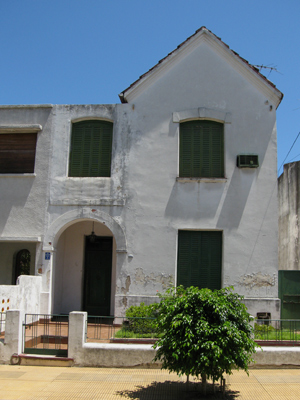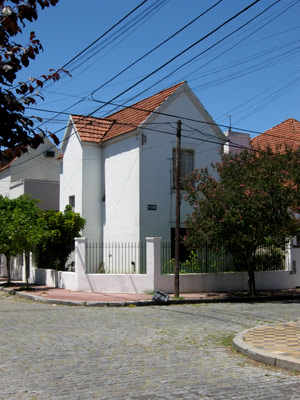 Source: Diccionario de Arquitectura en la Argentina, published by Clarín.
Update (29 Jan 2011): After publication of this series in 2007, much more information is available online about the development of housing projects in Buenos Aires. At last! Profesor Sebastián Matías Otero has written a lengthy document (in Spanish) about Barrio Cafferata & Barrio Emilio Mitre. Full of detailed background information, Otero published a fantastic bibliography so anyone interested in this topic can do their own research. Gracias!
Update (14 Jan 2013): The incredibly detailed webpage Historia y Arqueologia Marítima has made available a collection of aerial photographs taken circa 1925 by friends Juan Bautista Borra & Enrique Broszeit. Pioneers in the field, they captured the changing look of Buenos Aires from a unique perspective… and naturally quite a few housing projects which were the newest thing. The following photo shows Barrio Cafferata on the left before the school was built: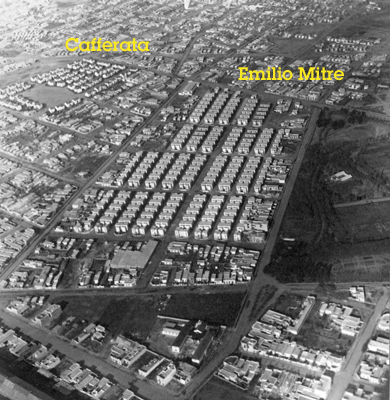 Direct link → Master list of all Housing for the Masses posts.