I put this series on the back burner a few months ago while doing the dome map & getting the cemetery blog up. Now I feel sufficiently guilty to continue where I left off… the 1930's. Worldwide economic depression in 1929 & Argentina's first military coup in 1930 also make this a good moment to start again. Economic & political problems brought social welfare to a halt for most of the decade.
As the world pulled out of the Great Depression, immigration to Argentina slowed & they regained a market in Europe. Not much had been done in Buenos Aires to house immigrants in the meantime. Many of the first arrivals had already formed large families so the Comisión Nacional de Casas Baratas (CNCB) dusted itself off & built an apartment building with 95 units.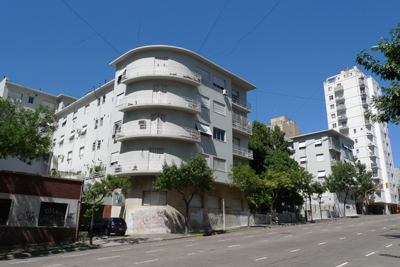 Designed by Estanislao Pirovano, the U-shape allows a lot of light to enter & gives half the units a view of the central patio. Pirovano was an incredibly diverse architect, having designed everything from Tudor to Neocolonial. But this was the first time a housing project had been built in the newest style taking BA by storm: racionalismo. Smooth surfaces, projecting window blinds & strategically placed curves gave the Casa América a sexy, streamline look. Most of the units have 2 bedrooms, & I was impressed at how nice it looks even today.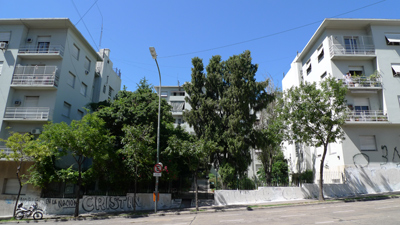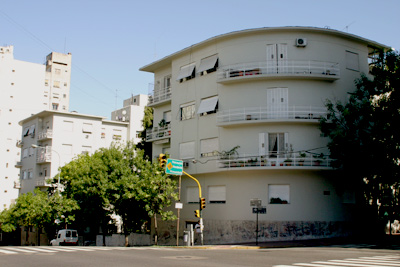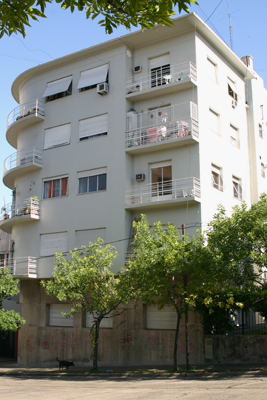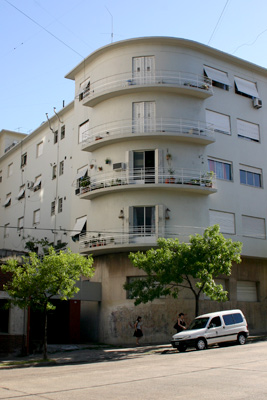 The only thing that makes this location less-than-desirable today is that the highway to Ezeiza runs directly behind it. But I'm not complaining… this could have easily disappeared in the 1970's.
Update (27 Jan 2011): Just before leaving for Australia in Jul 2008, a visit to the Archivo General de la Nación turned up an interesting photo.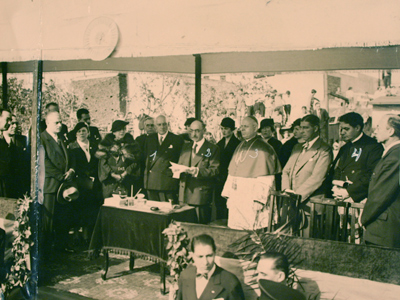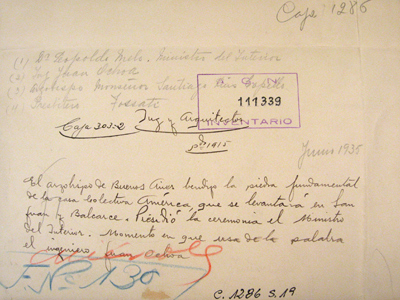 Taken in Jun 1935, the reverse text reads:
El arzobispo de Buenos Aires bendiga la piedra fundamental de la Casa Colectiva América, que se levantará en San Juan y Balcarce. Presidió la ceremonia el Ministro del Interior. Momento en que usa la palabra el ingeniero Juan Ochoa.

The Archbishop of Buenos Aires blesses the cornerstone of the Casa Colectiva América, which will be erected at San Juan & Balcarce. The Minister of the Interior presided over the ceremony. Moment when the engineer Juan Ochoa addressed those present.
Apart from the interesting scene –notice how society women dressed at the time– surely one of those in the crowd must be the architect responsible for the project, Estanislao Pirovano… well, actually I found a photo of Pirovano a few years after writing this post & nope, looks like he didn't attend the ceremony.
Direct link → Master list of all Housing for the Masses posts.