[Some material for this post originally published as "keeping it reel 1" on 10 Oct 2007. Older photos from the Lisbon City Archive.]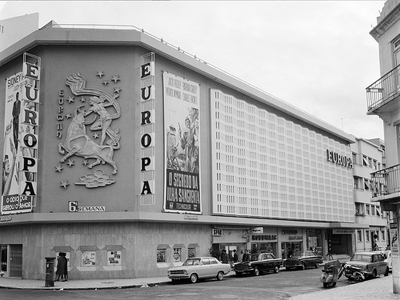 Since movies with sound grew in popularity during the 1930s & 1940s, it was only appropriate that cinema architecture became a spectacle in itself. Grand productions were meant to be seen in grand theaters. Some of the most stunning Art Deco & Rationalist/Modernist buildings I've seen around the world are remnants of that era, but unfortunately they are disappearing at an alarming rate.
Far off any tourist track in Lisboa, Campo do Ourique has a wonderful neighborhood vibe… definitely one of the top three areas I'd choose to live in town. In June 2007, I went in search of the Cinema Europa because I'd read that it was in danger of demolition. Archival photos make me wish for a time machine: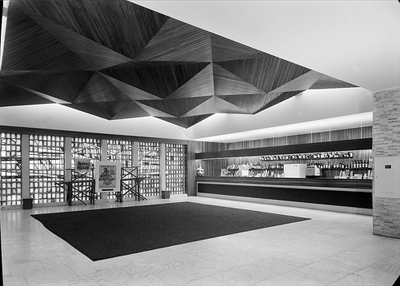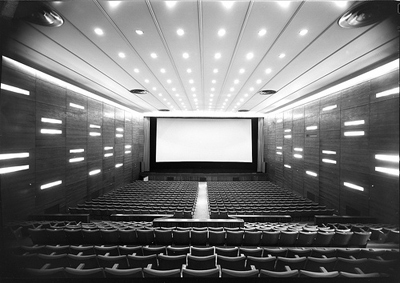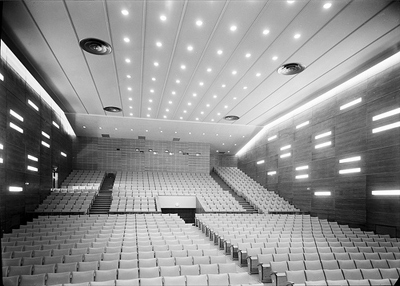 What I found was quite different. It's still standing, so that's good. According to one newspaper article from January 2006, there were plans for restoration but obviously no one did much of anything. Redesigned in 1958 by architect Antero Ferreira, the 1930s building operated as a theater until 1981. Since then it was used as a tv studio… which probably means the interior is gone for good. Plans to demolish the cinema in 2004 were stopped by the city government.
At least the funky 1960s mural by Euclides Vaz reminds passersby of the past. "Europa" is written in Greek letters, & the relief shows part of her story: Zeus transformed into a bull to seduce this beautiful woman. Gentle & tame, Europa couldn't resist hopping on Zeus's back for a ride. Big mistake. He whisked Europa off to Crete to have his way with her: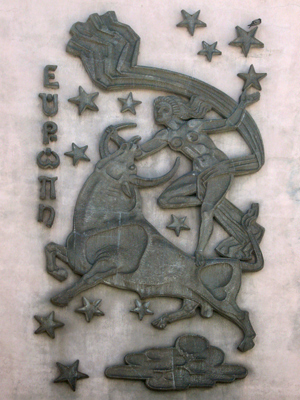 Barricades have been put in place as of July 2010, photographed by the neighborhood organization SOS Cinema Europa. Luxury condominiums may take the place of this Lisbon landmark soon. My idea is to spread the word so perhaps non-Portuguese speakers can help save the building. The more info online, the better. Força vizinhos!
Update (09 Aug 2012): I was in the neighborhood in May this year & witnessed the following destruction… only the skeleton remains. What a shame. Newspaper reports claimed that the mural had to be broken in several pieces for its removal & will ultimately be replaced on the future condominium's façade by June 2013. At least the real estate company's artwork confirms the mural's fate. For the life of me, I will never understand why these things happen.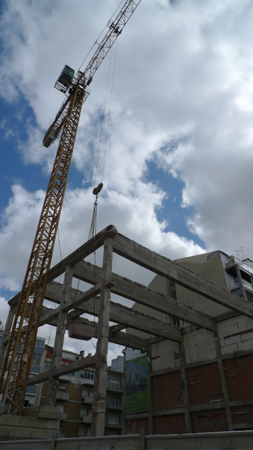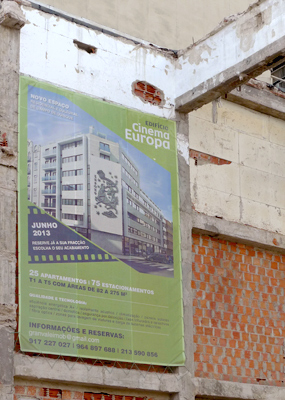 Update (03 Jul 2013): Apparently construction has fallen behind schedule… no surprise given the economic slump Portugal is experiencing these days. Now they predict units will be available by Dec 2013. But every year I return to document these changes, I still long for the original cinema: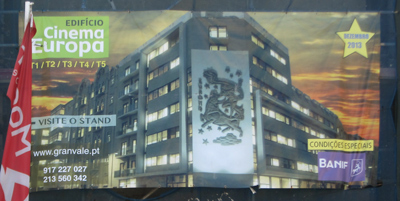 Update (Nov 2015): With the new building complete & the Europa mural cleaned & hung in its original location, local news sources report that the ground floor has been purchased by the Lisbon city government for 1.42 million euros. Reason? To open a local library/cultural center for the people living in Campo de Ourique. I get it… the idea is that the Cinema Europa was a cultural icon of the city & perhaps with this new addition to the neighborhood, some of that original function can return. No doubt the area needs it. But was it necessary to destroy the entire structure in order to have a new function? Photos below are from October 2015: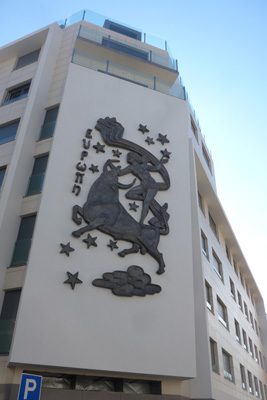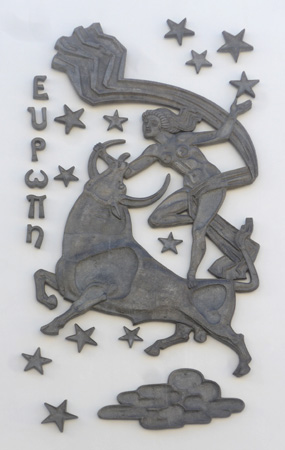 Update (Apr 2017): The city government has announced the opening of the new cultural space inside the former cinema… they followed through! Photos from CML's twitter account: