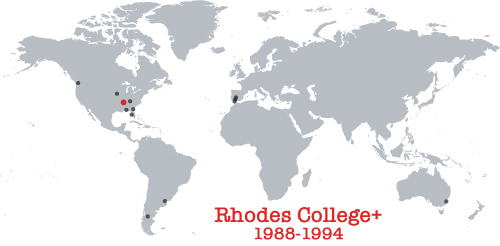 College time! I applied to several across the entire US & was accepted to most, so the decision was not easy. Northwestern University in Chicago seemed perfect, but financial aid figures just didn't add up. My mom's income couldn't handle the extra cost. In the end, being a Tennessee resident meant that I qualified for extra grants if I stayed in-state. Plus, I'd won a hefty Rotary Club scholarship that could only be used locally. So I stayed put in Memphis. Rhodes College may be an expensive, private university, but I went almost for free. And I got to live on campus…
Memphis, Tennessee
Rhodes was atypical in that they guaranteed student housing on campus for everyone. That must be different now with increased enrollment, but I only knew a few people living off campus during my time there. As a result, life concentrated & revolved around those 123 acres filled with lots of green space & NeoTudor buildings made of sandstone. Definitely not the Memphis norm. Fraternities & sororities dominated social interaction, an Honor Code meant we could leave our backpacks lying around anywhere without fear of theft, & a single passkey allowed everyone access to both male & female dormitories. In fact, there wasn't even a fence around campus when I arrived.
●
●
●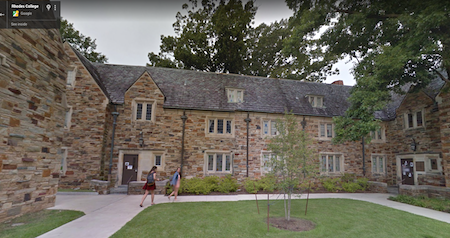 Freshman year: Like many first-year students, I was assigned a room in Glassell Hall on the western edge of campus. Near both the refectory & the infirmary (my work-study job), the location couldn't have been better. Seems like it's co-ed now, but in 1988 this dorm was male only. Bret, Craig & I made Room #128 work well. That corner of Glassell had lots of light & less foot traffic in the hallway since it wasn't near a main entrance, but I didn't hang out much there. Craig & I were from different planets & didn't see eye to eye on anything at all. The three of us shared a bathroom with three other guys next door… which made for interesting morning negotiations. Naturally, the George Michael poster decorated my corner of the room.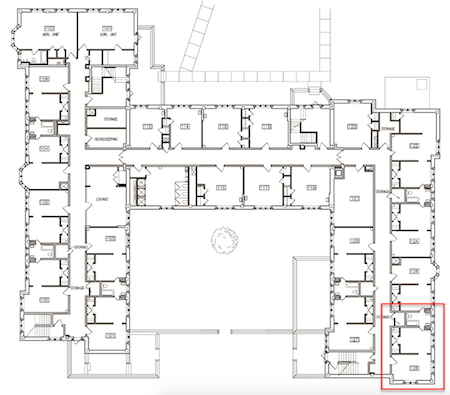 ●
●
●

Sophomore year: After that first year on campus —assigned at random by admission staff— students then had some input as to where they would live & with whom. "Room draw" gave those with more credits the first pick of available rooms. On one hand, this sounds like a great system. Upperclassmen can choose the better rooms which they deserve, but others fight for the scraps. Also, deciding who to live with can be a true test of friendship. It is what it is. Bret & I had gotten along well, joked a lot & helped each other survive freshman year. We agreed to live together again & ended up in Stewart Hall… just across the street from Glassell. The building had been gutted a year before & all rooms were brand new for 1989. Nothing fancy about the interior of Room #216 or the bathroom down the hall, but at least we got new carpet, new beds & new furniture. Not a bad deal.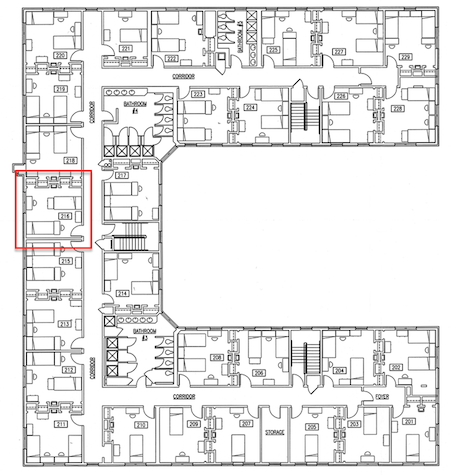 ●
●
●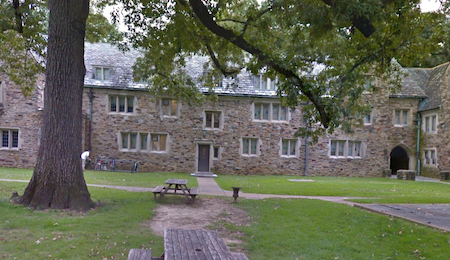 Junior year: Supposedly Bret & I were to live together again for a third year but ahhhh, the universe had other plans. He & our freshman roommate, Craig, had joined the same fraternity & wanted to be roomies again… except Bret didn't tell me until the very last minute. Pretty shitty. By the time I knew, every other friend on campus had already agreed to live with someone else. But as always, I had a trick up my sleeve 😉
Thanks to several AP classes in high school, I entered Rhodes a few credits short of being a sophomore. By this time I'd planned on room draw with the senior class to get a huge living space; now impossible without a roommate. However, one of the limited number of singles became a real possibility. I crossed my fingers that the seniors wouldn't take them all, & sure enough, I spent 1990 living by myself among mainly upperclassmen in White Hall, Room #304. Loved it. Small but with a large, walk-in closet, I really needed the quiet to study physical chemistry, microbiology & cell physiology… probably my most challenging academic year yet. Why don't I have any photos of this room??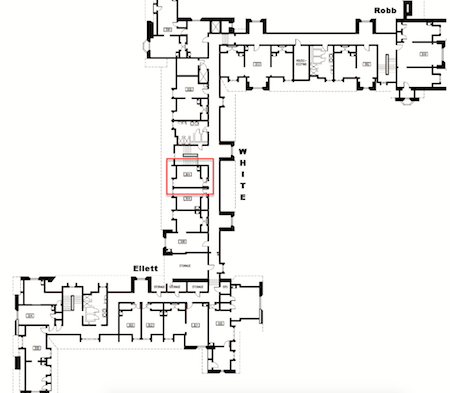 ●
●
●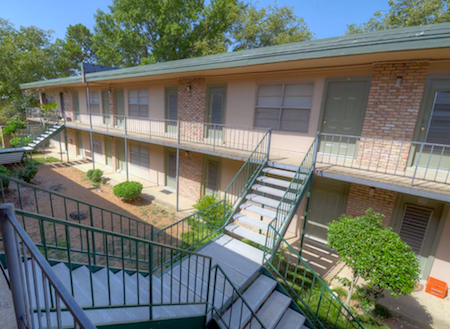 Senior year: With Bret out of the picture, I began hanging with other non-Greek students like myself. We were the minority. I also began spending more time with the African-American population on campus —yet another minority. It was an effort to get away from a rather oppressive, privileged, white campus majority. I craved a different social network. Dan quickly became my best friend, & I used those credits to get us a new residential option for 1991: an apartment off-campus. One block north of Rhodes, the University Cabanas felt like the escape I needed. Although my mom had given me her 1974 Dodge Dart, I usually walked to class. Again, nothing fancy about 2081 Cabana Circle South #7 & we had minimal furniture. But I loved the breathing room & being able to cook my own meals.
I continued to live here with fellow alumnus Ken for awhile after graduation in 1992, then next-door neighbor Jon David moved in after Ken left. But the best part was meeting John in the facing building. He'd graduated from Rhodes one year before me, & we became fantastic friends right away. Our shenanigans up to 1994 were a highlight of living in Memphis on my own. I even bought real furniture!

But where did I spend summers? Back home with Mom. What a difficult transition… I'd learned to be on my own, but suddenly that autonomy disappeared for a few months every year. The first summer in 1989 was back in Turtle Creek, but the complex had declined to such a point that my mom was afraid of living there. She'd suffered one break-in + another attempted robbery during my freshman year away but couldn't find another place to live on her income. Hope springs eternal though…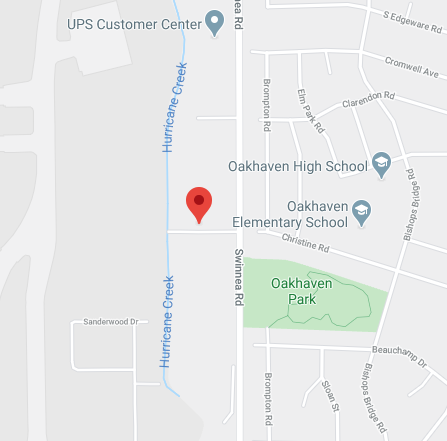 Located by the airport, the owner of a townhouse in upscale complex needed a tenant. Fantastic neighborhood, double the space & I even got my own bathroom. 4032 Markham Place seemed too good to be true… and it was. My mom lived there only three months when she got an eviction notice. Surely the owner knew, but my mom had no idea that the entire area was to be purchased by the airport to make a new UPS depot. Devastating, because we both really liked the new place. My mom didn't even have time to unpack.

●
●
●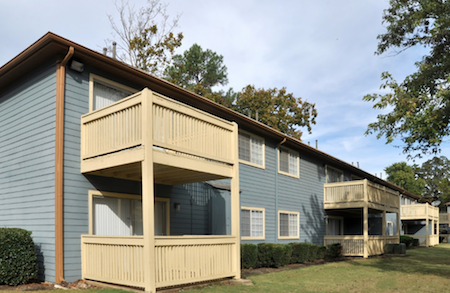 Mom began the apartment search again & found a place on the other end of town. Near Hickory Ridge Mall, 3686 Woody Lane #9 had less room than the townhouse but enough for me to spend a couple of summers there.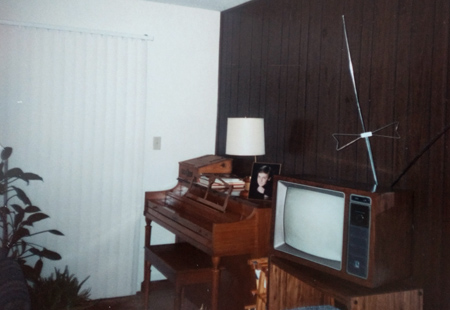 Although I had a decent job (or two), great friends & a comfy apartment, something was missing. I tried to move to San Diego after graduating from Rhodes, but that plan fizzled out when I couldn't find employment there. I started searching again & came to find a new home in… Seattle!
Places lived series: Florida/Iowa/Alabama 1970-75 ● Memphis 1975-88 ● On campus 1988-94 ● Seattle 1994-98 ● Cádiz 1998-99 ● Memphis/Seattle 1999-2000 ● Buenos Aires 2000-08 ● Sydney 2008-09 ● Buenos Aires 2009-13 ● Esquel 2013-14 ● Seattle yet again 2015-16 ● Sevilla 2016-present ● El Pedroso 2021-present