I'll be the first to admit that seeing a 40-year old man carrying a tiny stuffed bear in his pocket is a bit odd. But before passing judgment, get the full story.
Back in 2009, I resumed guiding full-time for Rick Steves in Spain & Portugal. The previous year I'd helped put together the Basque Country tour & the Barcelona-Madrid tour. Lots of kinks to work out initially but by 2009, things were coming together. Work options in Buenos Aires were nil since I'd just returned from living temporarily in Sydney, & by guiding I could travel to some of my favorite places again on a regular basis. Win-win.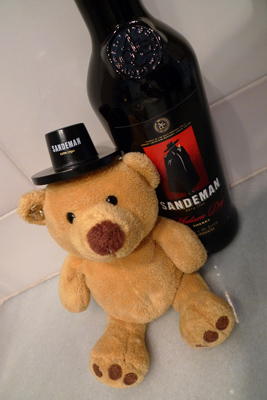 A late-September tour I was guiding arrived in Madrid at a unique moment. Our hotel on Puerta del Sol was always easy to find for newcomers because a statue of the city symbol —a female bear climbing a madroño tree— marked the street to the hotel entrance. As always, I mentioned this fact to the group before we got off the bus. "Just look for the bear like everyone else at Madrid's most popular meeting point."
To my surprise, the bear was not there. "WTF?" was likely what I said in front of the group 🙂 She'd been removed, but at least the pedestal remained. By the time we'd checked in & reassembled for a quick orientation walk, even the pedestal had disappeared. I asked the hotel staff for info, & in the infinite wisdom of the local government, the bear was being returned to its original 1967 location. Puerta del Sol had been a mess for several months due to the construction of a new train line underground, so I guess it made sense to take advantage of the moment. But it really threw me a curve. Next morning, we saw the statue being replaced toward the end of Calle Alcalá where it sits today.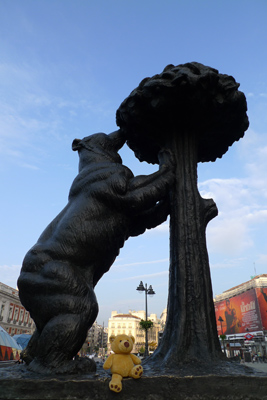 Another week on tour with the same group passed, & I was about to turn 39. That day we'd driven from Sevilla across the entire Algarve, switched to Portuguese lessons & had a wonderful dinner in Salema. During dessert, the group surprised me with a birthday card signed by everyone, a stuffed bear representing the statue in Madrid & a gigantic Starbucks mug with the Madrid skyline. Hilarious. She even got a piercing… a pin of Smokey the Bear from a tour member who was a forest firefighter. It couldn't have been more perfect.
There were only a couple more days on tour, so we had to come up with a name fast. But what to call a female Spanish bear?? At the last night dinner during a break in fado, she was christened Ursula… a derivative of the Latin for female bear, "Ursa." A star was born.

Many groups since then surprisingly adopted Ursula as a fellow tour member, & lavished her with everything from clothing to Hello Kitty luggage. Ursula has been a great travel companion since 2009, & some of my favorites are below… she even had a boyfriend in Patagonia for awhile. What a coincidence: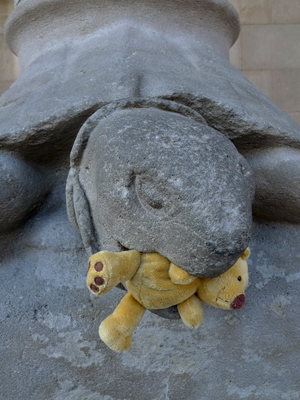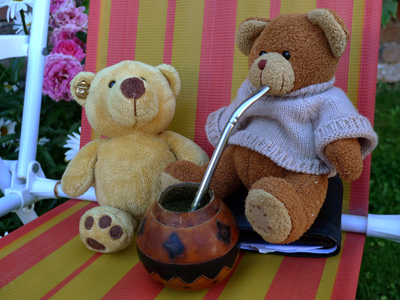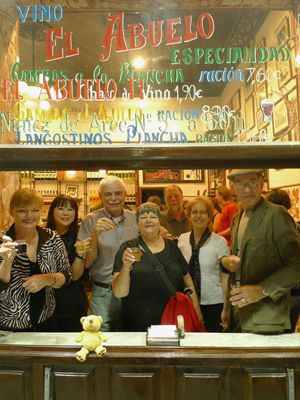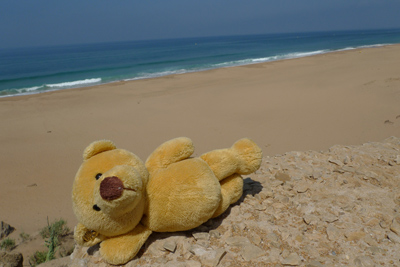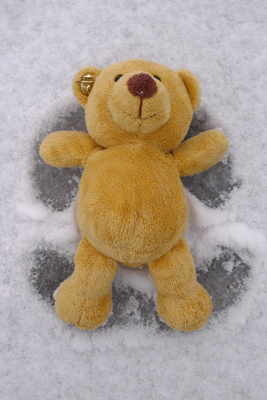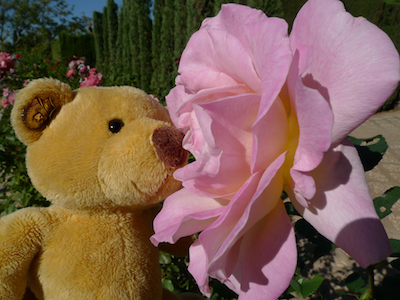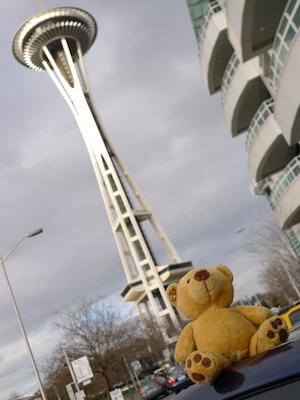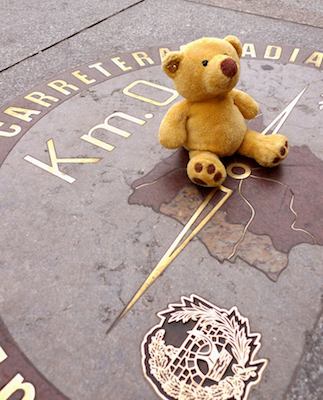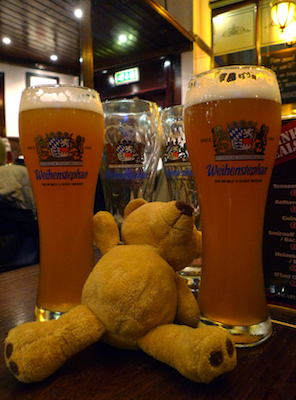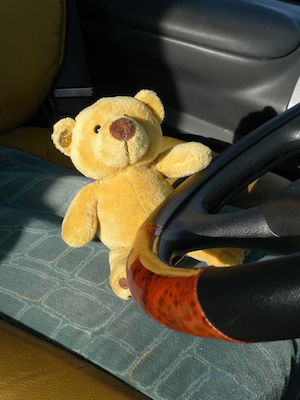 So the next time you see a middle-aged guy taking pictures of a stuffed animal, ask him why. I bet there's an interesting story there.