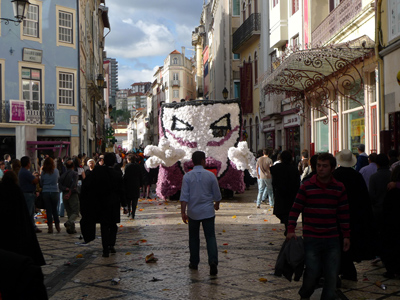 Europe's third oldest university has old traditions to match. If you're lucky enough to be in Coimbra at the end of the academic year (usually the last week of May), there's a big party that's not to be missed.
The "Burning of Ribbons" began in the 1850's when a group of students who passed their final exams gathered outside the Iron Gate of the Universidade Velha, marched together to the lower town, and placed the ribbons used to bind and carry their books in a small fire. Symbolically representing the passage of student life and the beginning of a professional career, fifty years later that small event became enormously popular and was joined with other academic celebrations. Floats and parades were added, the ribbon-burning was done instead at night (much more dramatic), & the following day was made an academic holiday —the official time when all students move up one level.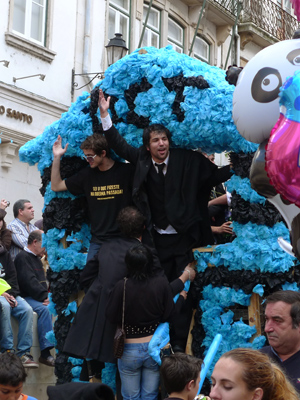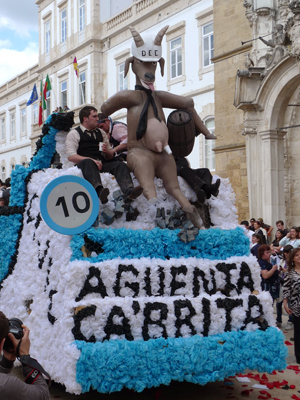 Third-year students also participate in the party these days, but of course it's the graduates (finalistas) that get the most attention. Men dress up in black suits —some even with tails— as well as their university cape, a wide sash with various badges, a top hat & a cane. Women wear basically the same outfit, but their skirt-stocking combo is a little less formal. Different colors represent different departments, so the top hat & cane let you know what degree was earned (yellow=medicine, red=law, light blue=computer science, etc.).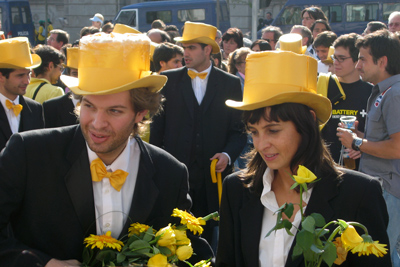 Another amusing tradition is requesting to wish a graduate good luck. Obliged to agree, their cane is used tap their top hat three times. Of course, the number of taps quickly gets out of control & many students end up missing the tops of their hats.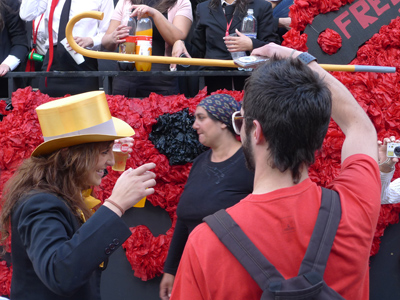 Lots of drinking accompanies such an important rite of passage, including giving away free drinks from the floats. Maybe that's why folks in Coimbra don't seem to mind the rowdiness or sticky streets. Ribbon burning parties are also celebrated in Porto and to a lesser extent in Lisbon. Join in with the fun and offer an appropriately colored flower to a recent graduate. You'll surely be invited to the party.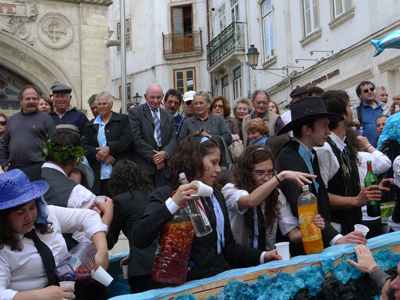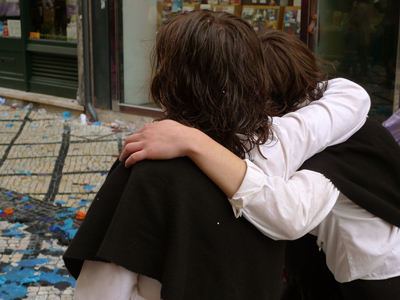 [Most of the revised text above comes from a sidebar I originally wrote for Rick Steves' Portugal (2006)… still in the current edition of the book but edited. Photos come from festivities in Porto in 2006 & Coimbra in 2010.]