Arriving at the Trelew bus station at 05:45 probably wasn't the best way to begin a day of sightseeing, but there wasn't much choice. Darío had been invited to participate in a provincial meeting dealing with English language instruction, so I tagged along. I'd never been to Trelew or Rawson, & it seemed like a perfect one-day getaway.
What I didn't take into account was the condition of the roads between Esquel & Trelew. The overnight bus was fine —comfy enough— but the poorly paved roads made getting any amount of good sleep impossible. For me, anyway. Darío was out like a light. We arrived one hour ahead of schedule, & I desperately needed some coffee to feel human again. After a quick, cold walk in the dark to explore Plaza Centenario & its scary statues (below), we sought refuge in the bus station cafeteria. Two cardboard-ish croissants later & we were on another bus to Rawson.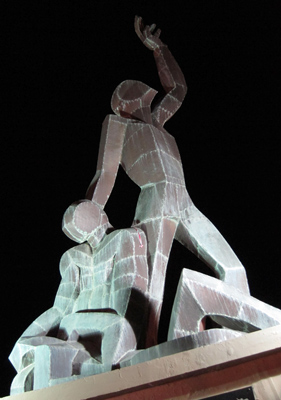 The town came to life with the sunrise. I walked around a bit to both stay awake & stay warm while Darío had a brief orientation. It was then that I realized what a bunker Rawson is. Extending every direction from the main plaza, there was some sort of provincial government office… it didn't matter what the original use of the building had been, it was now occupied by local government. Amazing to see such a concentration of power by Das Neves since he's been in office over the past 8 years. Since we arrived so early, we watched as hundreds of government employees arrived to work, mainly on buses from Trelew. Photos below show some of the bureaucracy cluster. The most impressive is the modern provincial legislature inaugurated in 2009. Political mural painting is popular, so the Malvinas & the Madres made a cameo: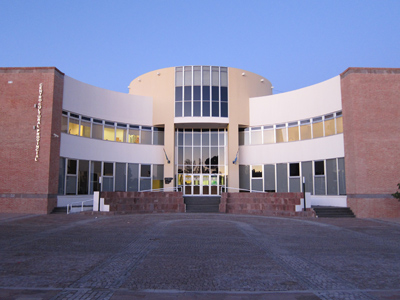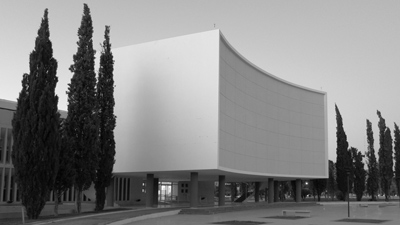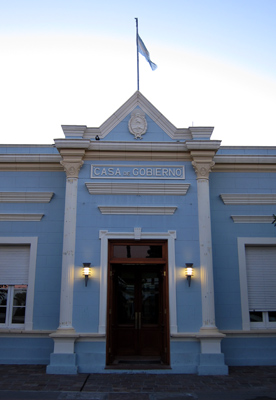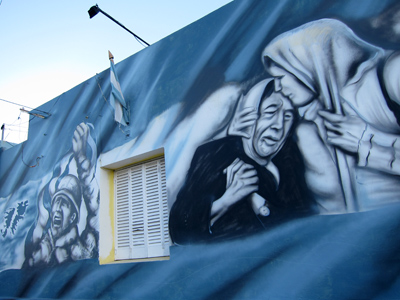 Outside the concentrated center of bureaucracy, I found little else in Rawson to explore. Photos below are of the prison (directly across from the Das Neves bunker), the Colegio Don Bosco, a Neocolonial school & a monument commemorating the Conquista del Desierto: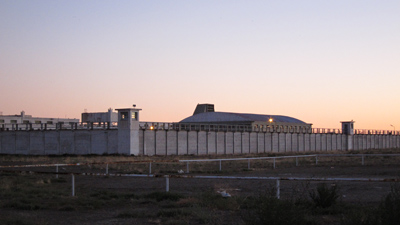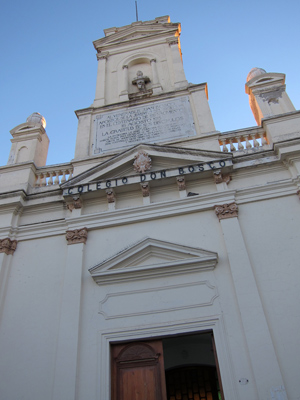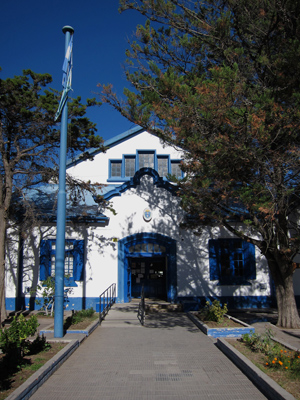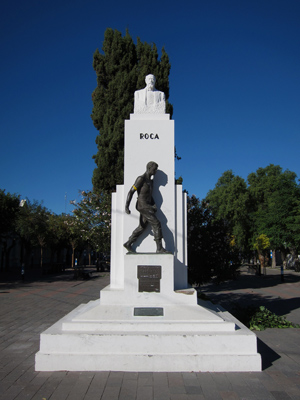 One interesting bit of Buenos Aires can be found in Rawson, directly in front of the main entrance to the Casa de Gobierno —a streetlamp with the capital's coat-of-arms. I searched online for info as to how & when it ended up there or where it was originally located in BA but found nothing. Does anyone have any info about this? My guess is that it was either on Avenida de Mayo or maybe previously in Plaza de Mayo. Help!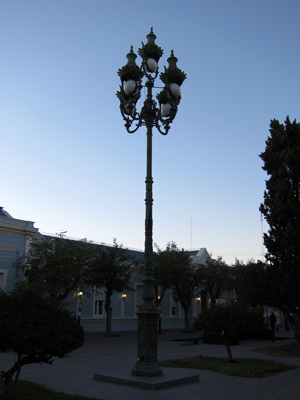 As it turned out, Darío's meeting had been scheduled for 11:00 & no one had told him. Oops. So with a couple hours to kill, we hopped on a bus to Playa Union —definitely a highlight of the day. A beautiful, brownish-black pebble beach is only a 25-minute bus ride from Rawson. Set up a bit like Mar del Plata, it has lots of nice houses which look onto the beach as well as some beachside restaurants, but when we arrived it was deserted. And absolutely gorgeous. And the water wasn't even that cold… it must be packed during the summer.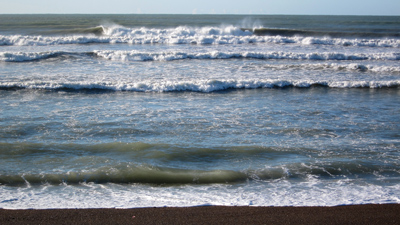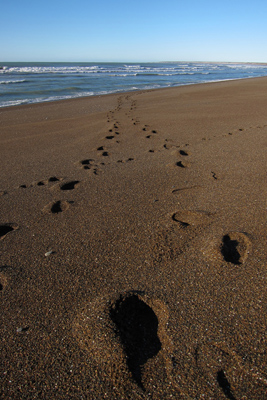 Since there was no point in hanging around Rawson, I hopped on the bus back to Trelew to see the sights there & wait for Darío. More about that mañana…