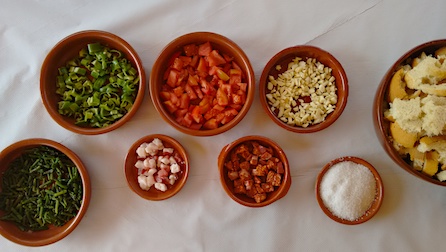 My first recipe! Don't worry, there's no danger of this becoming a food blog. Although I love to cook & eat, I can't seem to focus on one particular topic… or even a single country 😉 Sopa hervida (pronounced in andalú without the "d") translates literally as "boiled soup", but in reality it is more like what we would call a stuffing in the USA. Spain has invented a number of ways to use leftover bread, & these "soups" are some of the most traditional recipes in every family.
This particular version is made by Josefi for groups who come to the Oleum Viride olive oil mill just outside Záhara de la Sierra. Rick Steves tour members go crazy for it, but Josefi had never written down the recipe & I always accompany the group during the visit. However with my last tour this year, I stayed with Josefi the entire time she was cooking & documented every step. I'm sure the recipe scales down well—this version serves 20-25 people. If something isn't clear, let me know in the comments below! Enjoy!
Sopa hervia
500 ml extra-virgin olive oil
1 cup tocino (thick cut bacon), cubed
3 pimientos de freír, chopped
1/2 chorizo, cubed
1.5 head garlic, coarsely chopped
1.5 cups thin green asparagus, chopped into 1-inch pieces
3 large pinches salt (about 4 teaspoons)
2 large tomatoes, chopped
1 kilo bread, sliced then torn into small pieces (best if day-old)
2 liters water
If it isn't in season, I'd recommend using canned asparagus as it's similar to the kind found in the Cádiz region. The only other ingredient that merits an explanation are the pimientos de freír. I've never seen these same peppers in the US, but they are found throughout southern Europe. Several inches long, they are much thinner than a bell pepper. A green bell pepper also has a slightly different flavor but is readily available in the US & makes an acceptable substitute.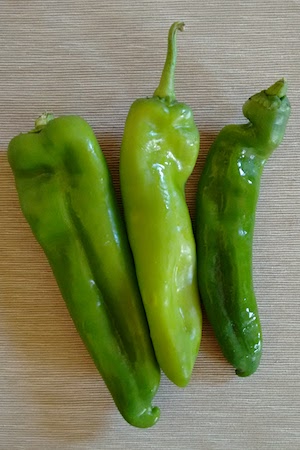 Cast-iron skillets work best for this because we're cooking with high heat. Josefi has the perfect shape: wide & flat. Heat the oil very hot but not boiling or smoking. Brown the bacon first… this will be quick since the oil is quite hot. Add the pimientos de freír next & cook until their skin starts to bubble. Next drop in the cubed chorizo & cook for 1 minute. Garlic comes next… wait until it just begins to brown before adding the asparagus. Cook for 1 more minute, then add salt. Add tomatoes & cook for about 3 minutes or until garlic completely browns. Use a wooden spoon to break up tomatoes as the oil comes to a boil: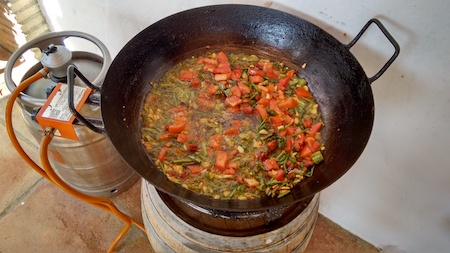 Add the water carefully, & return to a boil. Increase heat if necessary, & cook until not quite half of the liquid is gone. Taste for flavor by dipping a piece of bread into the liquid. Don't burn yourself! Add more salt if necessary (yes, it will taste quite salty at this point, but other flavors should come through as well):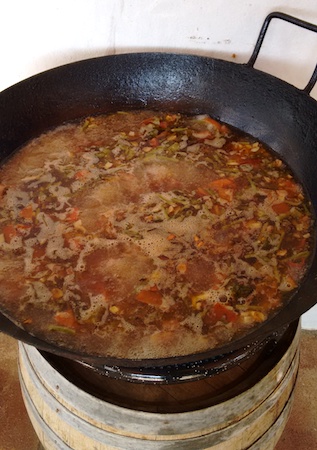 Add all the bread at once. This part takes some effort… mix & break down the bread at the same time, constantly moving the entire mixture. Turn down the heat to medium because you want it to cook, absorbing & evaporating most of the remaining water, but not get crispy. Below you see different stages of the process (about 15 minutes of slow, constant mixing):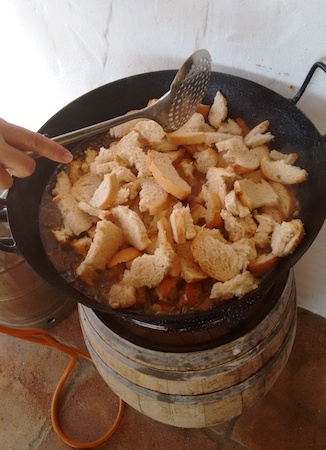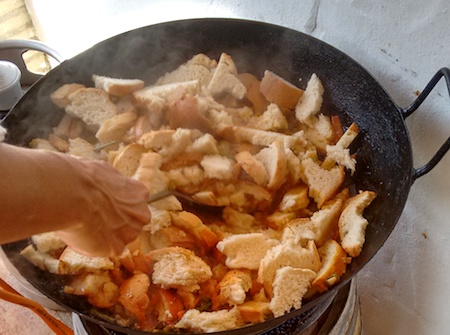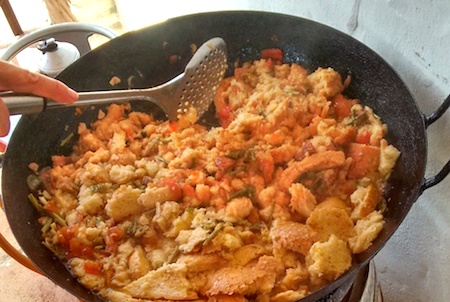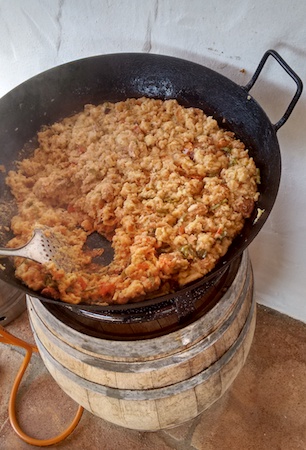 When almost finished, the final product should be dense & compact with small, even pieces of bread dispersed throughout. Exactly like a stuffing: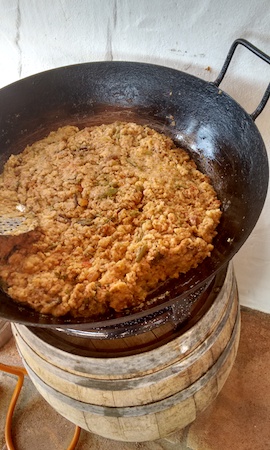 It's easy to tell when it's done. When you move part of the bread mixture aside, it comes away from the bottom of the skillet clean. No excess water or oil should remain in the bottom… but it's still "juicy". If there are any crispy bits on the side, mix them into the bread to rehydrate.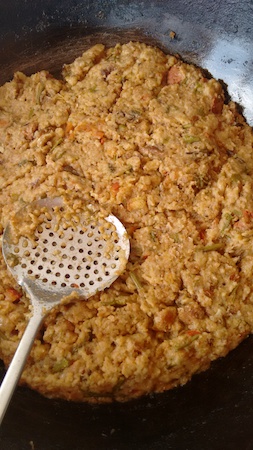 This extra-tasty version of stuffing will become a family favorite! Share your results & tips here!