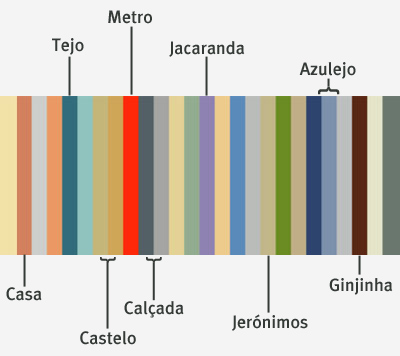 [Since the hotel we use for the Portugal tour is next to the still undeveloped Parque Mayer (Gehry has since pulled out), I thought it was a good idea to repost these two items. Originally published under the same title on 08 Jan 2008 & 05 Apr 2008.]
Recommended reading by Brendan, Brand Avenue suggests that cities —even entire nations— have color schemes. It makes sense. One of the things I've always loved about Lisboa is its light… a beautiful shade of yellow with just a hint of orange. The Portuguese also have an affinity for pastel tones, painting even public buildings in what I would call Easter colors.
Doing a quick run through some of my Lisboa pix, I came up with the following color palette for that city. It was easy enough… just open Photoshop, copy certain colors, then put them all together. Included for Lisboa are terracotta rooftops, shades of stone from important monuments, the Tejo River, lots of blues from tilework panels & the retro brownish-red of my favorite cherry liqueur, ginjinha. Given that earth tones in general are some of my favorite colors, no wonder I like Lisboa so much. Just in case you need a little more color in your life, visit the Colour Lovers blog. Color in our environment is a lot more important than we normally think.
---
The development of Parque Mayer in Lisboa runs under the guidance of Frank Gehry, but local firms have been invited to participate in many aspects. Ateliermob submitted a project using my Lisboa color palette as part of their design idea. Pretty amazing.
The complete 5-page proposal can be viewed on Issuu… look on the last two pages for my mention. How cool is that? They came in 7th place, but to think that I might have contributed something to one of my favorite cities is wonderful enough.