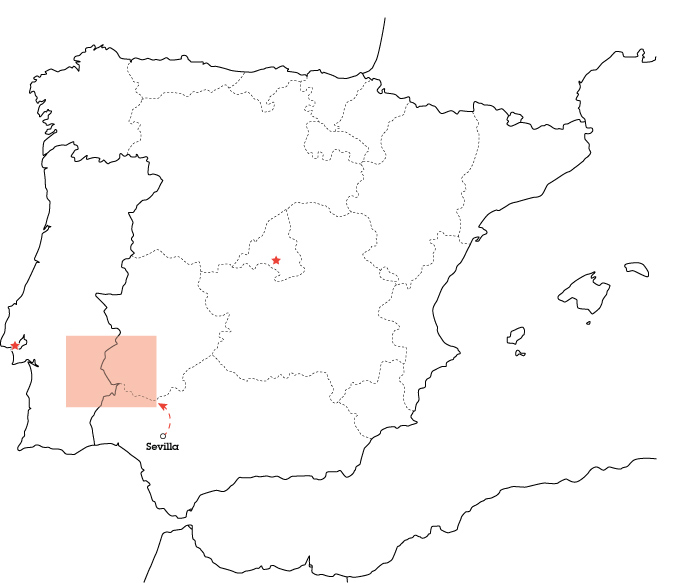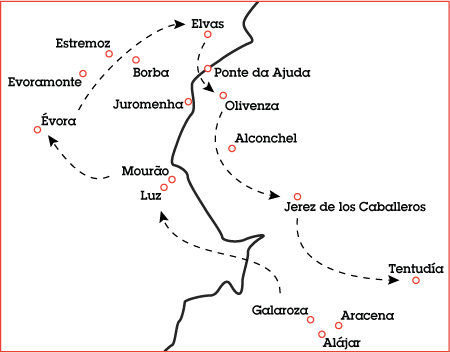 Whether you call it a national border or la raya, this trip had a several motivations: spend time in places Rafa & I had been individually but not together (awwww), visit new spots that are best accessed by car & see how permeable —or not— the Portugal/Spain border has been over time. We beat the heat until the last couple of days of the trip, but overall we were very lucky with weather considering the time of year. Join us for a crazy week on both sides of the border…
Sierra de Aracena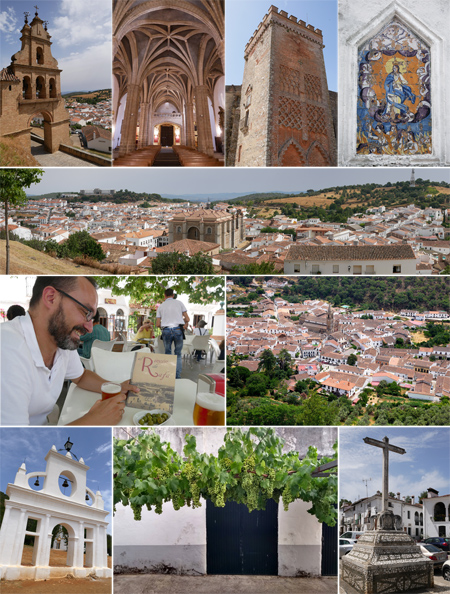 Situated inside the Dehesa de Sierra Morena biosphere, about 90,000 people live in small towns scattered throughout this extensive natural park. We first stopped in Aracena mainly to see the church-fortress perched high above. The town's history reflects the theme of our trip well: conquered by Portuguese king Sancho II in 1231, handed over to the Order of Santiago & eventually becoming part of Castilla after adoption of the Treaty of Alcañices in 1297. With a bell tower that imitates the Giralda of the Sevilla cathedral, the Gothic church has been nicely restored & the adjacent castle is currently being rebuilt… as a joint project between Spain & Portugal. Perfect synthesis. A stop for purchasing dried mushrooms (a local specialty), eating pastries at Confitería Rufino & admiring a couple of Aníbal González buildings, then we were off again.
The even-smaller town of Fuenteheridos has a beautiful town square & of course, a namesake fountain. A non-alcoholic beer under the trees hit the spot for me. Hilltop views from La Peña de Arias Montano came next, & we arrived in Alájar just in time for lunch. We had the first of what would be several tight squeezes down narrow streets during this trip… nerve-wracking but par for the course in tiny towns. Eating the best presa ibérica in my life at Mesón El Molino made everything all good again.
We ended the day in Galaroza. Rafa had been there before, so he enjoyed the hotel pool while I enjoyed not driving & a real beer 🙂 We took a mini-hike on a trail later —loved seeing the black pigs & a dog who kept us company— but the humidity got to me so we came back for tapas. Amanhã Portugal!
Border crossing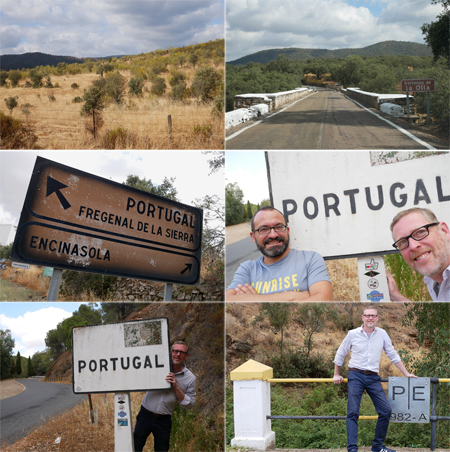 Incredible countryside this morning, but lots of twists, turns, ups & downs… it's easy to see why borders were drawn here. I've never entered Portugal via such a backroad. Old sign hugging time!
Barragem de Alqueva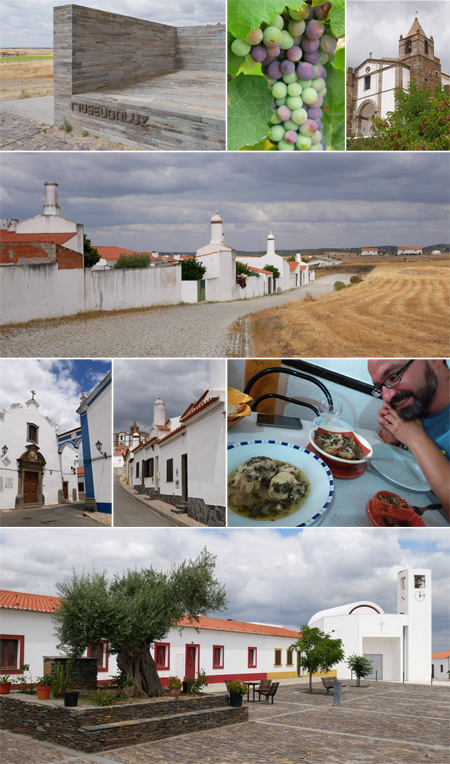 The Alqueva Dam created one of the largest artificial lakes in Western Europe in 2002. As a large water reserve for times of drought & also a hydroelectric power plant, the project made perfect sense for everyone… except for inhabitants of the village of Luz. They had to be relocated because the entire town would be submerged. The Museu da Luz explains the process with an interesting documentary accompanied by artifacts & temp exhibits. We stopped in nearby Mourão which surprised us with a mini-Évora vibe & a killer sopa de cação (dogfish soup). Yum!
Évora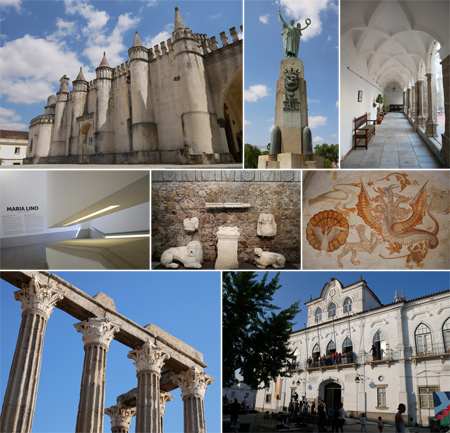 Not much to add that I haven't already said about one of my favorite places in Portugal. The real treat was sharing it with Rafa for the first time… a highlight of the visit. We ate & drank too much, but such fantastic food & wine made it difficult to say no.
Castles, marble & vinho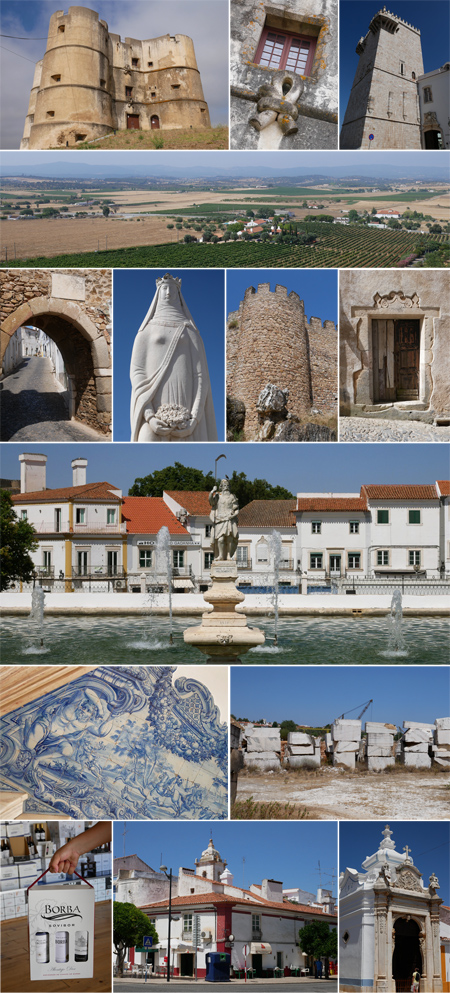 With a car in Portugal, lots of small towns I'd never been able to see were now within reach. This morning began by visiting a knot-tied castle in Evoramonte, then exploring another castle neighborhood in Estremoz. Beautiful views everywhere, & we really enjoyed the modern part of Estremoz as well. Couldn't stay for long though as we had to make it to Borba to buy some wine, passing several large marble quarries along the way. The Adega de Borba was larger than I imagined, and wow, their wine shop had some major deals! Unfortunately no tasting facilities (available at the winery, not at the shop), but we left with 7 bottles for 24€. Seriously. Lunch could not have been better at a local restaurant that nicely made room for us among all the wine-working regulars. We briefly stopped in Vila Viçosa for a look at the Paço Ducal (only from the outside as it was closed for the day… we knew before going but still wanted to see the building itself). Then continued on to…
Elvas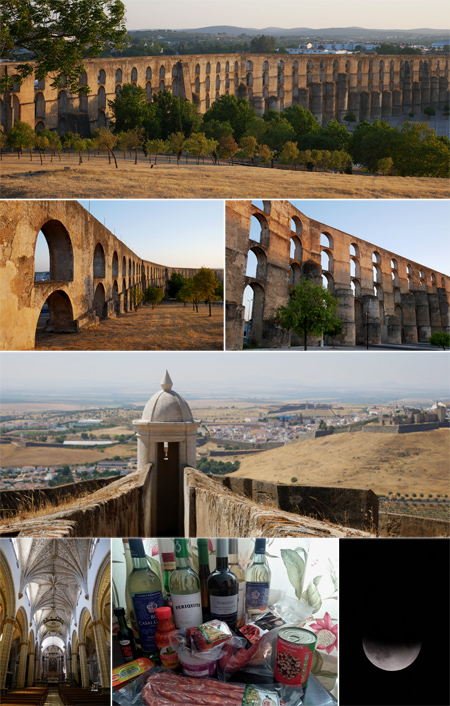 For many reasons, I'd never made it Elvas in 20 years of constant travel in Portugal. I finally arrived! We waited until the sun was almost down to venture out again, wandering through fortifications & seeing the massive aqueduct at sunset… super romantic! The following day our main attraction was the Forte da Graça (see linked post for a full description) & a trip to Continente. With a car, I knew we could stock up on more wine & Portuguese sausage, sauces & other goodies. Sure, unloading bottles at the next two stops would be a hassle, but temps were too high to leave any wine in the car. We're enjoying it now though! The evening ended with a partial lunar eclipse that only I stayed awake for 😉
Border patrol

Although we were headed back to Spain, two border stops beckoned: an abandoned castle/fortress at Juromenha & the ruins of the Ponte da Ajuda. We had both places along the Guadiana River to ourselves. So many monuments have been restored these days, it's odd that these two important sites are left as is… we were glad that they remained accessible though & had fun being explorers. Crossing the river into Spain, we noticed the lack of border signage. No sign hugging! This area is lightly contested as still belonging to Portugal, & neither country knows exactly how to resolve the issue. Nothing would make the debate clearer than our next stop…
Olivenza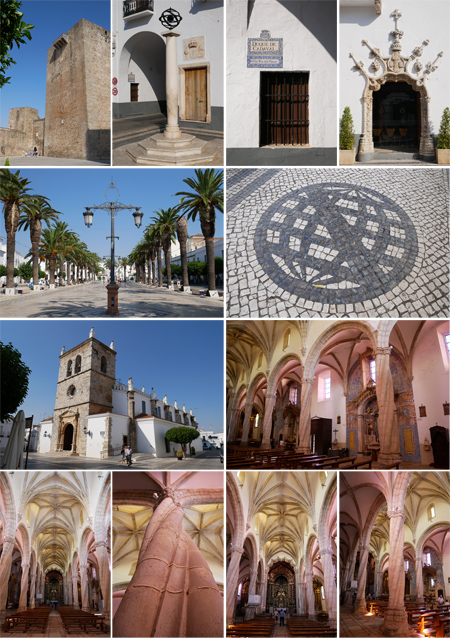 The same treaty mentioned earlier that took Aracena from Portuguese control allowed them to keep Olivenza. Thriving during the Discoveries era, some of Vasco da Gama's family were born or lived there. The town's architecture reflects Manueline-era prosperity with the most perfect church I've seen (Santa María Magdalena) & a few remaining Gothic doors. But Spain invaded Portugal in 1801. The Treaty of Badajoz put an end to the brief War of the Oranges with Portugal ceding control of Olivenza to Spain. However the 1807 Peninsular War supposedly broke that treaty's conditions… so says Portugal. But Olivenza has never been returned. The Portuguese government even paid for the road we took into town, not Spain. No official complaint by either side has been issued, so it remains a very slight point of contention. However, there's no doubt from pastry shops to pavement designs to Delta coffee & local cuisine that Olivenza has not forgotten its Portuguese heritage.
Castle & church towers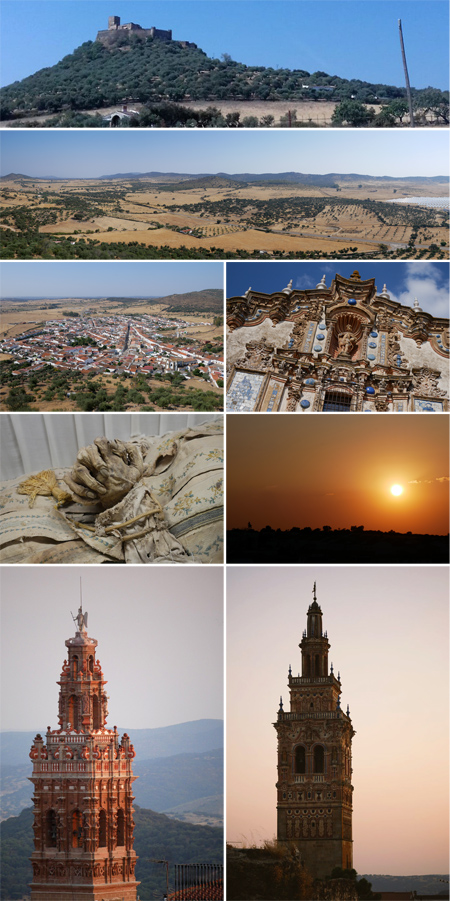 As we left town, a local road took us in a straight line to Alconchel. It wasn't part of our plans, but the Castillo de Miraflores was too inviting to stay away. We were very lucky that maintenance crew had the entire place open for cleaning & didn't mind if we wandered around. The bell towers of Jerez de los Caballeros called next. Although the impending heat wave had arrived, we managed to see two out of four towers. Maybe due to the heat or so much sightseeing, I didn't have a lot of energy for this town. Fantastic food though! I'll need to go back for a second look.
Belay your day!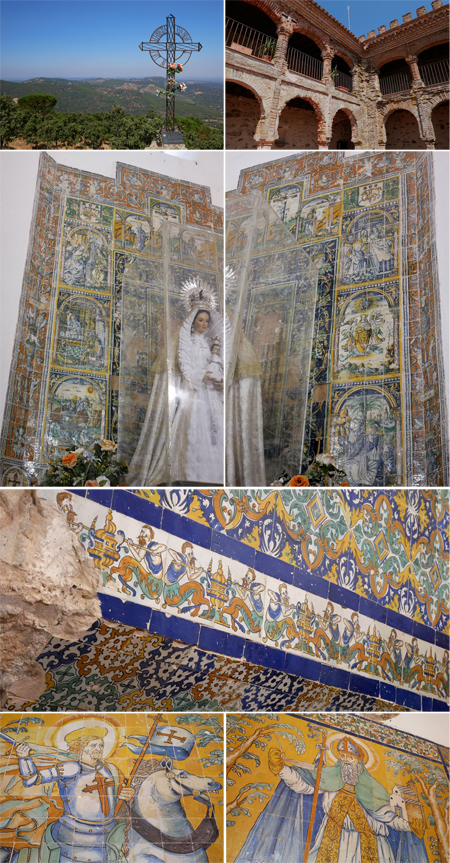 Believe it or not, we had time to fit one more thing in before returning home… an isolated monastery built in the 13th century by the Order of Santiago. A Portuguese Grand-Master of the order, Paio Peres Correia, fought for Fernando III of Castilla & asked for divine intervention during battle against the Moors in this area. Needing more daylight for victory, Correia implored the Virgin Mary: Detén tu día! Belay your day! Daylight continued & Correia won the battle. Tentudía is a contraction of that miraculous phrase. A chapel founded by Correia grew into a monastery, & the Catholic Monarchs transferred his remains here in 1511. Next to his tomb, the main altar is covered with tiles painted by Niculoso Pisano & are some of the most important for art historians in Spain. Tombs of other Grand-Masters in the church are covered in earwigs (gross, so no pics of that), but more tile panels made up for it. Kinda. Ew.
---
What a week! On some days, the pace was similar to that of book research for Rick Steves… at least I didn't have to do input every night! But we wanted to take full advantage of having our own transportation. Only one stretch of road was in poor conditions —obviously a truck route— & we avoided all highways until our last stretch home. A few roads seemed too narrow for cars to pass, but we managed. Can't wait to do the same type of border trip a bit further north! And bring home more wine 🙂