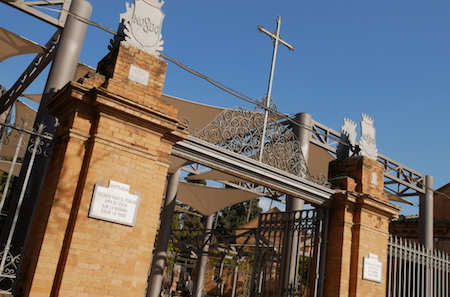 Visiting cemeteries has long been a source for inspiration in my travels; no better proof of that than writing a blog about Recoleta Cemetery for the past 15 years! I've been amazed by beautiful sculptures & fascinating stories from Montevideo to Milan, but the cemetery in Sevilla offers a chance to see history being rewritten. If you know where to look…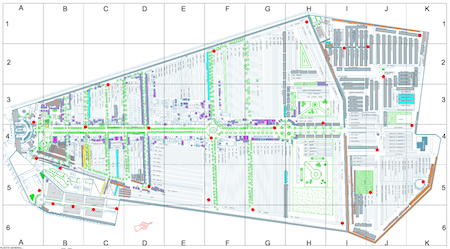 Occupying a massive 28 hectares, the Cementerio de San Fernando has been the only cemetery complex in Sevilla since 1852. An adjacent plot for non-Catholic Christians sits to the right of the main entrance as does a walled-off Jewish cemetery. To the northeast, a small, Muslim cemetery created in 1936 for Moroccan soldiers that fought for Franco is closed to the public. As the map above shows, a main walkway runs the length of the land, with row after row of individual tombs branching off to each side. Most rows are named after saints to help visitors navigate.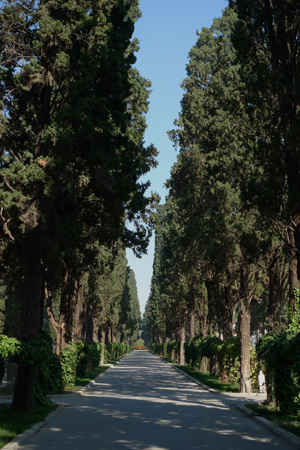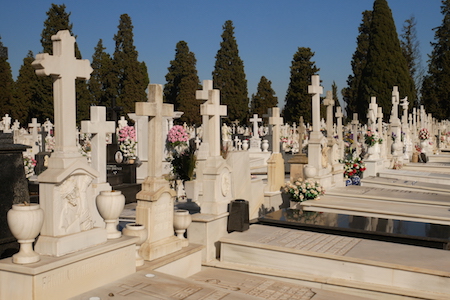 Family mausoleums cluster around the central walkway, not far from the main entrance. Well-to-do sevillanos hired prominent architects to build their final resting place, but most are understated compared to other cemeteries I've visited & to the city itself. Tile panels decorating underground access, however, are striking along with several sculptures: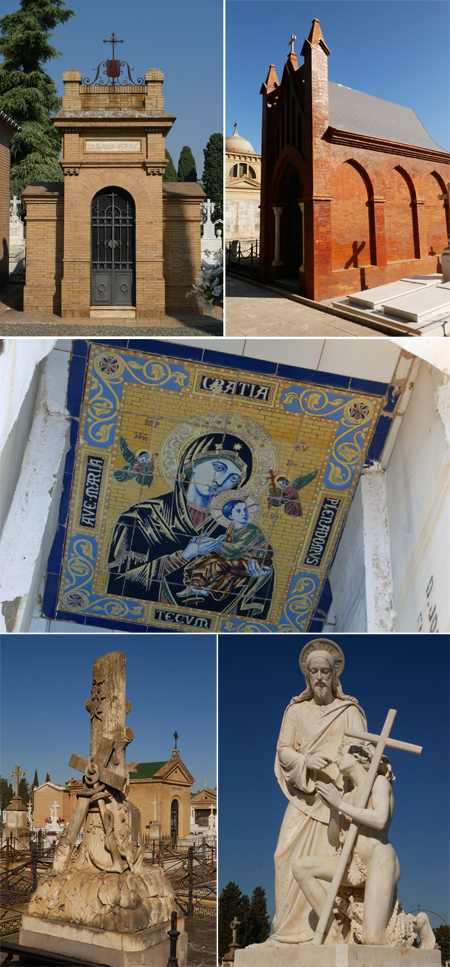 As in most cemeteries, famous figures have a section near the entrance with elaborate tombs & decorative statues. Flamenco performers & bullfighters continue to take center stage: Paquirrí challenges imaginary bulls, Juanita Reina sings & torero Joselito "El Gallo" is carried to his grave by Ignacio Sánchez Mejías… who would later be buried here as well. If you've never read the poem by Federico García Lorca dedicated to Sánchez Mejías in 1934, do it now. I dare you not to shed a tear, regardless of your personal stance on bullfighting:

Mixed with all of the above are some surprising reminders of the Spanish Civil War. Offensive by today's standards, a Falange tomb with various people who died loyal to their cause still shows off Fascist symbolism + a quote from the founder of the Fascist Party in Spain. Another group pantheon, without markings, is for soldiers who died during the conflict… but only rebel Fascists. And it's still possible to find references to the Falange on individual tombs as well:

Even more shocking are eight mass graves used by Fascists from 1936 until 1958. Between victims who died at the beginning of the Spanish Civil War & those who were killed later for non-Fascist political beliefs, historians estimate 4,000 people were assassinated in Sevilla. Were they all dumped here? Probably.
Located at the far end of the cemetery, archaeologists began excavating just before the pandemic began. What they've found is astonishing; the mass grave named Pico Reja is the second largest to be excavated in Spain. Buried with very few personal effects, almost 4,100 remains have been recovered. DNA identification is slow, but researchers are hoping to find the body of Blas Infante there. How many more victims of Fascist violence will they find in the other mass graves in the cemetery? One saving grace… a President of the Second Republic is buried in the cemetery along with others who served during that period of democracy: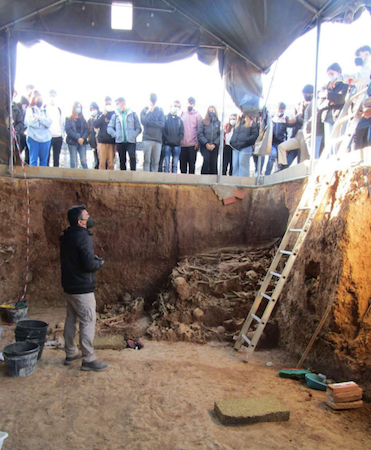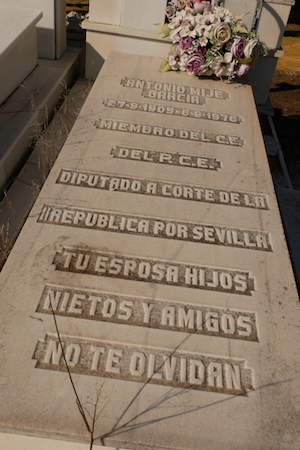 As with all cemeteries around the world, urban legends exist here too. The most famous involves a crucifixion statue given the title Cristo de las Mieles. Designed in 1895 by Antonio Susullo —responsible for many public sculptures in Sevilla— depression from a bad marriage & a mountain of debt drove him to suicide. Days before his tragic death, visitors to the cemetery witnessed what they believed was a miracle: honey flowed from the mouth of the statue. Turns out a bees had settled inside the empty statue, & the heat of the day caused their honey to melt. But many believe the miracle showed forgiveness & Susullo's remains were transferred here in 1940.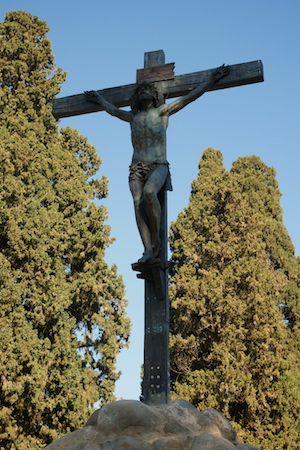 Finally, a bit of exuberant decoration. The southeast section has a huge number of gypsy tombs, often covered with colorful, plastic flowers & objects dear to the deceased. Who says death has to be a somber affair?

While most visitors won't stray from the city center, a trip to the Cementerio de San Fernando can connect you with a more ethereal side of Sevilla. Monuments to the past & actions of the present make this a wonderful stop for anyone who wants to know more about this great city.