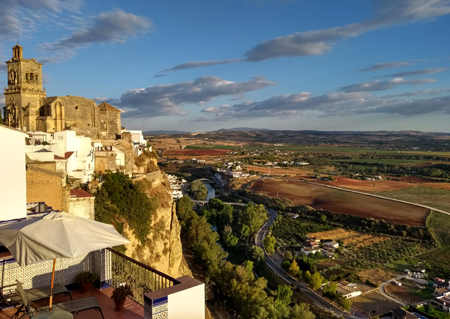 Founded by Romans as Arx-Arcis & later the capital of an independent Muslim taifa, Arcos de la Frontera entered a golden age after being taken by Christian forces in 1264. The city & surrounding area became part of a lordship then moved up to become a countdom, gradually increasing in importance. And it would continue to grow…
Catholic Monarchs Fernando & Isabel created the Dukedom of Arcos in 1493 for the Ponce de León family while reorganizing noble titles after their consolidation of power in Andalucía. Their grandson, Carlos V, made the Dukes & Duchesses of Arcos automatic Grandes de España in 1520… ranking just underneath any possible heirs to the throne. Amazing to think that the title is still passed down today, & that the castle on the main square continues to be their private property: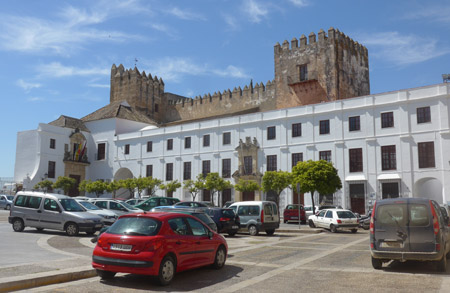 Royalty aside, I've developed my own personal history with Arcos over the past 20 years. While working for Rick Steves & taking groups there, I've seen the town go through several phases in development with varied hotel staff & restaurants that come & go. But one thing remains constant: that gorgeous view. Some visitors understand Arcos & relish every moment of that privileged overlook to the fertile basin below, don't worry about seeing much else & take some necessary time to relax. Other visitors complain about the trek uphill, say there's nothing to do & fret about what they could be doing elsewhere. Some people have a difficult time relaxing but not me! Even though I'm often busy wrapping up the tour budget & making final confirmations, I always take time to sit on the common terrace of Hotel El Convento & let that view sink in. Rain or shine, sunset & sunrise are equally spectacular:

I was lucky enough this year to take a group to Arcos during Semana Santa. Even though inclement weather cancelled Holy Week processions during most of our time there, an early morning departure gave us the opportunity to see three floats in succession… and as the only spectators! Floats are small to get through the narrow streets, & morning light made everything glow. That morning made for the most magical moment of the trip for me:

Even if you miss Holy Week, the two major churches at the top of the hill offer Baroque/Rococo thrills & lots of relics to ponder:

Don't only take my word for it… I'm not alone in enjoying Arcos. Often considered one of the most picturesque towns in Spain, Arcos merited inclusion in the 1929 Poble Espanyol with its own street. The first photo below is the real deal, the second is the Barcelona reproduction on a smaller scale: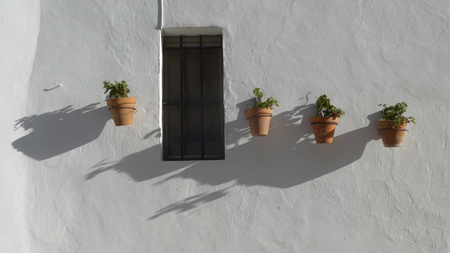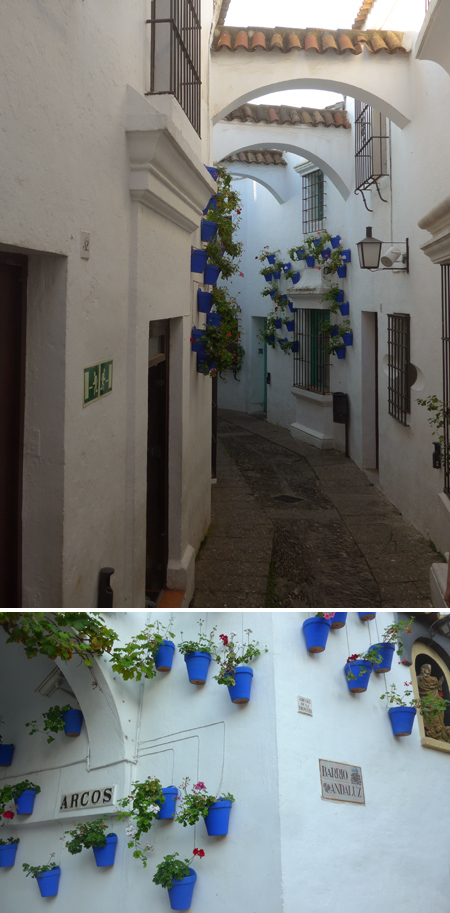 Continuing to think about why I enjoy Arcos so much, perhaps the multiple arches & stark shadows —day or night— remind me of a Di Chirico painting:

Despite all these attractive features, Arcos seems to be falling on some difficult times… at least the upper town. Restaurants are booming like never before & IMSERSO groups of Spanish retirees constantly visit, but many houses are for sale & Renaissance mansions sit vacant or works have stopped mid-restoration. I've talked with María, the owner of Hotel El Convento, about it, & she's noticed the change as well but has no idea what's happening. The number of people living in Arcos appears to be stable at 31,000, but something strange is afoot. I enjoy Arcos for its friendly people, personal connections, amazing views & small-town pace. Perhaps Arcos is not for everyone, but I'm fortunate to visit several times each year & wouldn't miss it for anything!