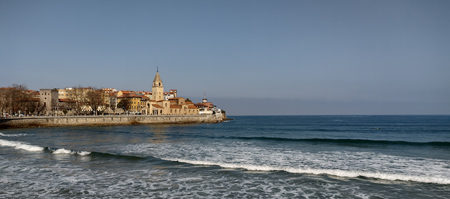 After an evening in Avilés, Rafa & I made our way to the largest metropolitan area in Asturias. We hit Carnaval festivities, but I was interested in exploring the city more than the party. With less than two full days in Gijón, we'd have our work cut out for us…
Situated on the coast, a high outcrop between long, curvy beaches created a safe spot for early settlers as well as a perfect port. Unfortunately very little of these old settlements has survived & most of Cimavilla has been filled with random apartment buildings without much regard to the past. However, the area around the Puerto Deportivo is photogenic, & the collection of the Museo Jovellanos is quite interesting. What a spectacular carving of the fish market by Sebastián Miranda!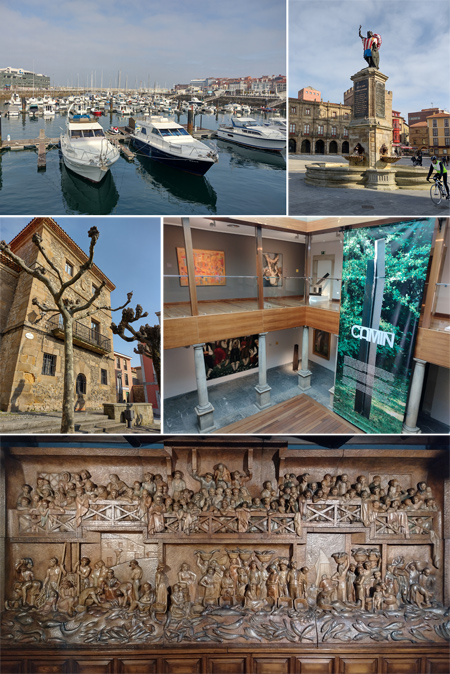 The far end of Cimavilla has been transformed into a beautiful public park crowned by a sculpture by Eduardo Chillida… with some of the best views in town.
Possessing rich mineral deposits in nearby mountains + a port to ship them from, Gijón became one of the earliest industrial centers of Spain. So important that they had the third railroad ever built in the kingdom. Times changed, & in 1990 the northernmost train station closed during a decade of restructuring the regional rail network. The old station became the Museo Ferrocarril de Asturias, opening in 1998 & allowing visitors to experience what travel with a steam engine was like. Lots of fun for kids as well as adults, along with a ton of restored rolling stock & classic signage.
All that industry & easy shipping brought wealth to Gijón in the late 1800s & early 20th century. As the city expanded, all kinds of new civil architecture was adopted to fit the tastes of a growing bourgeoisie. This was the most impressive & unexpected part of the trip for me, seeing just how many modern buildings have been preserved & the myriad of styles built… with much more Racionalismo than I've seen in other Spanish cities of similar size.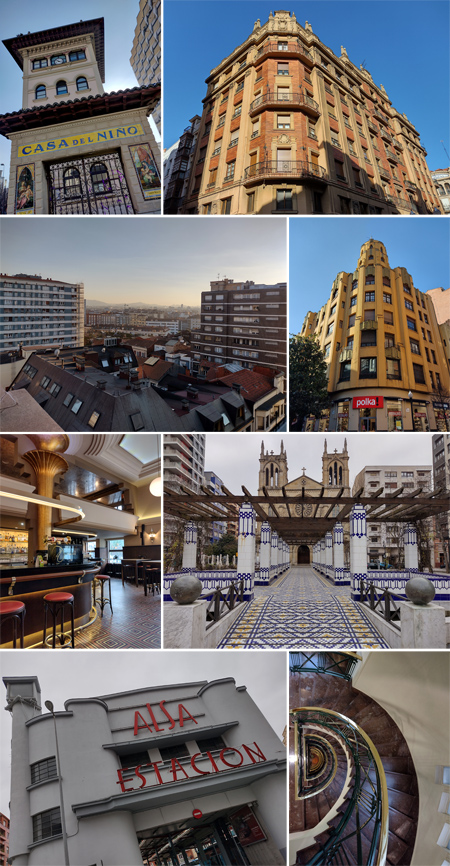 Of course we ate well & probably too much. The hotel recommended a typical spot with a giant menu to be split between two. It could have easily fed four! But we managed to finish off all the salad, zamburiñas (bay scallops), navajas (razor clams), baby squid, baby eels (actually just surimi) & shrimp. Food coma.
Before catching our afternoon flight back to Sevilla, we had one last sight to see: the former Universidad Laboral. Talk about a mega-structure! As one of several built during the Franco era, this all-inclusive campus is the largest construction in Spain. Its original function when completed in 1957 was to educate the children of everyday workers… classes actually began two years earlier in sections that were already finished. A few Franco insignias are still visible, but the monumental building itself makes its period unmistakable. You feel so teeny-tiny walking in.
Unfortunately we couldn't see the church interior or the theater, but strolling around the grounds & hallways was enough. After a massive restoration & rebranding, the building now houses a few University of Oviedo departments, some general offices, the regional radio/tv network, R&D facilities —you name it, it's probably there— even plans to place a 5-star hotel onsite.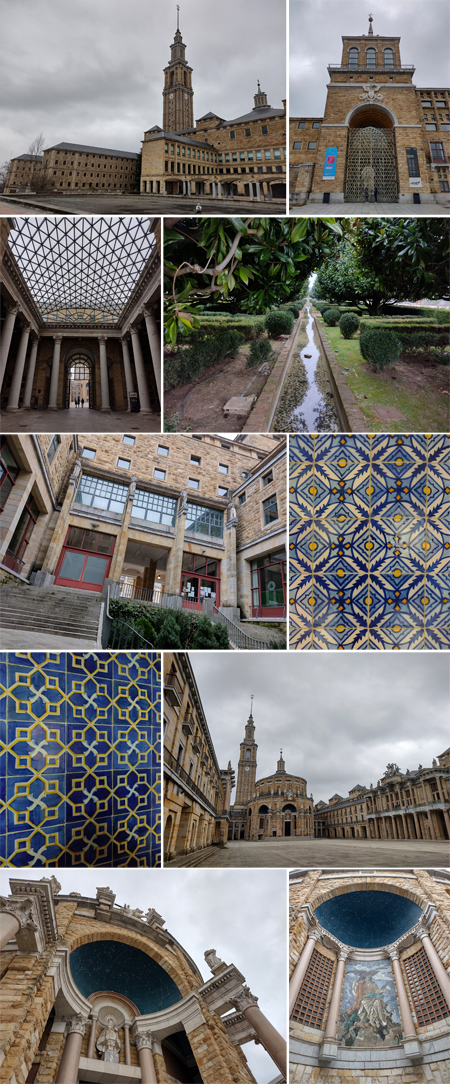 There were plenty of museums we didn't visit, buildings we didn't photograph, a few churches left unseen, & a whole lot of food we didn't eat. But I think we got a good feeling for Gijón & definitely would like to go back… with more time! Also, to see more signs like the following. I guess there is some doubt of what to do in the Basílica del Sagrado Corazón: PRAY & BE QUIET Hahahahaha