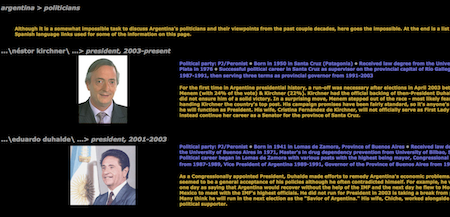 Amazing to think that when I wrote this post, Wikipedia had just come online with barebones content. Who knew how much it would grow?! All the info below can be found easily on the internet today, but in 2003 few English-language biographies of Argentine politicians existed. Hence this time-capsule resource…
---
Although discussing Argentina's politicians & their viewpoints from the past couple decades is a somewhat impossible task, here goes the impossible. Also, a list of mostly Spanish language websites used for writing this page is linked below.
Néstor Kirchner · president, 2003-present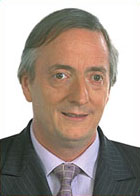 Political party: PJ/Peronist • Born in 1950 in Santa Cruz (Patagonia) • Received law degree from the University of La Plata in 1976 • Successful political career in Santa Cruz as supervisor on the provincial capital of Río Gallegos from 1987-1991, then serving three terms as provincial governor from 1991-2003

For the first time in Argentine presidential history, a run-off was necessary after elections in April 2003 between Menem (with 24% of the vote) & Kirchner (22%). Kirchner had the official backing of then-President Duhalde, but that failed to ensure a solid victory. In a surprising move, Menem stepped out of the race —most likely fearing defeat— handing Kirchner the country's top post. His campaign promises have been fairly standard, so it's anyone's guess how he will function as President. His wife, Cristina Fernández de Kirchner, will not officially serve as First Lady but instead continue her career as Senator for the province of Santa Cruz.
Eduardo Duhalde · president, 2001-2003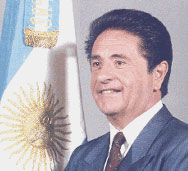 Political party: PJ/Peronist • Born in 1941 in Lomas de Zamora, Province of Buenos Aires • Received law degree from the University of Buenos Aires in 1971, Master's in drug dependency prevention from University of Bilbao, Spain • Political career began in Lomas de Zamora occupying various posts with the highest being mayor, Congressional Delegate from 1987-1989, Vice President of Argentina 1989-1991, Governor of the Province of Buenos Aires from 1991-2001

As a Congressionally appointed President, Duhalde made efforts to remedy Argentina's economic problems. There seemed to be a general acceptance of his policies although he often contradicted himself. For example, he was quoted one day as saying that Argentina would recover without the help of the IMF & the next day he flew to Monterrey, Mexico to meet with the IMF's highest officials. He did not run for President in 2003 & will take a break from politics. Many think he could run in the next election as the "Savior of Argentina." His wife, Chiche, worked alongside him as a political supporter.
Adolfo Rodríguez Saá · president, 22-30 Dec 2001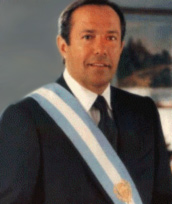 Political party: PJ/Peronist • Born in 1947 in San Luis • Obtained lawyer's degree from the University of Buenos Aires in 1971 • Long political career within his native province of San Luis, including posts as provincial congressional delegate & elected as provincial governor five times.

During his long tenure as governor in San Luis, Saá distinguished his province from others by maintaining a balanced budget + a low rate of unemployment. Somewhat a suprise candidate to be nominated as President by the Argentine Senate, his term lasted only one week. In spite of his brief period as the head of Argentine government, he is known for cutting official salaries & declaring default on all international bonds & loans in an effort to regain economic stability. He resigned via satellite tv from San Luis, his politically-safe bunker, citing lack of support from his fellow Peronists. Many have speculated as to the real reason of his resignation, but even his recent television appearance on a national news talkshow failed to resolve the issue. Sufficiently vague, Saá managed to avoid answering any direct questions regarding his resignation. He also ran as a Peronist candidate for President in the 2003 elections & captured 14% of the vote.
Domingo Cavallo · Minster of Economy, 2001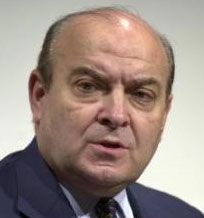 Political party: Unaffiliated • Born in 1946 in Córdoba • Obtained Ph.D. in Economics from the University of Córdoba in 1970 followed by a Ph.D. in Economics from Harvard in 1977 • Appointed President of the Central Bank in 1982, Congressional Delegate, Minister of Foreign Affairs from 1989-1991, Minister of Economy from 1991-1996, Congressional Delegate, returned as Minister of Economy in 2001

Opinions about Cavallo are not as varied as they once were. Credited for the large (if false) growth of Argentina's economy during his first appointment as Economic Minister under Carlos Menem, he was architect of the massive privatization/foreign invasion of the mid-1990s. He also initiated the Law of Convertibility which pegged the peso to the dollar at 1:1. De La Rúa appointed him Economic Minister for a second time in March 2001 in hopes of another miracle. The general consensus was one of relief when Cavallo entered the Cabinet again, but after inventing the infamous corralito, there are not many who have a high opinion of him. In fact, he resigned by public request on the evening of the first cacerolazo. He was prohibited from leaving the country & was often in the Supreme Court responding to many claims against him. Cavallo served a few months in prison for involvement in illegal arms sales during Menem's presidency. He is currently living in the US, lecturing at some Ivy League school.
Fernando De La Rúa · president, 2000-2001

Political party: UCR/Alianza • Born in 1937 in Córdoba • Obtained Ph.D. in Law & Social Sciences from University of Buenos Aires. As a lawyer, he acted in several cases against the government and is noted for upholding constitutional rights • Long political career as president of his political party, Congressional Delegate then Senator, and Government Head of the city of Buenos Aires from 1996-2000 until winning the presidential election

Typically characterized as boring and lacking personality —especially compared to his predecessor Carlos Menem— most think that De La Rúa was an ineffective politician. Anyone would have a difficult job inheriting the economic disaster that he did, but his lack of political support and numerous "too little, too late" policies led to massive demonstrations in December 2001. Following the first cacerolazo, he submitted his resignation and left the Casa Rosada by helicopter. He was under investigation for the violent repression of demonstrators by police during his last days in office, but evidently he was asleep when the police were killing demonstrators. He also claims there was a conspiracy to remove him from power. Duh.
Carlos Menem · president, 1989-1999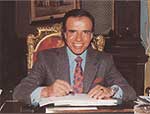 Political party: PJ/Peronist • Born in 1930 in La Rioja of immigrant Syrian parents • Received law degree from the University of Córdoba in 1955, began practice by working for politicians jailed by the military dictatorship, elected governor of La Rioja in 1973, jailed from 1976-1981 by the military junta, from 1983 served as governor again in La Rioja, elected as President in 1989, currently serving as head of PJ/Peronist Party until 2003

Controversial political figure who has had an enormous impact on Argentina's current situation. During his first term, his goal was to reactivate the Argentine economy which he accomplished by privatizing all state-owned companies. As a result, money flowed in the country as Spain, France, the US & other countries rushed to buy telephone companies, utilities & banks. Most profits from these companies are currently not being reinvested in Argentina. Elected for a second term in part due to a modification in the Constitution, Menem's popularity continued as he supposedly sold arms illegally to Ecuador and Croatia. Part of Menem's popularity stems from the fact he is so controversial. True to form, in 2001, he married a Chilean model with a taste for expensive designer clothes. He was freed from jail recently by the Supreme Court for his involvement in illegal arms sales but is now under investigation for money laundering into Swiss bank accounts under a variety of psuedonyms. As head of his political party, he continues to support dollarization of the economy and will undoubtedly continue to make the tabloids happy. He campaigned as one of the PJ candidates for President, gaining the highest percentage of the vote at 24%. Shortly before the run-off was to occur, Menem backed out.
Raúl Alfonsín · president, 1983-1989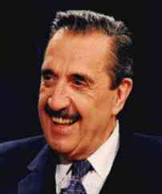 Political party: UCR • Born in the town of Chacomús in the province of Buenos Aires • Received lawyer's degree from the University of La Plata in 1950 & subsequently founded a newspaper in his hometown, member of the National Parliament in 1963, attempt for Presidency failed in 1973 as PJ/Peronists won, responded to military abuses of power in 1981 by co-founding the Permanent Assembly for Human Rights, won elections in 1983 for President by a margin of 52% representing the first ever defeat of the Peronist Party

After his election as President, Alfonsín took to the steps of the Cabildo (the seat of government under Spanish rule) and uttered the now famous phrase, "El pueblo unido jamás será vencido." (The people, united, will never be defeated.) This phrase was used repeatedly during the cacerolazos of early 2002. Alfonsín's term is noted for high inflation, high national debt, labor disputes & military discontent. In 1985 under the auspices of the IMF, he initiated the Plan Austral which created a new monetary unit, the Austral, equivalent to 10,000 pesos or U$S 1, prohibited further printing of money & called for a price & salary freeze to curb inflation. He began persecution of the military officials who had abused their power under the dictatorship but was forced to grant amnesty to many under threats from the military. At the end of his term, hyperinflation ruled & lootings of supermarkets were the norm. He resigned to President-elect Menem 5 months before his term was to end.
---
Political links
· Official webpage of the Presidency of the Argentine Republic. Some history and the daily schedule of the President.
· Official webpage of the Ministry of Economy in Argentina. Lots of statistics to peruse.
· Constitution of Argentina in English (PDF).
· Citizen Power website. They send surveys to politicians and obtain all kinds of information —from previous political posts to net worth. If you wonder what kind of car your Economic Minister is driving, this is the place to find out.
[Originally posted in Argentina Experienced, a website I created to document living in Buenos Aires after the 2001 economic crisis. Text has been edited for style. Definitions of econ terms can be found in the glossary. A summary of recent history & current events may help as well.]