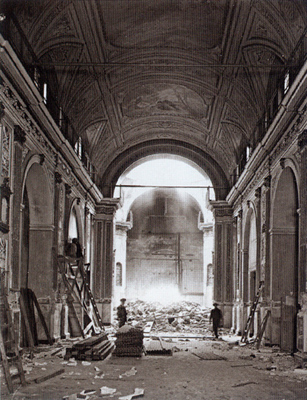 When historians look back on Buenos Aires at the turn of the 21st century, one of the topics they will likely discuss is the unfortunate destruction of the city's architectural heritage. Nothing seems to be able to stop it.
Buenos Aires began to take on its current look around 1890… so architecturally, the city is relatively young. Colonial structures failed to survive due to poor building materials, & Torcuato de Alvear removed older buildings to give the city a more European air. He left a legacy that travel writers would run into the ground, calling BA "the Paris of South America"… much to everyone's chagrin these days.
But local government continually fails to see how architectural heritage contributes to the city's image or income. Grassroots organizations like Basta de Demoler have fought against demolitions since Mauricio Macri became mayor in 2007. He blocks all efforts to preserve one of the city's most distinguishing characteristics. Beyond the bitching & complaining which normally accompanies this topic, I've often wondered about its real cause. Most of my friends love local architecture, but there is obviously a majority who don't care if anything in the city survives. And although powerful, greed alone cannot account for so much disregard… it must go deeper than that.
Maybe I've found part of the answer. I recently finished a book titled "The Collective Memory Reader," a fantastic collection of essays about what memory is, how it interacts with past & present, our group identities (national or otherwise) & how we choose to remember events collectively. At almost 500 pages, it was meant for university study but it caught my attention & really explained a lot about Buenos Aires… even though none of the essays directly address BA or Argentina.
One essay which stood out was written by Roger Bastide in 1978:
Since memories are psychic by nature, if they are to survive they must survive in something durable; they must be attached to a permanent material base of some kind… Place, society, actions, and memory now become one…
His study focused on the disappearance of African traditions in Brazil based on place removal. Since traditions often develop with respect to their natural environment, take away the place & many old traditions become irrelevant. I thought: why not apply the same theory to the millions of immigrants who arrived in Argentina from 1880 to 1920?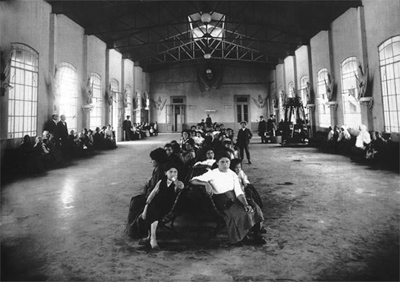 During that time, Buenos Aires assumed its role as capital of Argentina —only officially recognized in 1880. With internal conflicts finally resolved, the first attempts to build national & local collective memory began 70 years after breaking away from Spain. That's a long time to wait. But the problem goes deeper. All those European-style monuments were erected to people, places & events to which recently arrived immigrants had no attached meaning. The city's beautification only served the landed elite. As the oligarchy paid homage to themselves & built fantastic palaces to live in, millions of new Argentines could not understand the message… nor had reason to adopt it.
I imagine that first-generation Argentines born of immigrant parents would have had a bit more attachment with the nation, but probably not until the second generation would there be any real feeling of being Argentine. Interestingly enough, that time frame corresponds with the Perón era. Could those second generation immigrants have identified with Perón in part because they were looking for a way to develop their own collective memory? Torn between ancestors who felt ties to Europe but knowing they themselves would probably never see those places? It's an interesting coincidence.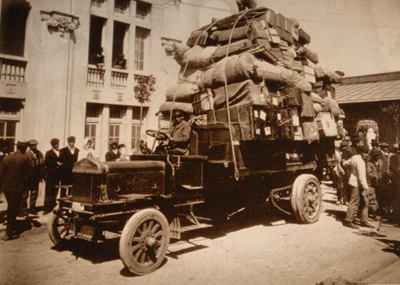 I remember how my ex's grandmother never obtained her Argentina passport & likewise never voted in national elections. It wasn't important to her, & maybe she thought of herself more as Spanish than Argentine. Very likely. How many cases like that were there? This detachment may explain, in part, why Argentina had such a messy 20th century. There were two sets of collective memory at odds with each other. Everyone I know is proud to be Argentine today, but when push comes to shove they leave for Europe or elsewhere.
Even today —more than a century later— many argentinos say: "my grandparents were Italian" or "I have ancestors from Asturias." Guess what. You're Argentine now. Shouldn't that be more important? I'm certainly proud my ancestors were from the UK. But I would never bring it up in a general conversation like they do here. UK readers: Love you all. Seriously. Miranda Hart: Love you most. But I'm American. I learned patriotic songs as a kid, I love the mythology of the US (however erroneous it may be), & I love feeling part of something larger than myself. That particular collective identity formed when I was a child & it hasn't seemed to fade. But after living 11 years in Buenos Aires, I've never heard anyone here say something similar.

That's where Argentina seems to have failed. The collective memory of the oligarchy did not adapt to include immigrants. And those immigrants held tight to memories they could not pass on. Their children were caught in an identity crisis that is still visible today. Official attempts to revise history & demonization of anyone who disagrees with their cause are two recent examples of that conflict. Such unhealthy policies continue to prevent the formation of any type of collective bond.
I would love to see (or do myself… with a grant, thank you) a study of what monuments or statues were built, when, how much they cost, who paid for them, how many times were they moved & the significance of their location. Tie that info to population stats & income levels of the barrios where the monuments are. What monuments are missing? What kind of attendance do the few commemorative events have? The answers could reveal some surprises.
Most academics have come to the conclusion that blatant nationalism leads to no good. I would agree. But what about a nation that has no collective memory? One of the consequences might be a lack of respect for national heritage… most visible via the demolition of the capital city's architecture. Food for thought anyway.