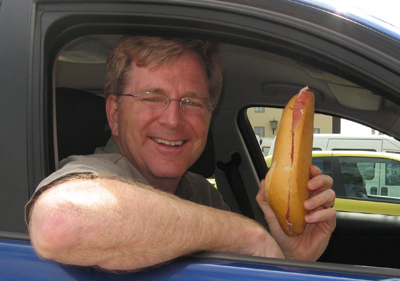 Next week I'll be embarking on another intense work trip beginning with two solid weeks of guidebook research for Rick Steves. A few readers might think: "oooh, how exciting! what a glamorous job!" Fun moments will happen as always, but overall the schedule is so tight that there's little room for glamour 🙂
In June 2006, I posted the following… all the events that took place on a typical research day. While I can't vouch for every guidebook company, we all train with Rick Steves personally & get good, solid advice about how to approach verifying/updating every bit of info in print. Some items below don't apply to a normal day, but my laptop died mid-trip & Varig had just gone bankrupt so I wasn't sure how I'd return home… still, these are things that can happen & work must go on.
---
This is another reason why I haven't been posting much. Even I don't believe I did all of this in one day:
Get up at 07:30.
Write down my list of to-do stuff so I can bring everything with me without having to return to the hotel.
Get breakfast somewhere & order the list I made.
Get on the internet while it isn't crowded —check email, comments on posts, get info on LG & Toshiba laptops that I saw yesterday at fnac, get Ibis Hotel rates.
Go to TI to get the new June edition of Agenda LX & ask a couple questions.
Renew my transport pass for the day.
Meet the Lisbon Walker guide at 10:00, chat, tell them about Rick Steves & get more info about their services.
Take walking tour for 40 minutes.
Go to Varig ticket office to confirm new flight. Now I'm flying back on TAP. Bummer —no upgrade for me.
Buy ticket for Mísia concert on Saturday night (my end-of-work treat).
Look at laptops again while at fnac.
Check rates at final hotels.
Visit fado museum.
Stop by Lisbon Walker office at 12:30 in Alfama to talk with owners.
Eat lunch, figure out ferry terminal info while waiting on food.
Take bus to Santa Apolónia station to get train info.
Visit tile museum, search book shop for something about my fave tile artists especially Maria Keil.
Make way back to downtown, take Metro out to Colombo shopping center to look at laptops.
Stop at El Corte Inglés to look at laptops too.
Make reservation for fado.
Rest for 30 minutes at hotel.
Head up to Alfama for fado show & dinner. What I thought to be a reliable tip turned out to be bogus. At least now I know.
Walk back to hotel at midnight.
Go to bed at 00:30.
Now imagine that for five weeks & you know why I'll be glad to get back home! To relax!
---
Again, not sure how other companies operate, but it's stressed that we input as much of our day's work that same evening. Makes perfect sense… the info is still fresh, notes are easier to decipher, & the next day we just add more to the list. I try to order my hotels to minimize backtracking, use a pencil & prefer writing down changes instead of compiling a stack of business cards. Every little bit weighs you down!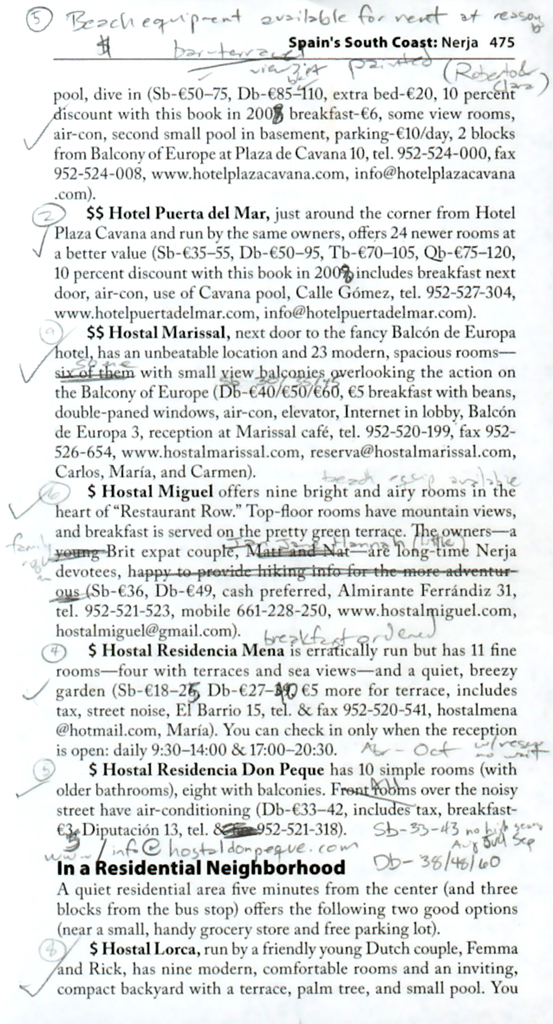 The evening is also perfect to confirm each & every point on maps. Often I start with the easy stuff: street names, monument/church locations, etc. Then it's on to hotel & resto listings… as you can see, I like to nitpick. But that's a good thing since so many people use the guidebook for their vacation. Errors can make their way in, but we do everything humanly possible to minimize them!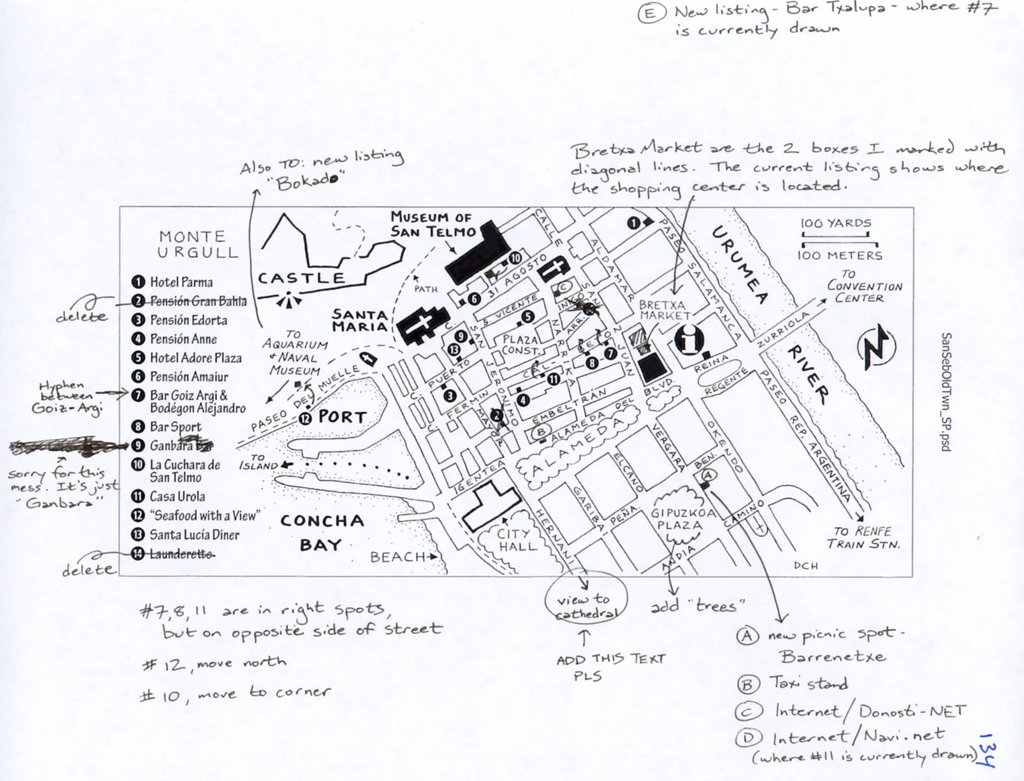 Later that year, I posted the following… sums up my feelings well. Updating guidebooks is hard on the body & mind, but I love knowing that I've helped countless people have a better vacation as well as developed good contacts with service providers. Most of them turn out to be friends as well. Definitely a benefit for such a crazy lifestyle.
My research & writing for Rick Steves was lots of fun this year. Submissions for sidebars on Portuguese university graduation practices as well as another on my favorite poet, Fernando Pessoa, were accepted. More of my photos were published, & one pic even made the cover of the Portugal guidebook. Looking forward to doing it all again next year!
If anyone's interested, I'll post more during the next few weeks about my research trip beginning soon. I hope I remember how to do this. It's been awhile!