Inspired by the action of Azucena Butteler, numerous private & public schemes were proposed to acquire funds needed for housing projects. Some of the proposals were: government allocations directly controlled by Congress, a direct tax on Jockey Club members, or loans for low-income government employees underwritten by the Central Bank. It was finally decided that 75% of the Jockey Club's profits from Thursday horse races were to be donated to a general housing construction fund. Money began to flow in, but how should the government use it?
Dr. Juan Cafferata from Córdoba province had plenty of ideas. As a member of the lower house of Congress, he proposed creating a commission which would oversee the construction of 500 units in 10 years. Adopted in 1915 after much debate, the first 4 years of the Comisión Nacional de Casas Baratas (CNCB) made little progress.
Most of the debate centered around what the state's role would be once housing was built, & what kind of housing was best: Build units to sell directly & cheaply to workers? Have workers rent the units with the government as landlord like the Vincentinas? Build individual houses, semi-detached row housing, or apartment buildings? Those questions were important to answer because the national government never desired to be the sole provider of welfare in Argentina. They wanted to develop a model to demonstrate to private investors that housing projects were viable & could benefit everyone. The inability to answer the above questions in a timely manner & provide a viable model negatively affected the Commission for years.
As first President of the CNCB, Marcelo T. de Alvear favored apartment buildings with rental units. Four tracts of land were purchased in Buenos Aires, but only one building was finished during the first phase of the CNCB. It's still standing in Parque Patricios. This casa colectiva, built in 1919, provided 30 2-bedroom & 37 1-bedroom apartments for a total of 67 units surrounding a central patio area. Each apartment had light, ventilation & a common meeting space… truly innovative for its time. It's named after a former governor of Buenos Aires & Supreme Court justice whose son became Vice-President.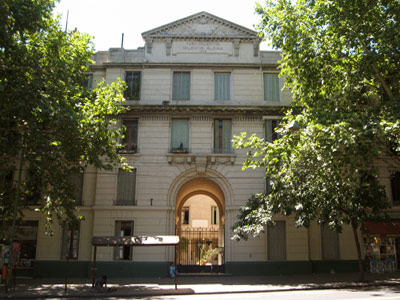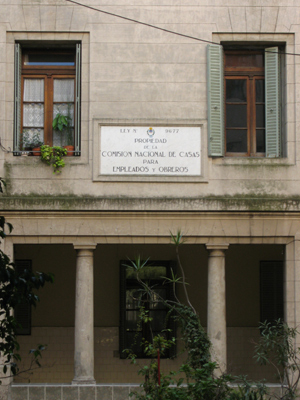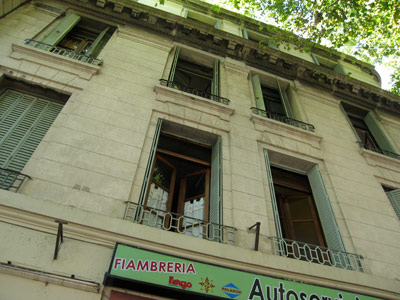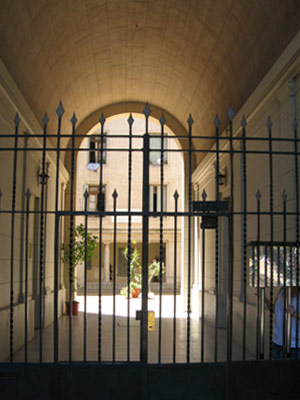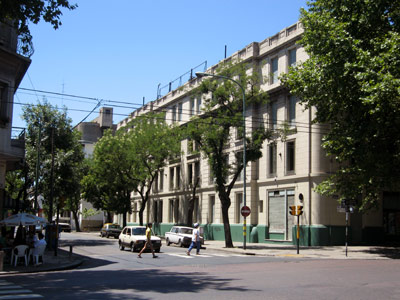 Update (29 Jan 2011): Taken from the "IV Memoria de la Comisión Nacional de Casas Baratas, 1919-1920," a cost-benefit analysis of the Casa Colectiva Valentín Alsina was carried out by architect named Raúl Pasman. Remember that prices are in moneda nacional, the peso. Smaller apartments were rented at $25 per month, larger ones $35 per month. Three businesses on the ground floor were charged $150 per month. That's a grand total of $2,425 per month or $29,100 yearly. 10% was deducted for annual maintenance, cleaning & taxes & left a sum of $26,190.
This calculation was made to determine when the complex would begin to show profit. The land was valued at $104,160 & construction costs were $733,000 = $837,160. 3% of the total is $25,115. So… given a stable currency & not accounting for inflation, 33 years would pass before the government began to see a net return on their investment. In other words, 1952.
Direct link → Master list of all Housing for the Masses posts.