Social assistance in Argentina was not limited to private donations like that of Azucena Butteler. One important group did as much as all other organizations combined —the Catholic church. Under the guidance of the Unión Popular Católica Argentina, nationwide fundraising drives gave Catholic organizations lots of cash to assist the poor. The government highly valued their contribution, mainly administered by women's groups.
With the role of homemaker, wife & mother being fairly limited, many women sought to express their love of country & get out of the house by helping those in need. In the early 20th century, the needy were viewed as byproducts of circumstance, & advances in science would soon find a "cure" for poverty. I think we're all still waiting for that…
Also keep in mind that most religious aid groups were exclusive & elite; there wasn't much of a middle class 100 years ago. Only upper-class women had the time & connections necessary to help those in need… which if you stop to think about it is an amazing crossing of social boundaries. But it was one way for women to break out of their defined roles 100 years ago.
At the same time, the Argentine government did not yet see itself as a provider for citizens. Funds made available by the Jockey Club sat in the bank unused. Someone had to take up the slack, especially with Buenos Aires growing faster than it could accommodate all the new immigrants arriving. Catholic groups like the nationally sponsored Sociedad de Beneficencia, composed of elite women, helped on a grander scale with projects like hospitals or asylums. But they never addressed the poor's urgent need for housing.
The Ladies of St. Vincent de Paul occupied the front lines in the fight against poverty. They visited the poor frequently, giving spiritual advice along with material assistance. Their knowledge of the porteño poor came through one-on-one contact. Innovative in women's rights, adherents to St. Vincent de Paul created the first non-cloistered female order with full Papal support. One of their leaders stated:
What the poor need more than material bread is the bread of compassion… material assistance is not enough if it is not accompanied by consoling phrases that are the balm for deep sorrows.
The first Conference of Vincentinas was founded in Buenos Aires in 1889. Two years later there were 53 Conferences with over 7,800 members. Huge growth. When they decided to tackle worker housing, the Vincentinas were likely influenced by the idea of spreading "domestic science"… by making the home a healthy place or a safe refuge for the family, the nation would become a better place.
In 1912, this mini-barrio of 96 units opened, built with funds from the Jockey Club & volunteer labor. Units were rented so the Vincentinas could have more control over tenants. This was a good thing as they forbade any kind of sweatshop or piecework labor. In fact, it was largely women helping women. Lots of single-parent, abandoned-mother families were becoming more common as immigrants continued to flow in & out of Argentina.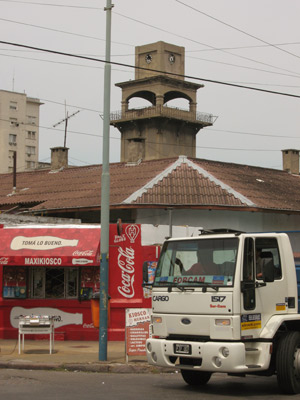 One city block is occupied by concentric squares divided down the middle. In the center is an enormous clock tower. Just across the street, a small parcel of land was the accompanying green space. Each had two bedrooms, a kitchen, a bathroom & a small patio. Interestingly, one house was left unoccupied & used for teaching "domestic science" while two other houses were used for teaching Christian principles.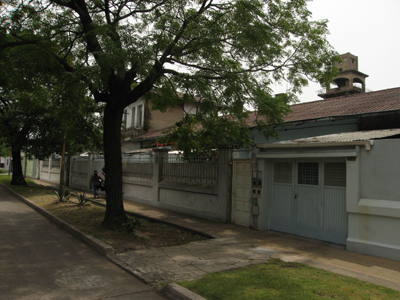 A wonderfully executed idea, all units are now in need of major repairs. The clock tower is closed & crumbling, & someone has built a miniature grotto housing an image of the Immaculate Conception. It is sadly ironic that if left in its current condition, these units will eventually convert into the kind of housing that the Vincentinas were trying to eliminate.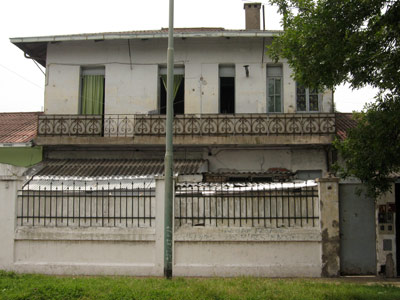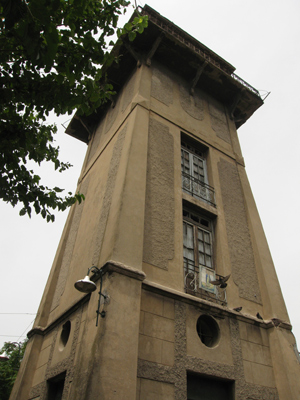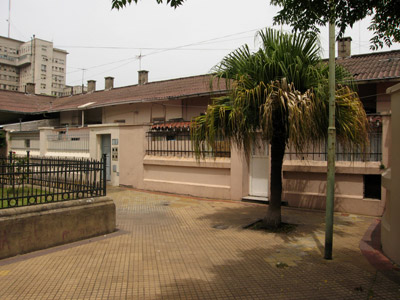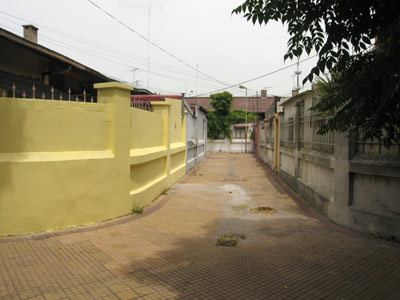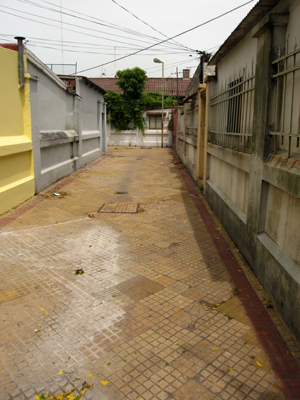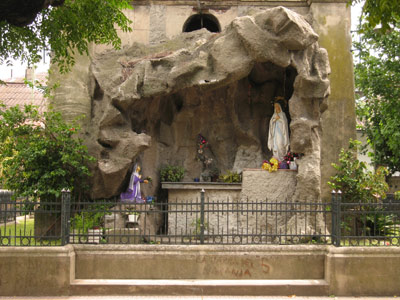 Source: "Gender, Welfare and the Catholic Church in Argentina: Conferencias de Señoras de San Vicente de Paul, 1890-1916" by Karen Mead. Published in The Americas 58:1, July 2001.
Direct link → Master list of all Housing for the Masses posts.